The too-fun Polaris Slingshot received a raft of updates for the 2020 model year, including a slick ProStar 2.0L engine developed by the company itself replacing the unit sourced from General Motors. A new Autodrive transmission was also introduced to the line, opening the door for legions of drivers who aren't fond of a manual transmission to experience the totally unique Slingshot driving experience.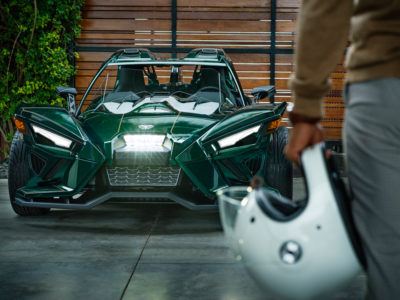 Just in time for summer, Polaris has dropped a Grand Touring LE trim, a model aimed squarely at the hearts and wallets of well-heeled road trippers. Featuring exclusive Fairway Green paint with bronze accents and special-edition bronze wheels, this new trim makes the most of Slingshot's exterior revisions for this model year. Topping off the look are a color-matched Slingshade top and color-matched rear fender.
Inside, a set of 'Quilted Comfort' chairs look as if they were ripped straight from the lounge of a snazzy hotel and should provide all-day comfort for drivers and passengers. A tall (and fantastically named) Ripper Series wind deflector adds protection from the elements. The company's excellent seven-inch Ride Command infotainment system features built-in GPS navigation and turn-by-turn directions. and interior accent lighting.
As you'd expect from the purveyor of toys, a host of accessories are available, including the likes of heated seats and a variety of cargo solutions. Our favourite is the Stage 1 tune, which fettles the ProStar engine's calibrations to deliver an extra 25 horsepower. That's very nearly a 15% jump over stock. For comparison, a Hellcat Redeye would need to add over 100 ponies to gain a similar percentage.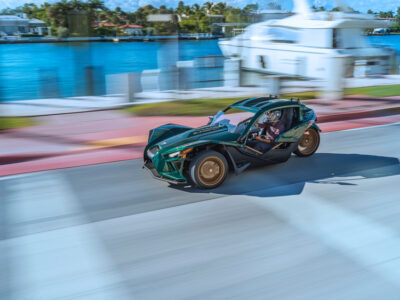 The new Grand Touring LE is priced at $41,999 in Canada and will be available solely with the Polaris Autodrive transmission, setting it up for drivers who place a priority on comfortable cruising over corner carving. Still, as a lightweight machine belting out roughly 200 horsepower though a single rear wheel, you can bet any version of the 2020 Polaris Slingshot will peg the grin meter.
If you like the Grand Touring LE, be sure to visit a Polaris dealer ASAP – only 300 of this trim are being made.