At this point the automotive technology genie has long been let out of the bottle and there's no turning back — cue the latest example to arrive on the scene: the Origo Steering Wheel.
A joint concept between four Finnish companies (Canatu, Siili Auto, TactoTek and Rightware), the product aims to tackle the potential distracted driving problem caused by all the electronics scattered about a modern dashboard by introducing a smart device user experience.
The idea is to allow control of all key vehicle functions using just one's thumbs, without taking hands off the grip or eyes off the road, via transparent and tactile 3-D touch surfaces mapped to perform various commands like activating the air conditioning or changing audio settings.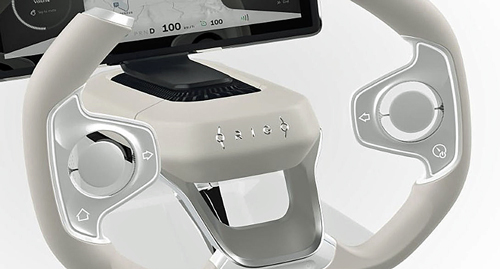 "Origo is a compelling example of how innovative design and manufacturing technologies, combined with leading-edge software, are enhancing user experiences," says TactoTek CEO Jussi Harvela. "Focusing on the user with system-level solutions makes differentiating innovations more accessible to OEMs and brands."
Looking quite futuristic, the U-shaped wheel resembles something out of a video game featuring a tan and aluminum colour scheme and rectangular instrument display mounted above the base.
The Origo Steering Wheel is the recipient of the German Design Awards 2021 as well as having been named one of CES' 2022 Innovation Awards Honorees.