NOTE: This is the first of what is planned to be a regular feature here on Vicarious. Based on Jim Kenzie's history in this business, he will look at vehicles old and new that shared the same nameplate. The impetus was Stellantis resurrecting the Hornet name for a new Dodge; as soon as we can get a new Hornet for Jim to test, he will do a comparo with his lovely 1977 AMC Hornet hatchback. The possibilities are nearly endless. New Porsche 911 versus the original. Ditto Ford Bronco. The travesty of gluing the legendary Mustang nameplate on an electric SUV. If you have any suggestions, send 'em in.
According to Toyota's view of the world, the Corolla is the most-produced car in automotive history, having taken that title some years back from the Volkswagen Beetle.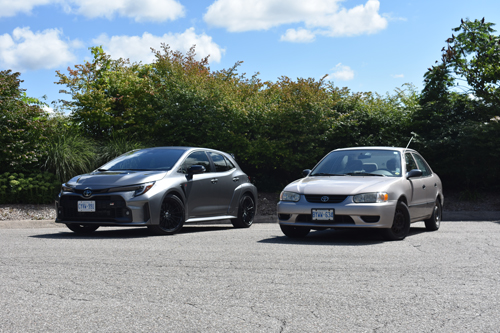 To be accurate, Corolla only qualifies as the "most-produced nameplate" in automotive history, because that label has been applied to a wide variety of body styles over that history – coupé, four-sedan, hatchback, station wagon – with completely different mechanical packages, including rear-wheel, front-wheel and four-wheel drive configurations.
In contrast, the Beetle was pretty much always the same car. Road & Track magazine once called it "a perfect example of a poor design, well executed". The rear engine may have made it good in snow, but that engine placement, its collapsible bodywork, and its altogether-too-independent rear suspension made it a horror to drive.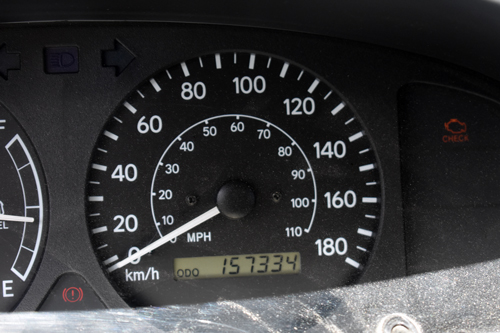 However, unlike most of the early "funny little foreign cars", it was as reliable as a brick through a plate glass window. And with minor exceptions – reconfigured rear window, larger and more powerful engines, a heater, and gosh, even a gas gauge – it was always basically the same car throughout its production run.
Back to the Corolla.
As it happens, a neighbour of mine – I'll call her "Fiona" – owns a 2001 Corolla. No, that's not the original version, but you'd probably have to raid Toyota's museum to find a first-gen car that hadn't rusted into oblivion.
Fiona tells me her car was originally owned by the proverbial little old lady, who never drove it in winter. It does do some winter duty now, but only has 157,334 km on it, so is still in good shape, body-wise and otherwise.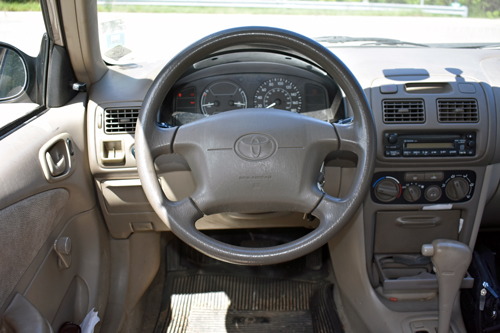 One thing stood out immediately upon getting into this car – the all-around visibility. I have noticed this in other older cars – before the advent of crash standards, thinner roof pillars mean you can see everything around you, presumably leading to safer driving and fewer crashes and roll-overs which is when those fatter pillars of today's cars would be needed. Chicken, egg…
Another thing that stood out as in other older Toyotas I have driven – the interior trim quality. Won't win any prizes for design, and as is often the case with older Japanese cars, the colour matching of the interior bits isn't perfect. But it has held up remarkably well.
I drove Fiona's Corolla around our neighbourhood, and it still drives decently. Nothing earth-shattering, no hint you should take it to your local race track for lapping days, but exactly what Corolla owners wanted, and largely got.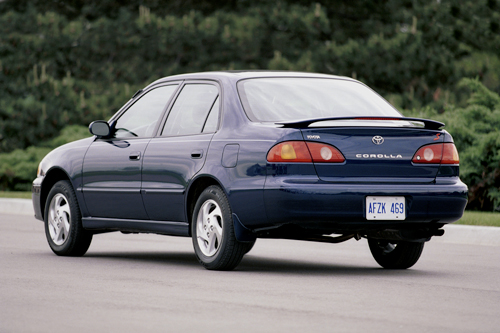 The fact that it had a twin-overhead camshaft 16-valve engine 'way back then was a bit of a surprise. Its 125 horsepower wouldn't win any prizes in a stoplight Grand Prix, but it gets out of its own way in reasonable fashion.
The four-speed autobox also shifts decently.
Perhaps the biggest surprise to me was that the car rode well, swallowing up bumps with aplomb.
Front seat comfort wasn't a highlight, but four reasonably-sized adults could be reasonably accommodated, with a fifth a last-gasp possibility.
The thing that triggered the idea for this comparo was the introduction of the sporty GR Corolla.
"Sporty Corolla?" Pretty much the definition "contradiction in terms".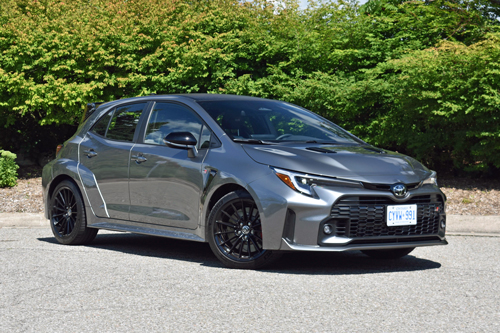 The first thing you'd probably notice on the GR would be the massive 235/40 ZR 18 Michelin Pilot Sport tires, on lovely 15-spoke black wheels.
On a COROLLA??
Yep. Not the only surprise.
Air scoops, apparently functional, all over the place.
Black and red "GR" badges likewise. Embossed GR-FOUR logos on the rocker panel extensions suggest at the drive train – full-time four wheel drive.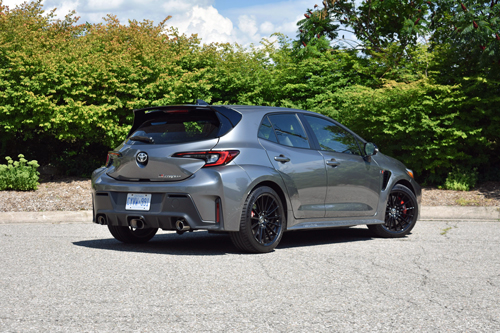 Yeah yeah, I know. Toyota, like everybody else calls this "all-wheel drive". But if you had a six-wheeled vehicle and all six wheels were driven – and vehicles like that do exist – that would also be "all-wheel drive", no? "Four-wheel drive" is simply more precise, more specific. You'd expect nothing less from me, would you?
Another clue that this isn't your Grandmother's Corolla would be the rear end view of the car. Three big tailpipes lurking below the bumper.
Yes, one for each cylinder. Because this is a turbocharged 1.6 litre three-pot, cranking out 300 hp at 6,500 and 273 lb-ft of torque at 3,000 rpm (Toyota's web site says that torque peak comes in at  6,500 rpm, but that is surely wrong.)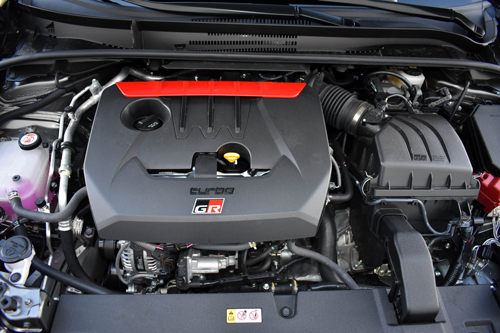 This will sling the little car to 100 km/h in about five seconds, quick by any standard. Despite that modest peak torque rpm number, the engine gets much more eager as the revs rise.
The six-speed manual gearbox – another hint that this is not your run-of-the-mill Corolla; no autobox is even offered – shifts easily and precisely.
The front suspension is by MacPherson Strut (and no, that is not a Scottish folk dance…) with a double-wishbone set-up at the rear. Stiffer than other Corollas for more precise handling, but the ride quality is still more than acceptable.
The interior trim is lovely and well-finished as always, with matte black fabric, real-looking stitching, and GR badges everywhere. I didn't find the front seats all that comfortable – I would have liked stronger lumbar support. Laterally they are fine, which you will appreciate when you start working this car as it almost demands that you do.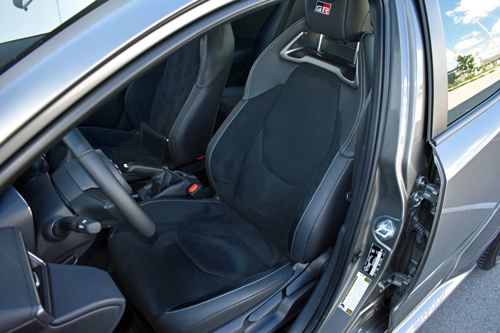 Like most smallish cars, rear seat room is at a premium, but will be OK for two, three in a pinch. The car can accommodate a variety of cargo/people combos, with split-folding rear seatbacks augmenting the decent-sized trunk. A couple of cargo tie-downs in the trunk keep everything secure.
I had to fold the rear seat backs down when there were fewer than two people in the car because the rear seat headrests block too much of your rearward view. This is an issue in all too many cars these days, but I seem to be the only person who is bothered by it.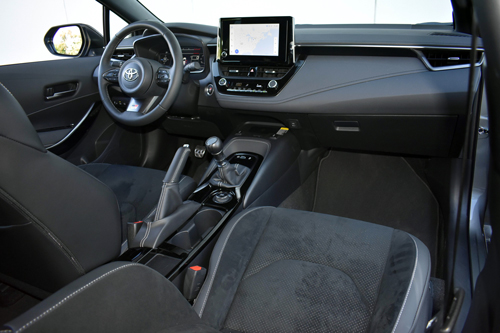 My first task in any test drive is to disable all the nanny systems. What's the point of having a high-performance car if it keeps you from enjoying it?
A knob just ahead of the shift lever gives you four drive modes – Custom, Sport, Normal and Eco – which modify a bunch of performance parameters like throttle response to suit. As if in a car like this you'd want anything but "Sport".
Another knob lets you change the torque split to the front and rear wheels from 50/50 to either 30/70 or 60/40, the latter if you are planning on entering any "drifting" competitions.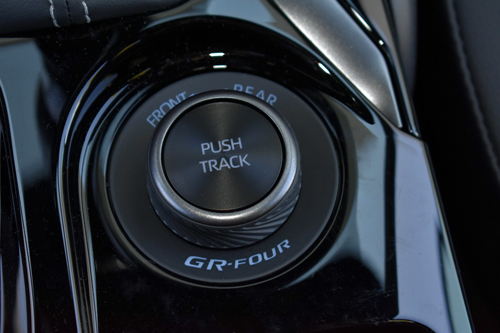 I did swap between the latter two settings and tackled one of my favourite neighbourhood two-lane twisties back-to-back. But with limited time and the need to be aware of other road users, not to mention the audible protests from the tires, I couldn't detect a huge difference in the car's behaviour.
Push on that aforementioned knob and you get TRACK mode which gives you a bunch more options, presumably for track use only.
"Track use" you say? I'm ready when you are, Toyota.
The speedometer has only a digital readout, no dial. When stopped, it does not show 0, it's just blank. Move at all and it goes 1, 2, etc. This is by far the biggest display on the screen, as if speed is the most important data element you need to know. Maybe in a car this quick, it is.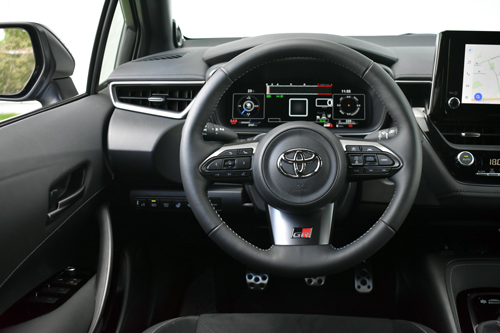 The radio volume knob is up on the Navigation screen which again feels a bit odd. The two big round knobs where radio volume and tuning have traditionally been since the earth's surface cooled are A/C temperature and fan speed.
There are two Type C USB ports – that's the newer symmetrical design. No older-style Type A outlets, but your computer store can sell you adapters if you need to connect your older gear.
As in many (most? all?) Toys, some models of cell phones can be charged just by laying them on a pad ahead of the shift lever. Sadly, my old Pixel X2 is not one of those. But I wonder if this would earn you a ticket because in some jurisdictions you can't even have a cell phone visible in the car.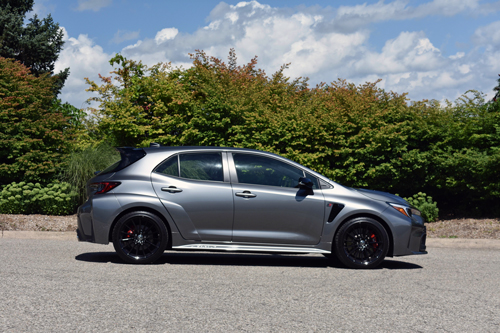 Technology, performance, and handling aren't the only things that set this Corolla apart from its historical  namesakes. How about a price tag that starts at $48,604.50 and can run north of sixty grand with a couple of tick marks on the order form?
Then again, comparable vehicles like VW's Golf R and Honda's Civic Type R are in the same snack bracket. Pays your money, takes your pick.
Back to the original question: is this the latest evolution of the Corolla nameplate?
Not a chance. Apart from four wheels at the corners, those seven letters in the name badge are the only things this car has in common with Fiona's car. Or frankly, any other Corolla model.
Does that make it any less fun to drive?
Nope.
And when you do take yours to the race track, can I come?