The fact that some of the earliest information we're receiving concerning the next Mercedes-Benz S-Class – the flagship of flagships – speaks mainly about how the rear seat passengers are to be cared for like never before speaks volumes for the type of clientele uber-sedans like the S-Class are aimed at. They are executives – or rather, the bosses of executives – they are government officials and they are dignitaries.
And according to Mercedes-Benz, they like their back seats loaded with as much tech as possible.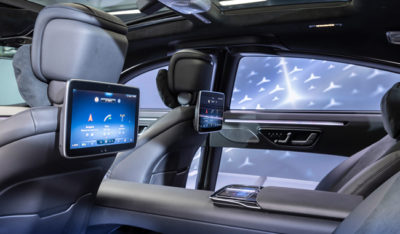 How much? Well, Mercedes says that with the arrival of the second generation of the brands MBUX in-car tech suite, those sitting in the back of the new S-Class will have the same access to all the advanced infotainment and communications tech that the front seat passengers get. That means three ultra-responsive displays, access to the "Hey Mercedes" voice activation tech, as well as finger- voice- and face-recognition security measures. Rear seat occupants will even be able to override the navigation commands if they so wish.
While "Hey, Mercedes" will still be the default activation command for the system (allowing occupants to control everything from climate settings, to audio feedback, to seat settings via voice control), certain more "obvious" commands  — "accept call" or "I am cold", for example – will now be received and acted upon by the system without the "Hey Mercedes" prompt.
Or, if you want to skip all the chit chat, you can always load your preference into the Mercedes Me app, scan a QR code once you get into the car, and your profile will be activated along with all the various in-car settings contained within. Up to seven different profiles can be stored in the S-Class. As a bonus: as other Mercedes vehicles begin to receive MBUX 2, they will also be able to access your Mercedes Me profile. If you want the smoothest transition from car to home, meanwhile, you can "link" your car with your smart home and ask it to turn on the air conditioning in your house or what have you before you arrive, so the optimal temperature will be set soon as you come through the front door.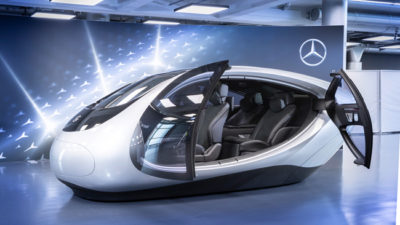 Or, if you don't want to take any initiative when it comes to communicating with the system at all, that's OK, too, because the system "learns". Like Santa Claus, it knows when you need to be sleeping, it knows when you're awake and it will adjust various in-car settings accordingly. Mercedes has also taken a page from cross-country rivals BMW and programmed the system to be able to read hand gestures for opening the sunroof and there's a "favorites" gesture – same as the peace sign – that does…something. More on that tech later as the S-Class nears production.
While plenty of attention has been paid to the rear seat occupants, front seat occupants have not been forgotten.
The gesture recognition works for them as well. For example: all the driver has to do is glance at one of their wing mirrors in order to start adjusting it; no need to first select which mirror you want to tweak. And, just by glancing at the passenger seat for an extended time will be enough for the interior lighting to turn on, as the system senses you may be looking for something. It will also open the rear window sunblind if it senses the driver looking over their shoulder as they start to reverse.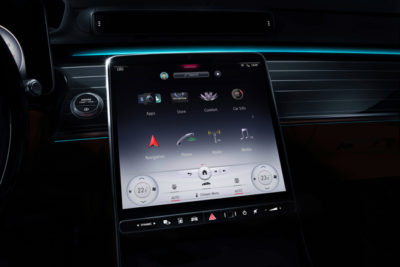 More tangibly, the gauge and main infotainment display are now of the OLED variety, and quite large, appearing similar to the massive 17" display used by Tesla. the display also employs some sleek pixel work in order to provide drivers with a 3D impression as they glance at the gauges. That is some pretty skookum stuff that we can't wait to see for ourselves. Those screens, meanwhile, gave designers and engineers the chance to reduce the number of traditional buttons found on the dash. Which they have done; 27 buttons have been dropped in favour of the touchscreen display.
A new heads-up display (HUD), meanwhile, will get the augmented reality treatment already employed by Mercedes in some of its products, whereby certain animations on the HUD will help drivers with navigation instructions ad so forth.
Along with MBUX 2, we also can't wait to see the new S-Class, as well as to learn about what manner of ultra-modern powertrain tech Mercedes has planned for it. We don't know anything for the time being, but we know we can expect lots of electricity, and lots of power.
Keep your browser set to vicariousmagmag.com to learn more about the all-new S-Class as soon as we do.