There is a car for sale that can save you money even if you don't own it. It's the Ford Fusion, and it has a very special model.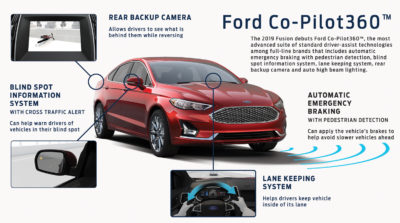 The 2019 Fusion has been updated, with new front and rear end styling, Ford's Co-Pilot360 safety feature package and new powertrain options. For example, the miserly 1.5 litre EcoBoost engine is now standard equipment on SE trim levels and the Fusion Hybrid has new battery chemistry that holds a charge longer with a 20 percent increase in electric-only driving mode to a range of 40 kilometres. The car that can save you money even if you don't own it however has additional red and blue lights and a siren. It's the Fusion Police Responder.
The Fusion Police Responder is the first ever hybrid police vehicle to be Pursuit Rated by Ford. Each year, auto manufacturers submit vehicles to be tested to the Los Angeles county Sheriff's department and the Michigan State police who perform a series of tests on new vehicles to see if they meet the rigors of police work. The term "Pursuit Rated" is more a marketing term rather than a specific set of criteria but when a vehicle passes the tests it is more than capable of performance needed for police work.
Some of the testing criteria used by the Michigan State police include acceleration from 0-60 MPH in less than 9 seconds, 0-100 mph in 24.6 seconds, braking deceleration of 25.79 ft/sec sq. while performing twenty 60-0 mph stops and a 32-lap simulated pursuit around Grattan Raceway to test vehicle handling dynamics and durability.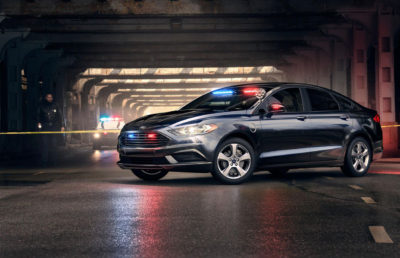 To ensure the Fusion Hybrid Police Responder meets these standards, Ford has modified the Fusion with special suspension components, brakes, wheels, tires and engine programming. In addition, other police equipment is included on the vehicle such as red and blue flashing lights in the mirrors, windows, grille and marker lights, a console that is ready for the mounting of department specific radios and computers, power distribution centre and light controller in the trunk, wiring harnesses for adding other electrical equipment such as rooftop lighting and special front bucket seats.
Unlike the form-fitting bucket seats you find in most cars, the police seats need to be wider and flatter with minimal bolsters so that the bulky equipment belts worn by police will not hamper movement in the car. The seats also include an anti-stab seat plate in the seat back to protect front seat occupants and heavy-duty cloth seat covers for durability and comfort.
So how can this Fusion Police Responder save you money? This vehicle is much more economical on fuel, which means it costs less to operate the police department vehicle fleet.
Police vehicles are on the road almost all the time and during that time, about 60 percent of it is spent idling. The engine must stay running to operate the electrical systems required by the operator, but with the Fusion Hybrid, the electrical systems, radios and computers can operate from the Lithium-Ion hybrid battery and the engine doesn't need to run.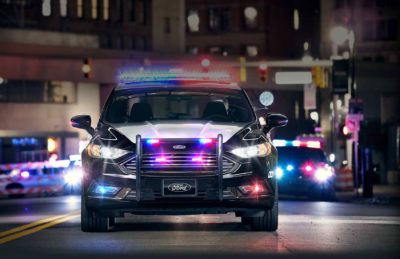 U.S figures estimate that fuel cost savings would be approximately $3,900 per car per year (in U.S. dollars!) and that the vehicle would produce about 27,000 less pounds of CO2 emissions per year. Operating the Fusion Hybrid, about 1/3 of the fuel savings occur while driving, while 2/3 of the savings are while the vehicle is sitting still. Multiply those savings by the number of vehicles a police department operates, and the dollar figure can be huge. There is a slightly higher cost for the hybrid, but the savings will payback the difference in cost in less than a year and then it is pure savings.
Hybrid and plug-in hybrid vehicles save their owners the most money in stop and go driving and vehicles that need to be on the road all the time just increase those savings. The Fusion hybrid Police Responder makes a lot of sense because it can save all of us a lot of cents.