Do you remember that Seinfeld episode where they're pitching the show's concept? This was to be about: Nothing. This story is that: About Nothing. Fetching snacks and beer to the dock that my wife and I populated, inert, for a week was often the height of a steaming day's achievement.
Mind, we felt justified. Not to complain too bitterly when so much of the world's wrestling with genuine crises, but COVID quashed a luxurious trip to Greece, a 30th–anniversary present to each other. Yes, 30 years married — an even greater accomplishment than walk/climbing 20 metres from a hot dock to a secluded rented cottage to fetch more snacks and beer.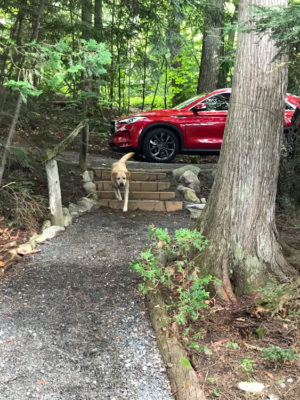 Instead of flying 8,000km to Thessaloniki, Greece for two weeks, we went 30km north of Thessalon, Ontario for a week, a 650km drive. We arrived just after lunchtime in 30-plus degree sunshine on the Friday and flopped into Lake Cumming. We left just after lunchtime in 30-plus degree sunshine on the next. To catalogue what we did between wouldn't fill this article. To relate how good that felt would take several issues. Lucky for you, this magazine has an excellent editor (agreed- The Editor).
Have you searched online for holiday rentals this COVID summer? When you could even find any waterfront cottages within 300km of our city, they'd easily cost over $800 a night. But a friend from Sault Ste Marie — aka The Soo — said there were loads of rentals going empty so far from Toronto because 1) Americans who love fishing there are banned this summer and 2) most Torontonians never consider renting a cottage north of Muskoka because they think there is no north Muskoka. ("Here, there be monsters!")
We found this beautiful if unnecessarily big cottage online and booked it in early July for a week in August. And coming from the GTA made us almost interesting to the few locals we met. The general store 2km down the road sold gas, beer, wine, milk and meat (just right for doing nothing). The people we met there wanted to know if we were from Sudbury or The Soo. That would be like someone in Red Deer asking a stranger if she's from Edmonton or Calgary; or a Trois Rivierian asking if you're from Montreal or Quebec; or a Gulf islander, wondering whether you're a Vancouverite or Victorian. The point is, you smell of not far but stink of not from here. So, when we said we were from Toronto, they'd cock an eyebrow as though asking, oh, are you sure?!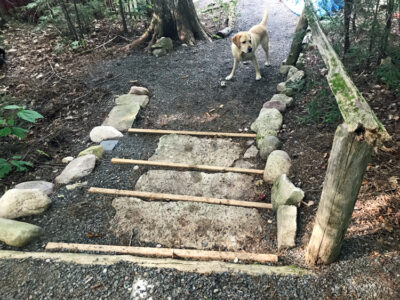 Anyway, we found this lovely cottage, whose retired Texan owners couldn't visit this year. From the pictures, it looked charming, clinging to thinly soiled Canadian Shield that plunged 20 meters at a 60-degree agree into a dark, cool lake.
However, like so many Ontario cottages it hides shyly in summer, in dense leafy forest. But over half the trees are deciduous, so the leaves would be gone for 7 or 8 months. The point? It's impossible to photograph the entire length of the cottage except from above. (It's especially hard to shoot from above if you're utterly prostrate on a dock all day — picture an iguana in a speedo — desperately soaking up maximum Vitamin D.)
We asked the important vacationers' questions before committing.
Does the rental include a canoe and/or kayak, we inquired via email? Yes! Two kayaks, plus a canoe and rowboat, the owners boasted! They're fishing fanatics, they added, and wish they could be there now instead of renting it out.
Is there a barbecue? (Stupid question. They're from Texas.) Yes, just be sure to clean the propane grill after.
Is there a fire pit? Yes. It's been such a wet spring that there's almost no chance of a fire ban being instituted, even if the 6 weeks between when we book and arrive turn out to be as hot and dry as Satan's fiddling callouses.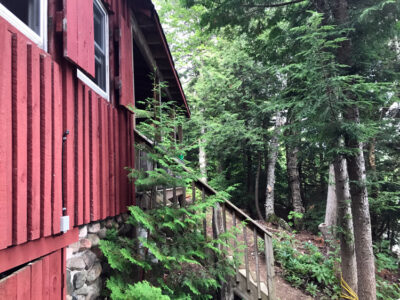 It did turn out that hot and dry. And there wasn't a local ban. Still, though we meant to, we just never got around to enjoying a campfire on any night we were there. I even packed a guitar but only made it through half a song on our second day before putting it down to collect dust till we left.
Speaking of Nothing, the one time we put the canoe in the water, our 90-pound Labrador retriever jumped in and tipped me, then tried to save me by clawing at my back and forcing my head underwater. The bastard. Two days later, I kayaked a kilometre along the shore while he swam behind me, yelping and hollering like an angry Republican with a conspiracy theory!
As for the barbecue, despite our intentions of daily feasts, it sat uncovered beneath its tarpaulin the entire week. The electric stove and oven were faster and simple to operate. And frankly, cold snackable tapas, quick-heat pizzas and good old-fashioned potato chips fit our laid back schedule better.
The one question it didn't occur to us to ask? How much sunlight does the place get? After all, this was waterfront property on a two-acre lot on a quiet lake in a part of the province that you could accurately describe as halfway between nowhere and 'what?!'. Why would there be a dearth of sun?
Turns out that at this time of year, the cottage is so nestled in its steep leaf-hidden nook on the hill, that it gets pretty much zero direct sunlight in full summer. Moreover, the trees are so tall, the sunshine on the 30-foot dock disappears for all but a few final feet, during a third of the best part of the day.
But, oh, how we spoiled our lazy asses on those final exposed few feet!
Indeed, day by day, we accomplished so much Nothing in such limited space that a Japanese carmaker would salute. Did we mention driving here in an Infiniti QX50, with the apt trim name, Sensory? Carma.
Contradictory as it sounds, Nothing is good for the soul.
So, just what did we do? Read, snack, drink, read more, snooze and read more. Oh, and swim — if you could call it swimming. It was more fall-in and not-drown-to-cool-down than actively move to take exercise.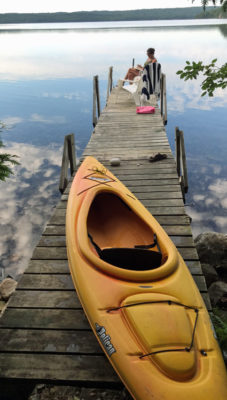 Here's a summary of most days' schedule: The sun coloured the sky butterscotch-amber by 6:30am, when I'd rise to make coffee and drop a cup off for my snoozing wife. (See above, regarding 30 years of marriage? She's been asleep for two hours more per day than me throughout, a big reason we've lasted.) I'd take my book, coffee, breakfast, dog and his treats to the dock, and take in the sunrise — then sit, read, snooze, contemplate, read more, notice that at some point my wife had joined us, fall in the water, move just enough to not drown, roll out and dry off.
Then repeat.
About once every half hour, one of us would come across a clever or wise passage in whichever book we were reading … from the adventurous if dated machismo of James Clavell to the personal and vulnerable nostalgia of Elena Ferrante to the effortless vividness of David Mitchell.
Occasionally, we'd be tempted to check the headlines on CBC or NYTimes.com. But the news was unmitigatedly fevered, noisome, and just out of step with our quiet, warm cocoon. Away went the phones.
In the evenings, we'd turn our chairs west and take in the sunset, our blood pressure syncing and sinking with it. This is how we used to holiday before we had kids and, god willing, a snapshot of the coming years: a dozy Zen.
Remember the last time you enjoyed such a lazy few days? No matter how hard you try to slow it down, time speeds up — even when you're in a wonderfully soft and gentle rut.
So, we actually did some other things throughout the week.
It helped distinguish the days slightly. On our first morning, we hiked up what the locals call a 'mountain' but even most nose-stretching fishermen would be embarrassed with such an exaggerated misnomer. The entire distance there and back was 7km and the gradual ascension about 500 ft. Still, this was genuine achievement.
In the late afternoon of the fifth day, we met pal, Paul, and his family on an island about halfway between his home in The Soo and our few square feet of sunny dock. My wife joined Janet and their beautiful toddlers at a public beach while Paul, a classic northerner, took me, a chronic urbanite, shooting. Yes, with real weapons. On a nearby piece of land that's been owned by friends of his parents and grandparents for decades, we set plastic water bottles on an old fence for targets. They explode dramatically.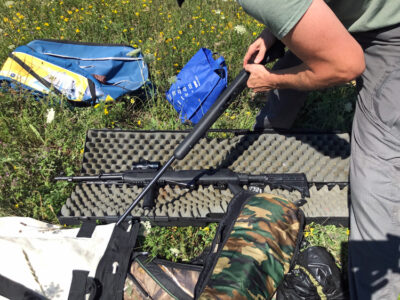 First, Paul unsheathed two big rifles, two bigger shotguns, and what he called a "fun as hell little .22" which wouldn't unlock. Fact: Ontario law dictates that the trigger of any firearm stay locked by key or combination whenever not in use, and Paul is a safety-first practitioner.
He's also a patient instructor. Within minutes I was exploding water bottles like the cold-blooded assassin's watermelons in The Day of the Jackal.
After a couple of hours, we collected our beached families and walked to a patio restaurant in the pretty tourist town of Richard's Landing. Beside the lighthouse we had a perfect view of these northwestern most inches of Georgian Bay. We enjoyed socially distance pizza that someone else made and chatted into the beginnings of another painted sunset.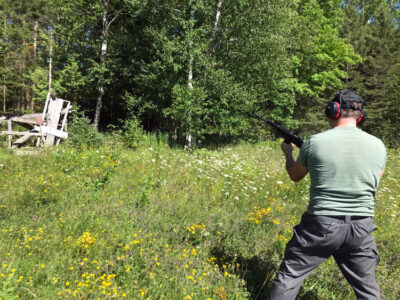 The whole scene was so beautiful, we almost wept when saying ciao to these friends who'd recently moved back to The Soo after years in Toronto. Firearms, pizza and friends sparked a nostalgic twinge for the present. Did the experience stoke a desire for purchase a gun that could protect my family from the impending apocalypse? Not really.
After all, the zeitgeist insists the apocalypse is here now — and so far it's been lovely.
Back to our typical quotidian schedule on the dock clock …
By the time most evenings crept overhead, we'd find a way not to have a barbecue and a reason not to build a fire.
It was never buggy for more than an hour around twilight. Weeks of heat had dried up much of the forest floor's terminal dampness, minimizing the stinging little bastards' fecundity. What mosquitoes there were rarely ventured far onto the dock. So, we stayed put, then looked up.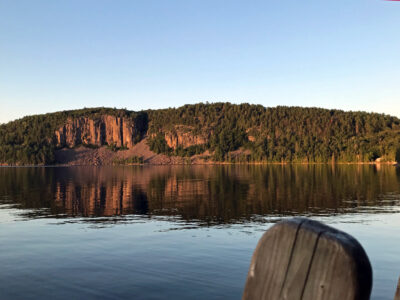 The stars. A dark, clear northern sky on a warm summer night is better than any film, play or TV show. Fixate on one quadrant of the sky and you'll notice a few pinpricks of brilliance. Then a cluster will magically fade into your peripheral vision. Shift your focus over to them and presto, these new specks are gradually surrounded by others.
If you ever feel stressed and out of control, yogis and psychologists advise going deep inwards and focusing on your breath. But if you're north, you can expand outwards, consider gazing for extended sessions at the firmament to find your quiet place. It's perfect.
2020 Infiniti QX50 AWD Sensory: A fine complement for the slothful (or active) vacationer.
People looking to do very little appreciate such a vehicle that does it all. The 2019 QX50 was so completely overhauled that Infiniti's next edition, the 2020, still feels new.
But if you're in a hurry, the word 'Sensory' is the theme here. Want some sunshine? The area covered by the panoramic moonroof is bigger than a family of teenage boys' grocery bill. Want a concert? Crank the Bose Performance Series stereo with 16 speakers. And equitable comfort for all? Enjoy the tri-zone climate control system.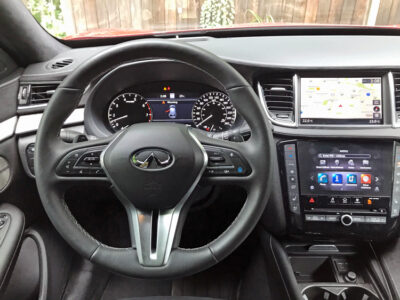 The dual HD displays are commanded will multiple options, from touch-sensitive screens to old fashioned radio buttons. So, despite your operating bias, you'll find a way to get what you need from the oceanic infotainment system's choices. The kindergarten simplicity of Apple CarPlay is standard — so intuitive that even your mother won't call you from her car with questions — as is Android Auto.
It's moonroof makes it feel extra spacious, but it's plenty big. Without interrupting the rear-view mirror and without playing car-Tetris, the QX50's open enough to transport an electric piano with stand, oversized cooler, acoustic guitar, two cases of wine and two more of beer, one 90-lb. Labrador, two suitcases, three carry-on friendly backpacks, two beach bags full of books — and two burned-out city dwellers, happy to share the driving duties.
But QX50's also compact and, with a 36.4 foot turning diameter, nimble enough to negotiate a narrow dirt track with a hairpin turn that simultaneously nosedives several metres to a parking spot by a hidden lakeside property.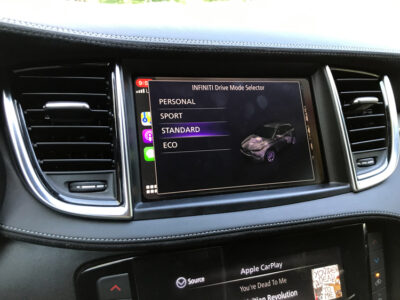 Its default drive mode, Standard, is good for economic travel on boring 400-series Ontario highways. (There's even a further Eco mode you can switch to.) When you venture west of Sudbury on the TransCanada Highway, the drive becomes interesting — better still, traffic thins — and the QX50 is happy to increase your enjoyment of the turns and variations in elevation with Sport and Personal modes. The keen can choose to paddle between gears.
Beneath the hood, sits a ridiculously efficient turbo engine that matches those multiple personalities. It emits 268 horsepower at 5,600 rpm and 280 lb-t of torque at 4,400. But surprise! It's a 4-cylinder 2.0 litre whose fuel efficiency rating is 7.8L per 100km on the highway.
This engine was awarded 2019's Best Green Innovation by the Automotive Journalists Association of Canada. Which seems appropriate since we'd promised to leave the owners' property as we found it: perfect.