The invitation to attend a celebration of Mitsubishi Motors Company 100th year of production was a shock to me for various reasons. First, I had no idea the Japanese automaker has been building vehicles for 100 years. Second, Mitsubishi in North America is somewhat off the radar for most automotive buyers, having discontinued the cult-status Evolution (EVO) in 2015 and instead focussing their attention on more useful, but less inspiring, SUV's, CUV's, sedans, compact cars and electric vehicles. Little did I know there is a significant rebirth going on behind-the-scenes at the Okazaki Plant Complex in Japan and I was about to have a front row seat at the table.
The flight into Tokyo was stress-free, my typical experience with Air Canada, though it seems I am in the vast minority. Japan's biggest city, Tokyo, has the potential to feel oppressive, especially when you consider its population of 13.6 million surges to 37 million when counting the greater metropolis area. But to my surprise, it feels like any big North American city, with one significant difference. It is clean, even by Canadian standards; it sets the bar for how a big city should look and feel. Yes the crowds can be overwhelming, but like New York City drivers, everyone provides just enough space for you to navigate the streets and subways respectfully without feeling completely claustrophobic.
It is while touring Tokyo over the course of four days that I realize just how significant the world is changing around us. Mass transit as the first option for travellers, along with hybrid/electric vehicles, is becoming routine around the globe. Canada is only now starting to catch up. Mitsubishi Motors Company has had it recent share of challenges, but out of the ashes of past success and some significant failures, a Phoenix rises and it seems poised and tracking for new success in the shifting world of mobility.
Mitsubishi is a community that consists of multiple independent companies. Mitsubishi Motors Company runs autonomously from the others, but benefits from the greater size and scale offered by being part of a worldwide enterprise.
This was clearly on display as we toured Shinigawa Intercity, seeing firsthand the benefits of a collective focus on energy, aircraft, space, ship and ocean, transportation, material handling, environment, automotive, industrial machinery, infrastructure, leisure and living as well as defense. A fascinating tour of the Nikon Museum, part of the greater Mitsubishi group, brought things into clear focus. All this makes for better automobiles, the proof, according to chief designer Mr. Tsunehiro Kunimoto, is coming soon.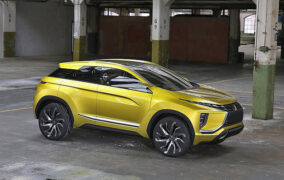 The recent acquisition of a 34% ownership stake in Mitsubishi Motors Company for $2.18 billion ($237.4 billion yen) by the Renault-Nissan alliance, as reported by Reuters, is seen as a bellwether for the company. Driving a not-available-in-Canada Outlander PHEV at the Okazaki Proving Grounds, I can't help but think that sooner rather than later, Mitsubishi will once again be on our shopping lists here in North America (more on this in Part 2). There is something to be said for Japanese quality and with the designs we see while attending a Canadian-only press conference, taken as a whole, the results have the potential to be exceptional.
Is it possible to be inspired by something as utilitarian as a full-size 4 to 5 passenger SUV? If the smile on the face of Mr. Kunimoto is any indication, as he opens the doors to the R&D Centre with unprecedented access, the answer is a resounding yes! Over the course of several hours, a central theme starts to take shape, it's a word I have never heard before and one that any English major would most likely take exception to, but it somehow makes complete sense; Mitsubishi-ness.
A 40 year employee of Nissan, Kunimoto-san was responsible for many of today's most unique CUV designs, including the motorcycle-inspired Juke. His flair for the dramatic is on full display. Tony Laframboise, Mitsubishi Canada's Vice President Sales and Marketing, is genuinely surprised at the level of access we have been given to sit in and explore a previously untouchable concept.
Later in the day as we meet Kunimoto-san for dinner, I am reminded that behind the corporate curtain of most automotive companies, but especially here at Mitsubishi Motors, there is a very human side to his plan. With every answer to our many questions, his passionate, personal commitment to excellence is the heartbeat that drives this Japanese automaker to design new vehicles for a transportation challenged 21st Century.
The GT Concept, XM Concept and eX Concept were recently introduced as the essence of Mitsubishi-ness. All feature what the company refers to as the Dynamic Shield Design Concept. In part, this is styled to look powerful; performance awaits all those who step inside. But of equal importance, and speaking also to the family roots obvious at Mitsubishi Motors World Headquarters, is the portrayal of protection. See any one of these vehicles approaching in your rearview mirror and the vision is certain to leave a lasting and hopefully positive impact. It's not for everyone, but then neither are Mitsubishi vehicles and that's ok with Kunimoto-san.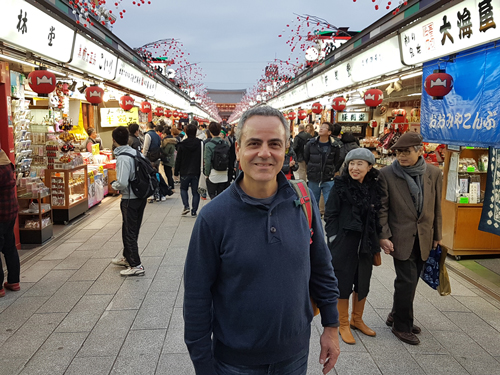 Sitting beside Mitsubishi Motors Company of Canada President and CEO Kenichiro Yamamoto on the Shinkansen (Japan Bullet Train) he re-emphasises the current Mitsubishi line-up will morph over the next few years. A move is afoot to leave the Lancer and all it variations behind, replacing them instead with a series of new SUV and CUV vehicles based on the aforementioned concepts. Everything from full-size to a compact SUV's is being planned.
A new concept will debut at the upcoming 2017 Geneva Motor Show, which one of the three will be most inspirational is a company secret, but there is no doubt the days of driving midsize sedans is over at Mitsubishi, at least for now. Better to find your niche and explore it thoroughly, especially given the current utility vehicle marketplace, rather than follow along on the heels of mega-sellers such as the Camry and Accord.
Mr. Yamamoto goes on to say that Mitsubishi Motors Company has big plans for Canada. With a significant investment from the Renault-Nissan Alliance, it should come as no surprise if you suddenly start to see a lot more Mitsubishi vehicles on the road in the next 3-5 years. With 100 years already in the books, the next chapter is ready to be written and it has the potential to be the most exciting of all.
Related links: