Attending this year's 2018 Canadian International Auto Show (CIAS) one thing was made glaringly obvious: Crossovers and compact SUVs are the new hot commodity. No matter who you are or what you're "known" for, you need to have at least one (and often times multiple) crossover in your lineup to attract the right amount of attention.
"CUVs are outselling sedans and pickups at an alarming rate," admitted Tony Laframboise, president and CEO, Mitsubishi Motor Sales of Canada. "Over 80% of sales are SUVs."
Laframboise and Mitsubishi have noticed the shift in the market from smaller, economical cars (remember the Mirage launch just 5 short years ago?), to vehicles that offer more interior space, more capable AWD drivetrains, sit higher on the road, but also drive like cars. Enter the CUV.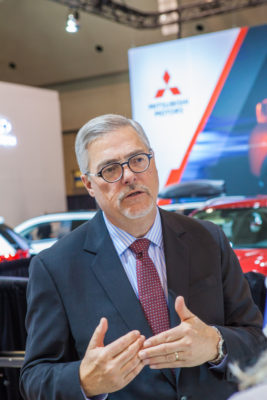 "Mitsubishi is dedicated towards SUVs. We realize it's our bread and butter," continued Laframboise when speaking about the future direction Mits is headed.
With a lineup that consists of mostly CUV/SUVs and the brand new Eclipse Cross added to the mix, it seems only natural for Mitsubishi to head in that direction. Especially since they do it well. The RVR is their best-selling product, with the Outlander not far behind, and the Eclipse Cross is sure to join the ranks soon.
Mitsubishi has committed to being an SUV company. Their core products are SUVs, and according to Laframboise, they will continue to develop the SUV lineup with updates to the RVR, a next generation Outlander, and even more plug-in and pure electric models, too.
"We really came in at the right time with the Eclipse Cross," Laframboise admits about the ideal launch. "It's a blossoming segment. And the Cross has all the technology to go along with the right body style to attract the ideal buyer."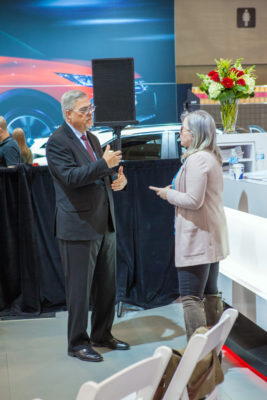 Then there's the all-new Outlander PHEV that not only offers the SUV body style and capability everyone's craving, but the fuel efficiency of a hybrid powertrain that's both responsive and practical.
"We've had a super positive response to the [the PHEV]," Laframboise admitted, happily. "It is the No. 1 PHEV SUV in the marketplace right now, and it starts at under $43,000, and that's before provincial rebates."
Has Mitsubishi combined the two most craved things in the automotive world at this very moment and created a winning monster that will take the industry by storm with the Outlander PHEV?
"SUVs are here and they're real, and EVs are here and they're real," stated Laframboise matter-of-factly. "Neither is going away, and they are both going to grow."
So, naturally, Mitsubishi put them together.
But what does all this mean for Mitsubishi's future? They are still the "little guys" in the Canadian automotive world, and yet with two new product launches in one year, it's clear they have some big plans and are here to make a name for themselves.
"It's not so much about proving ourselves," explained Laframboise of Mitsubishi's small stature in the industry. "But we are looking for double digit growth in the next few years."
With Nissan and Renault's financial backing for Mitsubishi now, that dream may very well be a reality. And the focus on SUV and CUV models also goes to show how dedicated Mitsubishi is to providing buyers what they really want and need.