In a move to support its transition to become a fully zero-emissions manufacturer, Mercedes-Benz announced at the recent CES 2023 in Las Vegas plans to launch a high-power charging network totalling 10,000 stations globally by the end of the decade.
"Mercedes-Benz already offers what we believe to be the finest EVs in the market. But to accelerate the electric transformation, we need to ensure that the charging experience keeps pace as well. Our customers deserve a compelling charging experience that makes electric vehicle ownership and long-distance travel effortless," said  Ola Källenius, Mercedes-Benz Group AG board of management chairman, in a media release.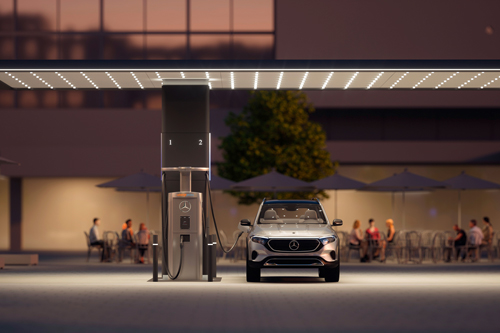 "We won't take a wait-and-see approach for this to be built. That's why we are launching a global high-end charging network. It's designed to become another differentiator of Mercedes-Benz ownership for our customers and an asset with value creation potential for our company."
Starting in Canada and the U.S,. and later expanding to Europe, China and other key markets, the first examples are set to be built in the coming months. An estimated 400 hubs are expected to come online over the next five years, stretching across North America providing a premium and reliable service for owners.
The brand is partnering with businesses like MN8 Energy, specializing in solar power generation, and ChargePoint. Representing one of the largest renewable energy producers in America, the former is a purposeful choice as the luxury automaker's sustainable "Ambition 2039" business strategy calls for green charging solutions.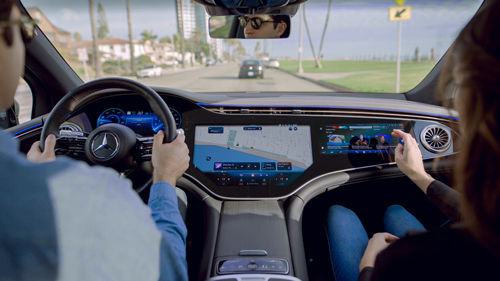 Road trippers can take advantage of Mercedes-Benz Electric Intelligence navigation, which optimizes an inputted route and suggests ideal points to plug-in and even reserves spaces in advance. In other words, drivers won't have to wait for their turn, and once connected the cable automatically authenticates the vehicle streamlining payment once set up via the Mercedes me app.
Providing 350-kilowatt of power per station, each modular hub will be able to accommodate between four and 30 users at once depending on location and may include shelter from the elements, as well as access to food vendors and restrooms. The estimated cost for the North American infrastructure is approximately one billion Euros, to be paid out in stages and split 50:50 with MN8.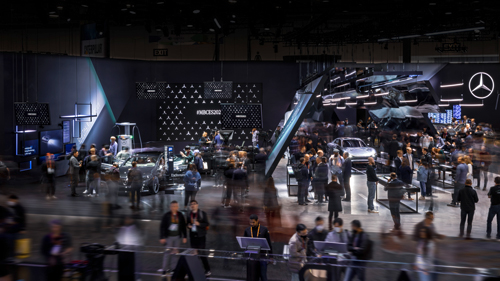 In other CES news, Mercedes-Benz announced Automatic Lane Change (ALC) technology is arriving in models sold here and in the U.S. this year. Utilizing onboard radar sensors and cameras, ALC enables the car to autonomously initiate a lane change and overtake slower vehicles, and then return to the original lane, when the adaptive distance cruise control (Active Distance Assist DISTRONIC) is activated. As a Level 2 function the driver is still responsible and must remain alert at all times.
For more information, check out the video on the Mercedes me website showing the  highlights of the "Tech to Desire" presentation from CES.