Maybach is always pushing the envelope in the luxury automotive segment, and its latest venture is literally out of this world.
The ultra-high-end Mercedes-Benz sub-brand has just announced a partnership with Space Perspective — a Florida-based, carbon-neutral recreational space travel company — to help give adventure-seekers a peek at the beyond, and will provide ground transportation to and from the launch site located in Florida.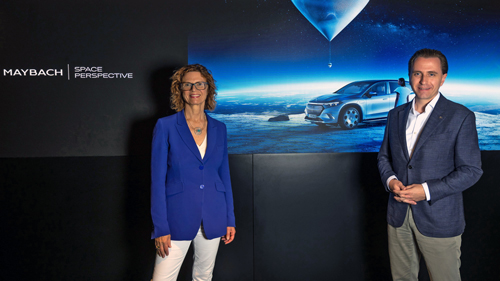 [My co-founder Taber McCallum and I] wanted to take as many people as possible to space to have the experience that astronauts have. We, however, are doing it in a very different way than you probably, most likely, have ever thought about. Instead of using rockets, we're using balloons, which are very gentle and accessible," said Jayne Poynter, entrepreneur and Space Perspective co-CEO, at the official announcement held in Tofino, B.C. earlier in October.
Comparing the experience to a ride in a comfortable Mercedes-Maybach vehicle during the presentation, the vessel is called Spaceship Neptune and utilizes a giant Space Balloon to slowly float passengers up to the stratosphere some 30 kilometres above the Earth's surface. Since no extreme G-forces are exerted on the body or weightlessness occurs, a conventional rigorous training program isn't required.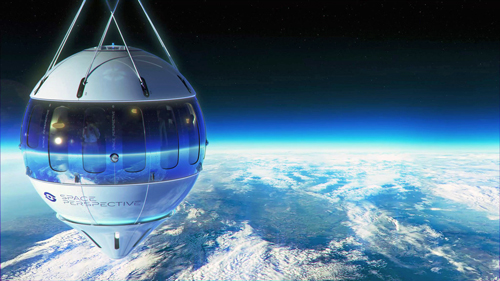 Featuring a pressurized capsule with massive 360-degree windows and room for eight plus a captain, the interior is customizable and boasts dining facilities, a bar, lavatory and even Wi-Fi service. The entire journey lasts six hours: the 20 km/h ascent takes two hours, followed by a static position at apogee for two hours, and then a two-hour descent to a soft ocean landing.
As the only carbon-neutral human spaceflight offered thus far, it made sense to leverage Maybach's foray into the sustainable EV, ahem, space and have the latter provide all-electric shuttles like the new EQS 680 SUV also launched (pun intended) last month. In addition, as part of the collaboration the premium marque is in talks to aid in design and hospitality integrations on Neptune.
Unmanned test flights are currently underway, and crewed commercial flights are scheduled to take place at the end of 2024 for the 1,650 guests who have already purchased a $125,000 USD ticket. Visit www.spaceperspective.com for more information.