Once in a Blue Moon. It's an aphorism that's undoubtedly played across your eardrums more than a handful of times. In case you were ever left wondering, it actually has nothing to do with the hue that the moon takes on but does indicate rarity. It refers to the third full moon in a season where four full moons will take place. Over the course of a calendar year, when a Blue Moon presents, we'd see 13 full moons instead of the standard 12. This happens every two to three years, and thanks to the imperfect timing of a lunar cycle (~29.53 days), won't show up in the same month.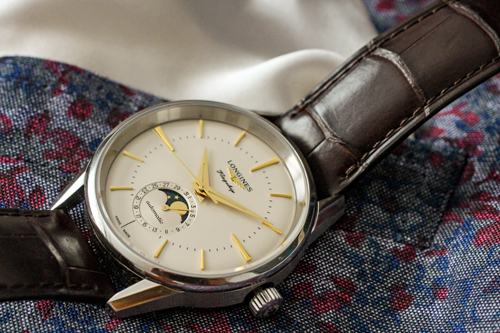 On August 30, 2023 not only do we get one of those rare Blue Moons but this one will also present as a Supermoon, meaning it's brighter (~18%) and bigger (~8%). And if that weren't enough, this SuperBlue will be the closest to Earth of the four supermoons we score in '23, skimming our orb some 27,000 kms closer than normal or as most of us non-astronomer types call it, "pretty dang close".
This is important, or at the very least coincidental, for two reasons. The first of which is that, only once in a Blue Moon do I wear a dress watch – I own a couple, but I'm a tool-watch guy, through and through: the dressy stuff usually stays in the watchbox for special occasions or court appearances (don't ask). The second reason – the more important one, really – is that the dress watch I've had on while tracking this event is the all-new Longines Flagship Heritage Moonphase.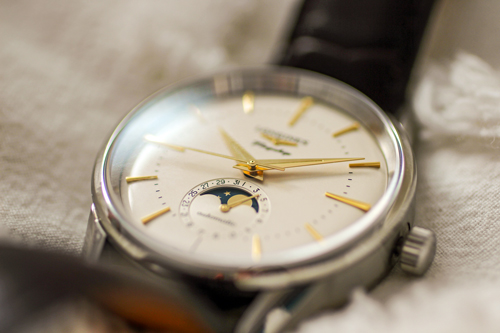 A romantic concept more than a practical one nowadays, the moonphase complication residing in the subdial at 6 o'clock harkens back to why we ever began tracking time in the first place. When I strap the lovely opaline and gold version Longines was kind enough to loan me, I set the time, date and rotate that disc within the subdial to show a waxing gibbous that most closely reflects the actual phase shining above.
Set up is as easy as any other mechanical watch but it should be noted that the moonphase spins on a 59-tooth disc, so the accuracy of the lunar cycle will be off by one full day every two years, seven-and-a-half months. Other pricier, haute-horlogerie brands use a 122-tooth sprocket to remedy this and work in sync for 122 straight years. If the romance of the complication has a strong enough pull for you, please feel free to empty pockets accordingly. For the rest of us, the Longines Flagship Moonphase offers plenty of punch at a more affordable cost ($4,000).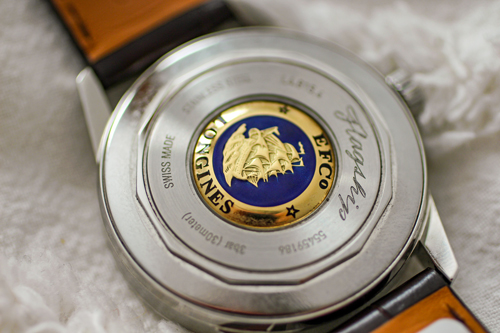 Covering 1164 square-millimetres of wrist, the Flagship Moonphase is sized nicely for a modern, "dressy" fit (38.5mm in diameter). I'm using those air quotes because there are a number of styling and construction elements that may disqualify this watch from the "easily slides under a cuff" family of true dress watches.
First of all, the Flagship Moonphase is a touch thick for the genre at 12.4mm tall. Toss in the fact that the lugs don't quite wrap around a wrist – the nicely embossed caseback elevates things even further – and the wearability is more comparable to sportier timepieces like something from Longines Spirit line.
That said, it doesn't feel overly top heavy on the wrist, and if you're used to chunkier timepieces its aesthetics deliver a much slimmer appearance than the metrics may pronounce.
The dial is a beautiful statement in minimalism. The applied indices and gilt hands exude an air of old-money class, and while I prefer the textured treatment that the sub dial/moonphase gets in both the Blue and Silver versions, I'd still rank this Gold version as my second favourite of the three (the Blue just really pops, IMHO).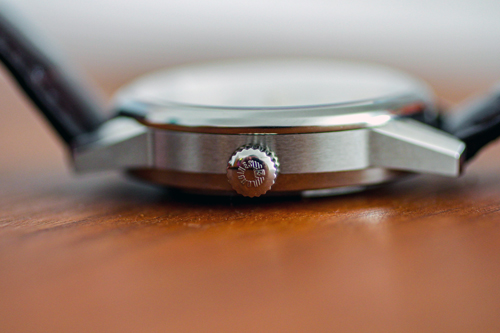 Strangely though, those dauphine hands have been treated to a new-money touch – there's a sliver of SuperLumiNova atop them. While this is definitely appreciated by folks like me with a sport-watch bent (and who sleep with their watch on), it's not exactly common in the dress watch space. My only other gripe would be that the "automatic" script on the sub dial that refers to this watch's engine adds an unnecessary design element to the overall cleanliness of the watch.
Speaking of, powering the Flagship Moonphase is the Longines L899 calibre antimagnetic, automatic movement. Whirring at 23,200 vibrations per hour, it boasts a reserve of 72-hours or approximately 36-degrees of lunar movement. Based on an ETA A31.L91 movement, this 21-jewel engine is actually unique to Longines but, as a part of the Swatch Group, it may soon see duty elsewhere. While that may not be so irksome – it is to be expected from such a large umbrella of brands, afterall – it's debatable as to whether this Flagship stands out within Longines own lineup.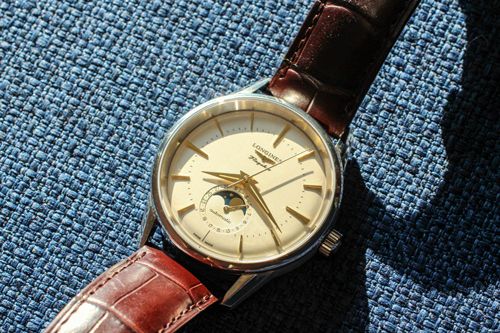 Longines catalogue already boasts quite the handful of moonphase/L899 equipped timepieces. And with both a 40mm and 42mm Master Collection variant currently available with similar aesthetics and comparable price tags, you may wonder what, other than its newness, justifies putting the Flagship Heritage Moonphase on your wrist?
In my mind and on my wrist, it comes down to the details – those ones that help it straddle genres – that the Flagship Heritage Moonphase offers to set it apart. For me, it's that mix of luxe finishing, an elegant appearance and slightly sporty packaging at a relatively affordable ask that places it firmly on my radar. Think of it as the date-night option for a destination slightly fancier than your usual haunt, or as a romantic device that can track a truly rare and spectacular celestial event, like a Blue Super Moon.