It's difficult to estimate. Transport Canada does not keep country-wide data nor does the Insurance Bureau of Canada, but from provincial sources, it is appears that collisions between large animals and vehicles is a serious concern. Much of the national data goes back to reports in 2003, where from 1998 to 2000 there were more than 25,000 collisions with large animals each year! Newer provincial data shows the number of collisions is increasing at an estimated rate of 7.55% a year. For example, the 2014 statistics report from the Insurance Corporation of British Columbia shows that there are about 9900 animal-related collisions every year, with about 80% of them involving deer. Most of the rest involve moose, elk, bear and coyotes.  Collisions with smaller animals are often not reported.
In Ontario there were 65,749 reported wildlife collisions from 2007 through 2011. In Newfoundland Labrador, the collisions with moose are so frequent many people consider it extremely dangerous to drive at night. Manitoba Public Insurance for 2010 estimated deer-vehicle collisions cost insurance $31 million in claims annually, which can be compared to the $33 million in claims for impaired driving.  In Canada, it is estimated that there are from 4 to 8 collisions with large animals every hour!
So what can we do about this? Reductions in these types of collisions has been found where roadways have been improved by adding fencing, animal overpasses or crossovers, removing brush along roadways, draining salty ponds near roads, posting warning signs and improving highway lighting. We can also drive smarter by understanding when collisions are more likely. The majority of accidents occur between dusk and dawn when driver visibility is limited. This is also the time when many large animals are most active. Although collisions are reported in all months, more than 70% of them occur between May and October, with the summer holiday months of June, July and August having the highest rate of collisions.
Vehicle technology is helping mitigate collisions as well. Cadillac and Mercedes-Benz have both had "night vision" systems on vehicles that use infrared heat detection cameras to detect warm objects and display images to the driver long before they can be seen in the headlight beams. The latest technology comes on Volvo's new 2017 S90 sedan that features the Pilot Assist II system to help drivers avoid collisions with large animals along with other driver assists.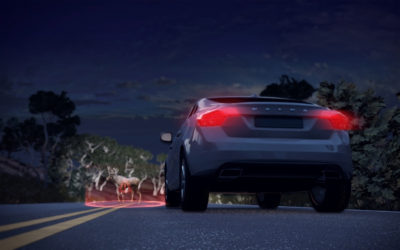 Pilot Assist was first introduced on Volvo's XC90 SUV and the system on the S90 sedan has some major safety enhancements. For XC90 owners with Pilot Assist, there are software upgrades coming that will provide them with the new capabilities as well. The large animal detection portion of Pilot Assist uses the standard radar and camera units used for other features to detect a large animal. It is active from 4 kilometres per hour and up and has a range of about 200 metres.
A large animal is detected by the computer calculating the density of the object. It also uses depth of field imaging to determine if the animal is stationary, moving away from the road or towards the road. When a danger is sensed, the system will alert the driver with an audible warning and flash a visual warning with a group of LED's on the dash near the base of the windshield. The visual warning is impossible to miss!
If the driver does not react, the car will automatically brake up to 30% of braking capability down to a speed of 15 KPH. Thirty percent of braking will slow the vehicle significantly while still giving time for a driver in another car behind you to react as well. While the collision with the animal may not be avoided completely, the impact will be significantly reduced, minimizing vehicle damage and more important, reducing possible injuries to vehicle occupants.
Volvo's Pilot Assist II also can control acceleration, braking and steering up to 130 KPH to help keep the S90 in its lane at speed and includes Run Off Road Mitigation to keep the vehicle on the road. The driver remains in control and can override the system at any time.
Pilot Assist II from Volvo is one of the new technologies that will help keep us safe and the large animal detection is an important part of that.