New York to LA on only four fill-ups!
It's not unusual to fill a fuel tank twice a day during road trips in gas-guzzling rides.
At 76.6 miles per gallon, converted to 3.07 L/100km, the Kia Niro Hybrid required only four fill-ups to drive from New York to Los Angeles; and in doing so, set a Guinness World Record for the lowest fuel consumption by a hybrid vehicle. Impressive indeed.
"We're extremely pleased with the Niro's record-breaking performance," said Orth Hedrick, vice president of product planning at Kia Motors of America. "We set out to build a vehicle that offers real-world utility, great looks and fantastic mileage, and setting the Guinness World Record® title confirms our achievement."
While it's not yet available in Canada, the Niro features a completely new platform, which was designed from day-one by Kia engineers as a dedicated foundation for their latest hybrid technology.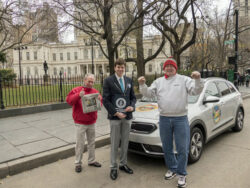 In addition to its cutting-edge "green" tech, Kia focused heavily on delivering a seamless hybrid motoring experience paired with engaging driving dynamics in its new fuel-sipping front-wheel-drive urban crossover. Rounding out the deliverables is an upscale cabin replete with the latest in both infotainment and safety technology.
There's no information on pricing at this point; or a definitive date for the Niro's introduction into Canada, though sometime in 2017 is a good bet. No doubt, there will be plenty of accompanying fanfare when it does roll into Kia showrooms.