See what I did there? The cat puns are just too easy with these cars… but on a more serious note, Jaguar's Special Vehicle Operations recently dropped the specs for this beats of a vehicle on us, and I cannot wait to get behind the wheel.
First off, this isn't your usual humdrum, run of the mill Jaguar XE sedan. If you'll recall the F-Type Project 7 from a few years ago, Jaguar means serious business when they come up with these SVO cars, and the XE is no exception.
So, let's run through the knee-weakening stats, shall we?
On the surface, the Jaguar XE SV Project 8 looks "almost" like are regular XE (almost). If that honeycomb grille that almost touches the ground with the air-diffusing front lip doesn't give something away, then the massive u-shaped hood scoop and oversized rear spoiler surely will. This thing is something special, but it's what lies beneath that vented hood that's really the important part.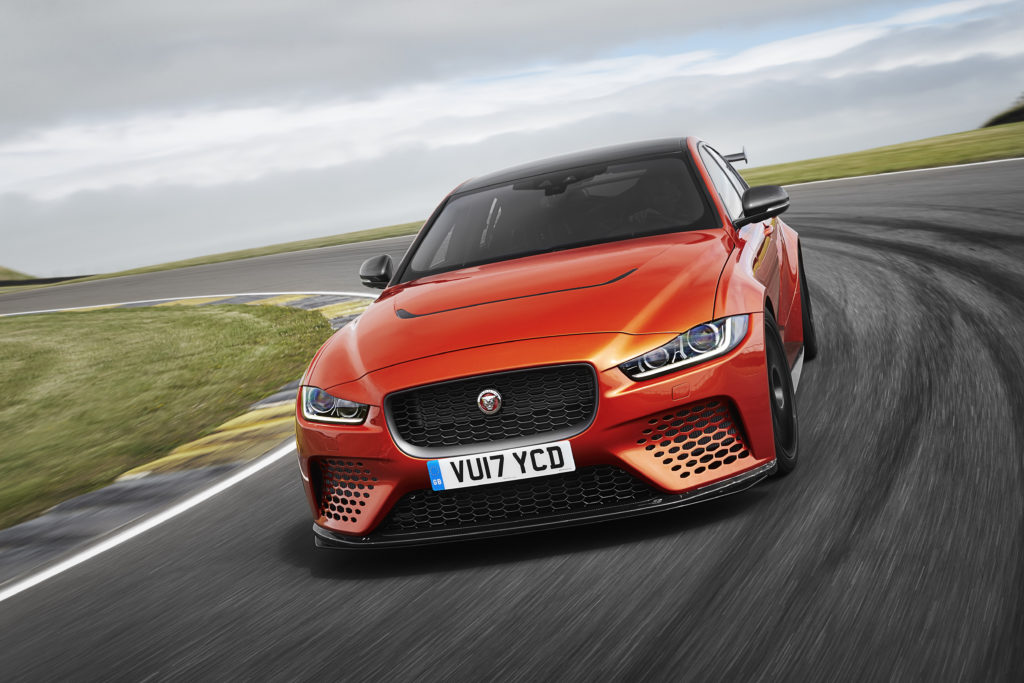 Jaguar Land Rover Special Vehicle Operations has hand-built this special edition sedan with a modified version of Jaguars 5.0L V8 Supercharged mill that's tweaked to push out 592 horsepower and 516 lb-ft of torque. That'll make the XE SV Project 8 the fastest Jaguar road car. To handle all of that power, the engineers at SVO enhanced Jaguar's 8-speed Quickshift All-Wheel Drive system to properly handle the torque and power exuded by the beefy V8.
For the first time, Jaguar will apply carbon ceramic brakes to help bring the big kitty to a stop; but when you know you can hit 200mph (according to Jaguar) why would you want to? The Jag XE SV Project 8 will hit 100km/hr in just 3.7 seconds from a standstill. I have goosebumps just thinking about it.
This past weekend, the Jaguar XE SV Project 8 made its world debut at the Goodwood Festival of Speed in the UK, and with an engine and specs like that it was the perfect location to introduce this new vehicle.
Now, here are the really important numbers to remember: Only 300 examples of the Jaguar XE SV Project 8 will be available worldwide, and exclusively as LHD. While that opens up the door to more worldwide applications that does make me a bit sad that they went with left-hand instead of their home country's RHD set-up.  The very first model has been hand-built at the all-new SVO Technical Centre in Warwickshire, England.
Jaguar continues to surprise with its special edition vehicles and road-legal street demons. Powerful and gorgeous to look at, they are really coming into their own as the years go on. Here's hoping we can get our hands on XE SV Project 8 at some point…