It appears that Hyundai has been so happy with both the "Ioniq" nomenclature and success the current three versions of the Hyundai Ioniq sedan – there's a full-EV model, a hybrid, and a plug-in hybrid version – has had on the sales front, that it was time to dedicate an entire brand to the "Ioniq" name. Called simply that – "Ioniq" – the fourth automotive brand in the Hyundai empire after Hyundai, Kia and Genesis will be dedicated to EV vehicles.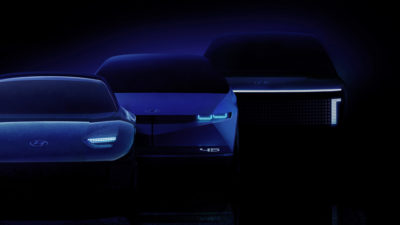 The company says it plans on releasing three full-EV vehicles – the Ioniq 5,6 and 7 — over the next four years, starting with Ioniq 5 in 2021, a midsize CUV based on the '45' concept first shown at the 2019 Frankfurt Motor Show. In a fashion similar to what many manufacturers are doing today, all Ioniq vehicles will be based on the E-GMP platform, a modular EV platform that can be shaped and re-shaped to accommodate any number of vehicle types and sizes. All Ioniq models will have a number as a model name, with all SUVs/CUVs getting odd numbers and all sedans getting even. There was no talk in the release about the possibility of a small hatchback, but it's hard to believe they wouldn't go there even thought they just axed the Accent model last week.
When the current Ioniq sedan debuted in 2016, it was the world's first model to offer all three different powertrains. So, obviously, Hyundai is on to something here. Indeed, they had better be because the Hyundai Motor Group has announced that they want to sell a million units of battery-electric vehicles by 2025.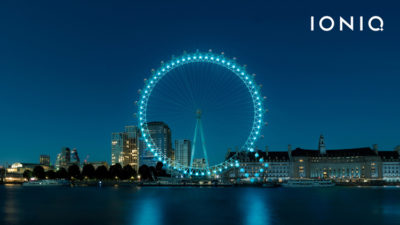 Following the Ioniq 5, the 6 sedan arrives in 2022, followed by the 7 large SUV in 2024. Since all will be using the E-GMP platform, expect all to have features that contribute to each EV having a "smart living space" interior. Features of that idea include drawers as gloveboxes, highly adjustable seats and wireless connectivity.
To ensure that the "eyes" of the world were on the launch of the Ioniq brand, Hyundai helped London celebrate the grand re-opening of the London Eye tourist attraction (think "giant Ferris wheel") and having the lighting surrounding the attraction form a giant "Q".