Each year around Easter, members of the Jeep faithful descend on the rocky landscape of Moab. Located in Utah and known for its fantastic (and jaw-droppingly scenic) off-road trails, the area is a prime spot for Jeep to showcase its wares.
What started (and remains) a gathering organized by local clubs; the Easter Jeep Safari has been co-opted by the brand itself as a place in which to display a few of the best concept vehicles it has in its corporate cupboard. Giving their biggest enthusiasts a sneak peek at what's in the hopper is Jeep's way of thanking their fanbase – some of which can be quite rabid.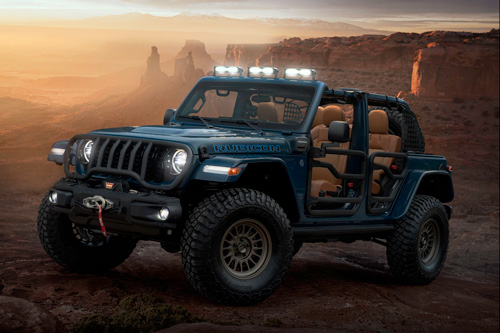 This is layered on top of the expected shilling of available parts from the newly revamped Jeep Performance Parts catalog, meet-ups around town, and a general festival atmosphere during the week these Jeepheads are in town. Hey, if your fans are eager to show up at the same place on a particular week of the year, it only makes sense to put your best (and, erm, most profitable) foot forward.
The Easter Jeep Safari runs from April 1 – 9. Here's what Jeep is bringing to Moab for 2023.
Magneto 3.0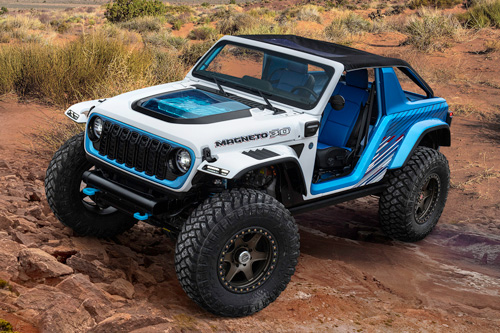 This is a third iteration of the Jeep Magneto, a rig which acts as a rolling lab for the brand's all-electric Wrangler ambitions. In other words, a future electric Wrangler will not have this powertrain but may possess some of its driving characteristics. New this year are regenerative braking modes, one of which is apparently so strong that navigating a downhill Moab trail could require a touch of throttle. A strong Dana 80 rear end handles grunt without reducing itself to 10,000 oily bottlecaps, the six-speed manual transmission from a Hellcat is still in place, and a 70kWh battery provides electrons. Monster 40-inch tires help assure us all this is still a Jeep, while a more efficient axial-flux motor increases power compared to last year.
Your author drove last year's Magneto concept and can speak to the utter alien atmosphere of totally silent off-roading in which one can hear every pebble crunch and tire squeak. A towering 900 lb.-ft of torque can be meted out by simply flexing yer big toe, creating a level of precision not on offer through any factory gasoline-powered off-roader. Magneto 3.0 can be set to deliver 285 horses – like its V6 progeny – or belt out a whopping 650 ponies.
Grand Wagoneer Overlanding Concept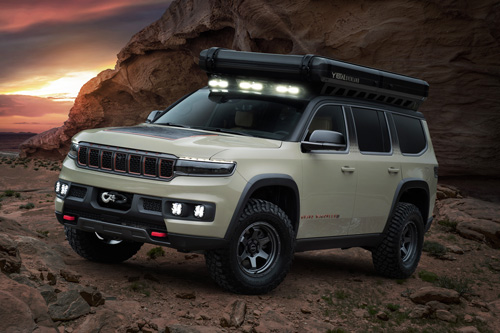 You knew it wouldn't take long for the gearheads at Jeep to turn their attention to a luxurious Grand Wagoneer, right? This one is powered by the twin-turbo 3.0L inline-six making 510 horsepower but earns a smattering of stout – and good looking – off-road gear. Those 350inch mud terrain tires were fitted thanks to alterations of the stock wheel wells, though the air suspension itself remains stock. That's great news for anyone wishing to replicate this look on their own rig. Up front we find an aggressive bumper and winch combo which fits the squared-off Grand Wagoneer fascia extremely well for a great look. Note to Jeep: if you offer these items – either through the Performance Parts catalog or as a dealer-installed option – you won't be able to build enough of them.
Also on board are a rooftop camper with a level of luxury unlike anything this author has ever seen whilst overlanding (there's even a so-called trap door into the GW's interior). Fantasy items include a clearing out of the second- and third-row seats, a roof covered in bedliner, and carpet traded for easy-to-clean material.
1978 Jeep Cherokee SJ Restomod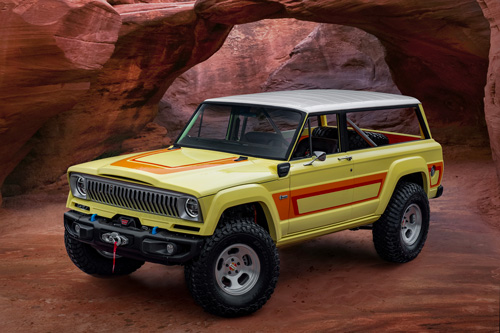 For those unfamiliar, the term 'restomod' refers to a vehicle build in which modern underpinnings are hove underneath a too-cool classic body. That was the design brief for this '70s two-door, a rig which keeps much of its retro look but is packing the drivetrain, interior, and platform of a new Wrangler Rubicon 4xe.
That means is wears 37-inch BFGoodrich mud-terrains, an electrified power team (peep the 4xe charging port just ahead of the driver's door), and all that model's attendant off-road tech. The SJ's body required many modifications to fit the Wrangler platform – notably the wheel locations – but there are still plenty of retro throwbacks including its paint scheme, 8-track player, and secret stash box.
Pinky and the Brain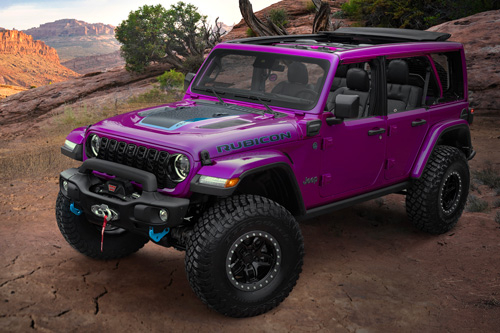 A couple of model years ago, Jeep introduced a colour called Tuscadero Pink for some models in its Wrangler lineup. Fans of old-school Happy Days episodes will appreciate the hue's name. The brand wasn't sure the colour would be well-liked, planning a run of just 3,000 units. In fact, it proved so popular they extended production for an extra month but still didn't get to all the orders. Jeep insiders say the upcoming pink redux (which has yet to earn a name) may differ from what's shown here – but only slightly. While they were at it, the crew also added the likes of 37-inch tires, beadlock wheels, an AEV bumper, and a newfangled accu-air suspension which can lift the rig anywhere between 1.5 and 5.5 inches.
Light It Up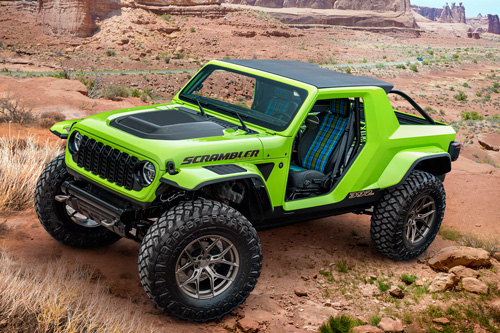 This machine blends Wrangler's two-door cool with the utility of a four-door's length and wheelbase. Used as a proving ground for lightweighting techniques, this concept uses custom carbon panels on its roof, front flares, rear quarters, and roof – all good for a Slim Fast program of about 450 pounds. Anyone blessed with the gift of sight will also see there are no doors in those oddly shaped portals. Its rear section and tailgate are from a Gladiator. Those are 40-inch mud terrains on custom 20-inch wheels.
Catalog Your Efforts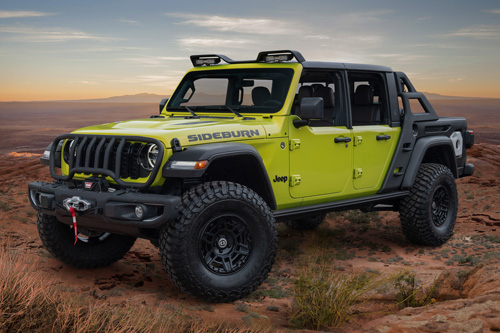 The final two concepts are essentially showcases of what is – and what may be – on offer from the Jeep Performance Parts (JPP) catalog. First up is the Sideburn, a Gladiator Rubicon festooned with concept lights and a whole new take on its bed area. That natty blue rig is called the Departure, a Gladiator wearing many items which may be plucked from the JPP roster. Notable are those forward-facing auxiliary lights that can rotate when the Glad's windshield is folded down, plus an inboard spare tire which tucks inside the cargo area for a better departure angle. Now you know from whence this concept's name originated. Also cool? That huge grille guard – shown here and on a couple of other of concepts this year – is hinged on the bottom and can be flipped forward for use as a bench while you're taking a break on your favourite Moab trail.