It could be said that there's no such thing as an undesirable Porsche. Years ago, folks might've turned their noses up at a 914 or 924, but these days, even those VW-powered examples are going up in value at a surprising rate. So, when Editor-boss, Jeff Voth asked if I could help him evaluate a pair of new Porsches, I said heck yes! without caring much about which models were being offered.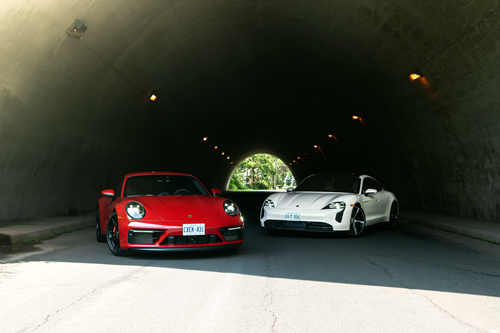 Delightfully, the pair of P-cars we picked up were two of our current favourites from the marque:  a 2023 911 GTS and a 2023 Taycan GTS. We've come to have a strong affinity for Porsche's GTS models which represent a sweet spot in their respective model lines adding a lot of performance and appearance upgrades over a comparable S model, yet costing less than it would to option out that S model to a similar spec.
Pleased as punch, Vicarious's Jeff duo set off with a pair of Porsche GTS models for a spectacular, sunny drive around the western end of Lake Ontario. As luck would have it, each Jeff preferred a different Porsche, and here's why…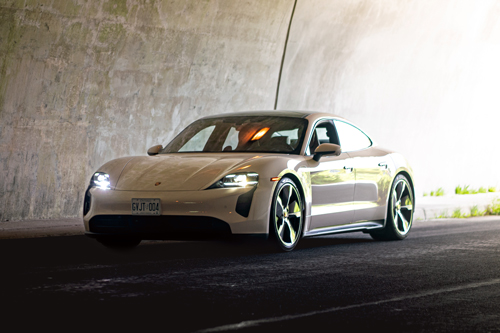 Appearance
Wilson – The Porsche Taycan is not only one of Porsche's sauciest and meanest-looking machines, but it's one of the most eye-catching cars on the road today, full-stop. Its front end is especially arresting with a distinctly Porsche-face, but one that's been thoroughly modernized. Absent are the happy round headlights of the 911, replaced by squinting eyes that help give the Taycan's visage an almost reptilian look.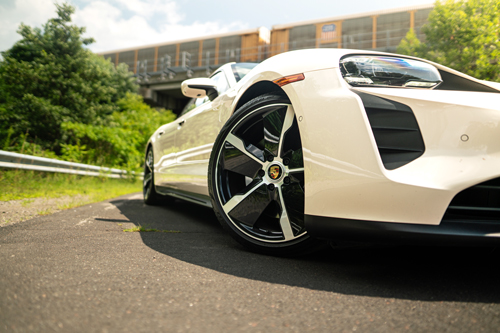 The profile, while not the same old re-hashed, squashed-Beetle look that Voth seems so enamoured with, is lean, mean and squat, yet identifiable as a Porsche. While I have to admit to being a 911 fan myself, its look is almost a cliché now.
Voth – It is impossible for me to ever consider the words "Porsche" and "cliché" being used in the same sentence. It's beyond contemptuous; it's irreverent. Granted, Wilson does make a good point in that the 911 has maintained its rounded silhouette ever since it first appeared way back in 1963. But the fact that it can do so, and still seem to grow in popularity every year, speaks to its lasting appeal, not the fact some might consider it an expression of a bygone era.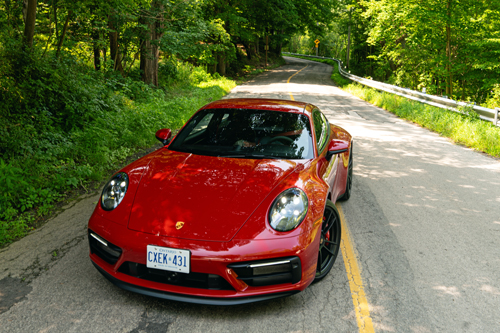 Sixty years of divine design is something the Taycan can in its short, but eventful history, only dream of. Does it have a chance to achieve similar longevity to the 911? Of course. It is, as Wilson states, a beautiful, fully-modern design. But when push comes to shove, those happy round headlights are going to win over buyers more often than not. At least while driving a gasoline-powered Porsche is still an option. And that may be the only thing that stops the forever march of the 911. Like me, it's not old, it's well-aged.
Interior
Voth – When it comes to electric sport cars in the marketplace today, the Taycan dash and interior has all the expected features and more. So, what's my issue? If there is one thing that has the potential to entertain a little too much, rather than educate the driver as needed, it's the amount of information available on the glass panel that stretches from one end of the dash to the other. Big screen TVs are a necessity, I completely agree. But this feels like the dash that never ends.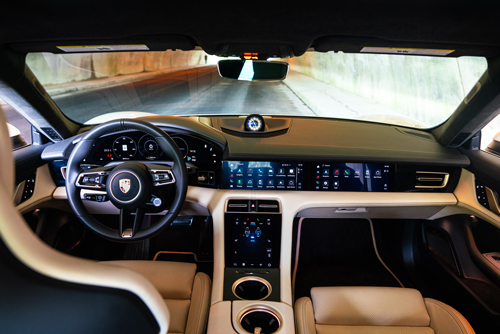 Front seats are equal parts luxurious and sporty, with just the right amount body support all around. You need it in the Taycan, it is fast and hugs corners with cheetah-like tenacity. Back seat passengers should also be happy with more than sufficient leg and headroom. It's not overly large, just well thought out and comfy. But herein lies the rub for me.
By comparison, the Porsche 911 GTS offers its classic take on what's important while driving; how fast am I going and when do I shift next to maximize performance? Sorry Wilson, but you can't beat the gold standard of a center gauge tachometer and what it's connected to. It's called an engine and it runs very efficiently while making a beautiful noise with every gear change, up or down.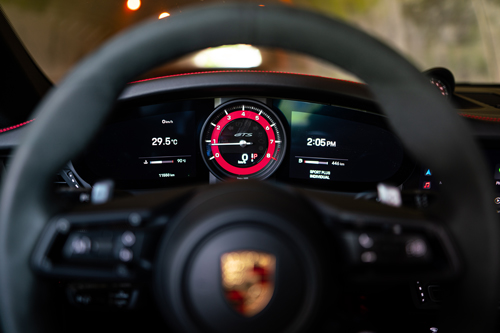 Do I miss not having a backseat? No, not in the least. I am not buying a sports car, especially one like the 911 GTS, so I can take friends along for the ride. This is my time to get away from the grind, with one person sitting beside me at the most. As for trunk space, all I need is a small suitcase or two and an American Express card. It's probably time for a new set of golf clubs anyways, and Fed Ex can ship them home after the holiday. Pack light and travel well I say!
Wilson – I suppose we shouldn't be surprised that the (ahem) elder Jeff is put-off by the contemporary interior design of the Taycan. If they need cockpit ideas for the next Star Wars' fighters, Porsche's EV is a heck of an inspiration. With all the modern functions a car must do (beyond simply transporting its occupants), it can be tricky to keep it all in a slick, orderly interface, but that's what the Taycan has. The centre console presents climate and secondary controls in a modern, haptic-control fashion, while the bright, crisp touch display in the upper central dash works the infotainment controls. And with so much going on, the front passenger can even keep tabs on the performance read-outs, or play DJ with the tunes via their own, separate touch screen!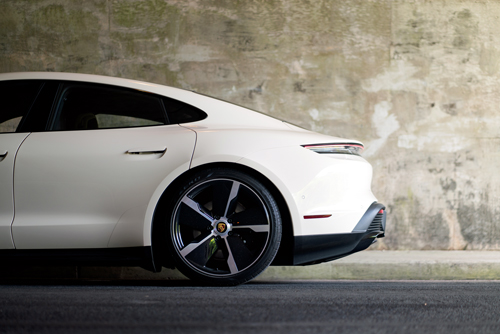 So, while up front, the Taycan's cabin looks like it's from a contemporary, premium brand, it's the back seat and usable cargo holds that really make Porsche's electric car the more sensible daily driver. Does that 911 even have a backseat, Voth?  Who cares? No human could fit in it anyway! And before you start boasting about the usefulness of the backseat as a cargo shelf, the Taycan has a trunk in the back AND up front.
Driving
Wilson – Like most Porschephiles, I was a bit reluctant to accept electrification of my favourite sports car maker. Fortunately, I needn't have worried because the Taycan is truly and properly a performance car. That mighty 911 GTS is rated at 0-100 km/h in 3.4 seconds, while this Taycan is nipping at its heels, only 0.3 seconds behind it. But it's the immediacy of the thrust that's so addictive and with its stealthy lack of vulgar noise, it can swiftly squirt through traffic. Better still, even in Sport Plus mode, the suspension does a remarkable job of consuming bumps, making it a genuinely comfortable cruiser.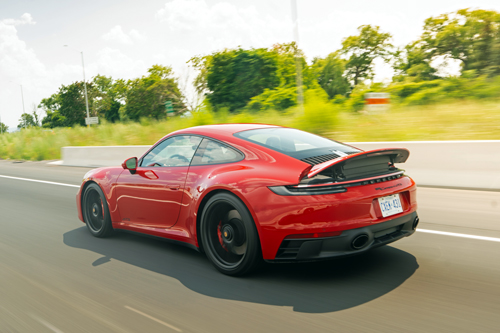 And lest "someone" suggest it's not a proper track car, I have had personal experience whipping the Taycan GTS around the famed Willow Springs Raceway and can confirm that it is indeed a wholly capable and startlingly fast machine. Serene when you want it to be, wickedly quick when you need it, the Taycan GTS is an incredible over-achiever, and that's to say nothing of its usable range that extends beyond 400 km (even when being driven surprisingly hard).
Voth – No one, especially me, will debate the fact the Taycan GTS is a fun car to drive. I agree with Wilson, it is a true Porsche in every way. But it is also true there is something much more engaging about driving the 911 GTS, and hearing that "vulgar noise" is music to my ears. What the 911 GTS lacks in immediacy of thrust, it more than makes up for in visceral engagement. Plus, as you said it yourself Wilson, it is 0.3 seconds quicker! QUICKER. And then there is the sensation of traversing pavement in a vehicle that has been a benchmark for more than six decades.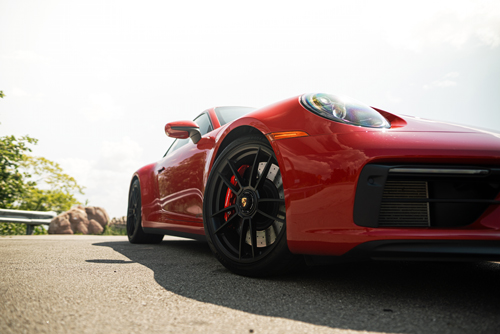 Simply put, the 911 GTS plays asphalt like a first chair violinist. Each twist and turn of the leather-wrapped wheel is a symphony of motion, feel and sound. It is near perfection on four wheels and you just don't get the same intuitive relationship from driving the Taycan GTS as you will in the 911 GTS. I don't need a track to show me how good it is. All I need is a highway on-ramp and the rest, as they say, is history.
Wilson – Say, Jeff, do you suppose I could have a little go in the 911 GTS, too?
Final Thoughts And Picking Favourites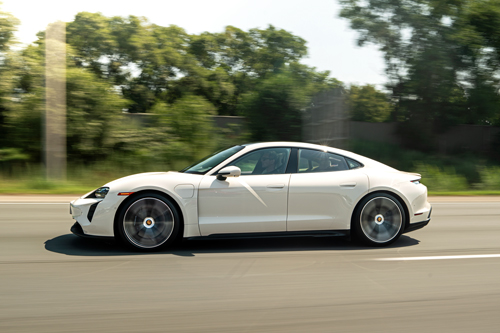 Wilson (climbing out of the 911, an ear-to-ear grin on his face) – Okay, so pledging my blind, undying love to the Taycan GTS might've been a bit of an over-reach. The fact is, it's a sensational effort – quite possibly the best, most well-rounded, best-built electric car on the market today, and one that I would be ecstatic to live with daily. But when sitting in the 911 GTS and twisting that left-hand ignition, it's as if the car plugs directly into your spinal cord. Every thought results in a deft, controlled movement while the drivetrain's harmonics and vibrations send signals directly to the brain's pleasure-sensing frontal cortex. Like all modern Porsches, it's exceptionally well-built and capable of raw emotion. The Taycan GTS might be the better, more sensible car, but the 911 GTS gives a more rewarding, more exhilarating drive experience and makes it the better object de lust.
Voth – Whether you prefer gasoline or electric power, the Taycan GTS is one of the most capable sportscars on the planet today. It shines above the competition with stellar good looks and performance worthy of the Stuttgart automaker. As the world moves away from using fossil fuels to power the vehicles we drive, Porsche is well set for many years, maybe even six decades of success with Taycan. The connection between driver and pavement is near perfection while the interior environment is, as Wilson states, an inspiring look into the future of automobiles. But for now, for as long as it is available, I still choose the 911 GTS. There does seem to be a cable that plugs into my spine when I take a seat behind the wheel. A real-life Matrix experience takes over my body and we become one. If the 911 GTS is the red pill and the Taycan GTS the blue pill (or Creme White as in our case) the choice for me is simple. True joy comes in the colour red.