This is a battle between two heavyweights from the same family that went their separate ways to achieve a similar goal of speed and luxury. One is a sedan based on the 5 Series, the other is a 4-door coupe born from the 8-Series Gran Coupe. In many ways they are very different, but for someone looking to buy supercar performance with seating for 4, their similarities are worth a deeper look.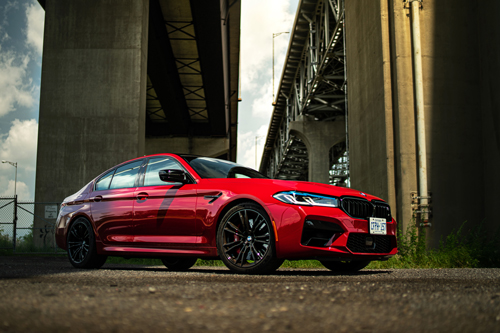 2021 BMW M5 Competition
The 2021 BMW M5 is without question one of the finest and most sought after luxury sport sedans in the world. Just say the model name M5 and sports sedan enthusiasts will stand up and take notice, ask for a look under the hood and gush at the opportunity to put it in gear and go for a drive, or at least jump in the backseat and enjoy the ride with a friend. Add the word Competition to the rear decklid and you've just entered a whole new realm of possibilities.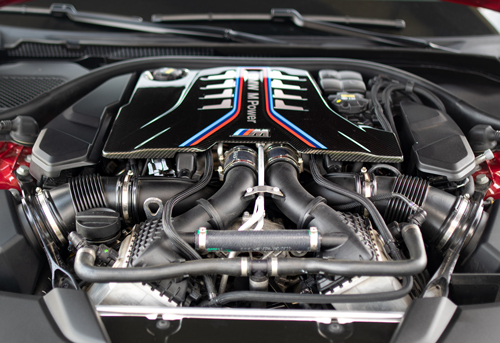 Power, and plenty of it, is the calling card of the 2021 BMW M5 Competition. The spec sheet reads like a Yankees line-up card from the 1920s when they referred to Babe and the boys as Murderers' Row. A 4.4L twin-turbocharged 32-valve V8 engine produces an astounding 617 horsepower at 6,000 rpm and 553 lb-ft of torque at 1,800 rpm.
Matched to an 8-speed automatic transmission with steering-wheel-mounted paddle-shifters, it launches from 0-100 km/h in 3.3 seconds and crests 160 km/h in approximately 6.7 seconds. It's enough to snap your head at launch and rattle your brain a little as your mind tries to catch up with the reality of the speed you are achieving in such a short amount of time. In my experience, only the 2021 Porsche Taycan Turbo S had the same neck-snapping affect as it charged from 0-100 km/h in under 3 seconds. Top speed for the M5 Competition is listed at 305 km/h.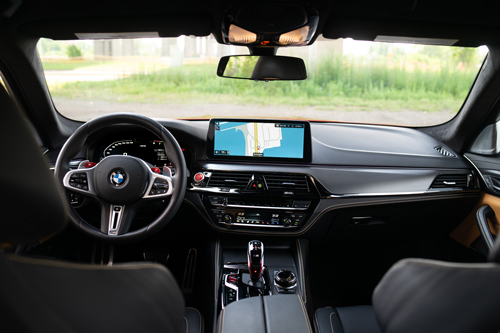 Our Imola Red II tester is equipped with 20" M light alloy double-spoke black wheels with 275/35 ZR20 front and 285/35 ZR20 high performance all-season tires. Stopping power is near instantaneous with matching red carbon ceramic brakes slowing this 1,922 kg sedan to a quick and controlled stop.
Combine all this with standard all-wheel drive capability and exceptional power steering connected to a supple and thick leather-wrapped steering wheel, and it is easy to see why the M5, and in particular the Competition model, is so revered.
If the exterior of the M5 Competition is stunning to look at, the interior feels next level featured in black and midrange beige. BMW has always taken the time to focus as much attention on the fine details as it does on the bigger picture.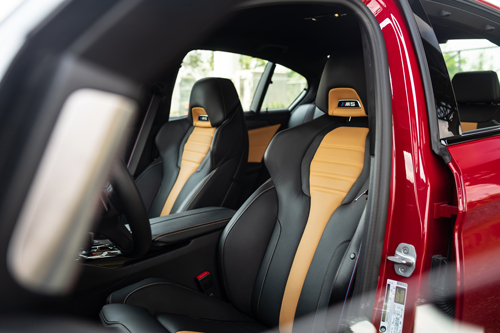 In our case it highlights an all black dash, center console, upper door trim and seats with lower door seat inserts in beige, plus complimentary beige stitching throughout. It looks fantastic and functions even better with the optional cooling and massaging front seats. They grip in all the right places, this is a sports sedan after all, but there is nothing like getting a massage while stuck in traffic looking for an escape road to explore at speed. Oh, and did I mention it seats four adults in complete comfort.
Price as tested: $150,250.00 CDN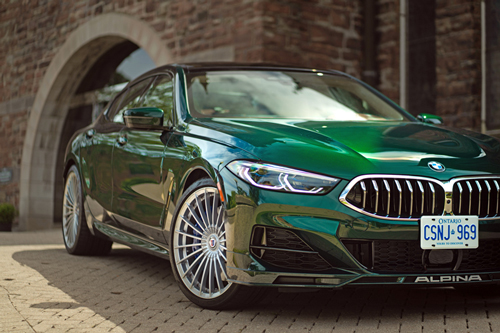 2022 Alpina B8 Gran Coupe
In a similar way to the M5 Competition, the 2022 Alpina B8 makes a grand statement with it's brand name emblazoned on the lower front spoiler and characteristic 21" 20-spoke alloy wheels that scream exclusivity. Then, you open the door and see what true craftsmanship means in today's world of cookie-cutter design and over-simplification for the sake of trying to look cool. The Alpina B8 is proof that real cool still includes supple leather seating, fine diamond-stitching and brushed metal executed with distinction.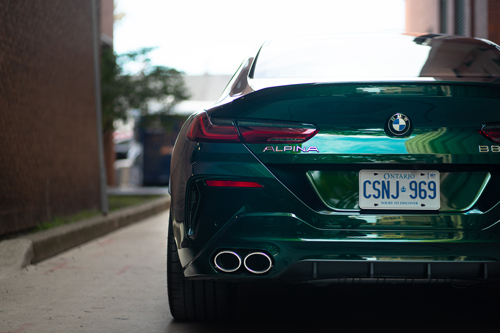 Sitting in the 2022 Alpina B8 Gran Coupe, you quickly realize how truly rarified the air emanating from the center vents really is. It's not that the oxygen level is increased somehow through the HVAC system in the Alpina B8 Gran Coupe, rather it is the sense you get when first taking a seat that you are stepping into automotive greatness and each moment should be enjoyed. Luxury and excitement coexist in a very unique way. It's an attention to detail that seems to have been forgotten by many automakers these days.
Similar to the 2021 BMW M5 Competition, but tweaked exclusively by Alpina, power comes from a 4.4L bi-turbo V-8, 32-valve engine that delivers 612 horsepower at 5,500-6,500 rpm and 590 lb-ft of torque at 2,000-5,000 rpm.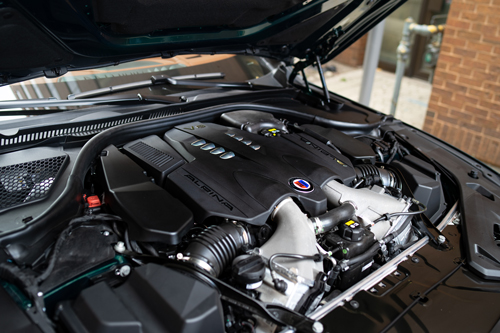 Matched to an 8-speed automatic transmission and X-Drive four-wheel traction, also reworked extensively by Alpina, it accelerates from 0-100 km/h in 3.4 seconds and tops out at a supercar-worthy 324 km/h. By comparison to the M5 Competition, the B8 Gran Coupe is just .1 seconds slower to 100 km/h but has a significantly higher top speed.
Brembo provides stopping power for the M Sport brakes and they work very well! There are also what seems like an unlimited number of drive settings that provide different levels of comfort for cruising around town or curb-clipping road performance (just don't tap those gorgeous wheels) by adjusting the suspension and steering as needed. Exhaust note changes can be reduced or enhanced for throaty performance by switching between Comfort and Sport mode.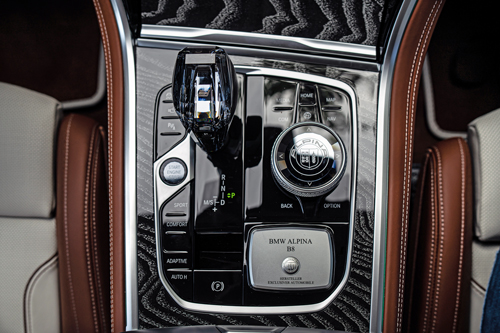 Where the 2022 Alpina B8 Gran Coupe shines brightest for me is on the inside. Exclusive Alpina details are everywhere from the contrasting stitching on the leather seats and dash, to the Alpina logos emblazoned on the iDrive selector, steering wheel, door sills and even the front floor mats.
The Ivory White and Tartufo full Merino leather seating surfaces in our test vehicle are completely next level in both style and comfort. Similar to the M5 Competition, the back seat is designed for 2; with ventilation and heated seat adjustment offered in a stylish rear center console. This is an interior you may never want to leave. Thankfully our test vehicle also featured a Bowers & Wilkins Diamond Surround Sound System, so no one was in a hurry to go anywhere.
Price as tested: $176,650.00 CDN
Conclusion
The 2021 BMW M5 Competition and 2022 Alpina B8 Gran Coupe are not necessarily intended for the same buyer, but they do cross paths in many ways.
From a performance standpoint, they are both capable of almost anything you can ask or think of. For me personally, if this is your baseline of comparison, my preference would be the M5 Competition. It may not have the final say in top speed, but it feels a little more sport sedan happy than the B8 Gran Coupe.
If your criteria is luxury, the Alpina B8 Gran Coupe would be my recommendation as it exemplifies exclusivity in every detail. There were so many oohs and ahhs when people would first sat in the B8 that the M5 Competition, while equally functional and completely gorgeous in its own sport sedan way, just couldn't match.
Finally, if price is a consideration, and in this segment of the market it may not be as important, the M5 Competition is priced significantly lower. Our two test vehicles demonstrated a $26,000 price difference. What you get for that in the Alpina B8 Gran Coupe is a lot, but if its value for dollars you are looking for, the M5 Competition will deliver all the power and performance numbers for less.
Either way, your choice will deliver an exceptional driving performance in an exclusive looking sedan that is certain to standout in a crowd. And that is worth every penny!