3.6L Automatic vs. 2.5L Manual
My particular choice of career allows me the opportunity to drive a great deal of vehicles throughout the year. From Micras to Mulsannes and everything in between, I get to drive them all. However, what I don't often get to do is explore multiple trim levels, engines and transmissions of the same vehicle. As manufacturers are apt to provide us with the very best they have (dressed to the nines with all the fixings and with the most powerful engine and best powertrain accompanying it), I don't always get a clear picture of everything on offer.
Well, Subaru switched things up a bit this time, as they've realized they have enough of a clientele who want not only the fully dressed model, but also those who want the bare minimum. And they provided both on their drive roster for us super amazing auto journalists to try out.
Booked back-to-back, I got to experience the 2017 Subaru Outback 3.6R Premier with an automatic transmission, and then the 2.5i Touring with a 6-sped manual. While ultimately the same car, the differences were not just aesthetic and amenity-driven, the entire experience changed behind the wheel. Betcha can't guess which one was my favourite (actually, I'm pretty sure you've already figured it out #savethemanuals, but let's pretend you haven't so you keep reading).
2017 Subaru Outback 3.6R Premier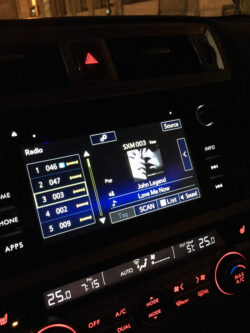 This puppy had it all. Equipped with EyeSight, leather, full navigation and all the extras, the 3.6R Premier starts in the mid-$40k range, as well it should. This good-looking wagon leaves nothing to be desired in terms of amenities, and you'll be hard-pressed to feel uncomfortable in there, no matter what seat you choose. However, you will want to be behind the wheel.
Equipped with the larger 3.6L 6-cylinder SUBARU BOXER engine, the 3.6R has an enjoyable 256 horsepower and 247 lb-ft of torque. Power is handled via well-mapped high-torque Lineartronic CVT and sent to all four wheels in typical AWDsome Subaru fashion.
Now, I am not a fan of CVTs. I never have been, and likely never will. However, I will give it to Subaru that they put some serious effort into their CVTs to ensure they behave as close to a normal geared transmission as is mechanically possible with said set-up. The added steering-wheel mounted paddle shifters add to the sportiness of the Outback 3.6R and make it a joy to drive in any and all weather conditions.
A note on EyeSight: Another thing I'm not a huge fan of is nanny systems. I tend to turn them all off as soon as I can when entering a new vehicle. I don't enjoy mitigated braking, random beeps and warnings or a car trying to tell me how to drive and what's in front of me. I am a good driver and I have eyes, thank you very much I will do it on my own /rant. However, Subaru's EyeSight system isn't at all intrusive. The warning beeps are subtle, and it can all be turned off. Also, they don't overreact or go ballistic when it snows/rains/hails/the car gets dirty and covers the sensors. Because EyeSight uses cameras mounted in the windscreen by the rearview mirror, it "always" works.
The only time I got a bit annoyed with it was when it (albeit politely) prompted me to stop daydreaming and move forward as the car ahead of me had left the red light and I was still sitting there. Perhaps I wanted to sit and gaze out the window longingly for a bit longer, Outback, who are you to tell me what to do?!
2017 Outback 2.5i Touring
Almost as bare bones as you can order an Outback, the 2.5i Touring sat exactly $10k cheaper than the 3.6R I'd driven the week before. With cloth seats, no EyeSight and a basic entertainment system, the 2.5i Touring was absolutely perfect.
Outfitted with Subaru's smallest engine offering in the Outback, the 2.5L SUBARU BOXER mill, this wagon pushed out only 175 ponies and 174 lb-ft of torque. And while you'd think I'd balk at the power difference going from the 3.6R to the 2.5i, the glorious 6-speed manual transmission more than made up for the difference and kept the two feeling more on par than I ever expected them to be.
I've driven a few manual Subaru vehicles over the past few weeks (BRZ/Forester/Outback), but this particular system was by far the best and smoothest of the bunch. Beautifully cogged, this 6-speed was butter smooth and so easy to manipulate. I wished the Forester had felt as good as the Outback. With an easy-to-manipulate clutch, the Outback 2.5i Touring was even a joy to drive in the city in stop-and-go traffic.
The Outback 2.5i Touring was the ideal snowboard/ski hauler that easily covered a 2-hour road trip to the slopes, carrying all the appropriate gear, plus two adults and still had lots of room to spare. While not leather, the cloth seats were still heated (winter must!) and the only thing I wished I had from the 3.6R was the heated steering wheel.
Which wagon wins?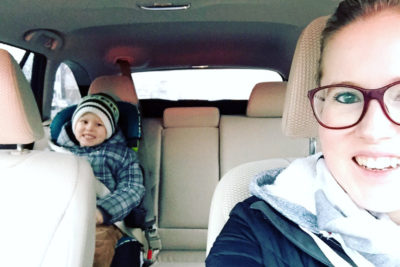 On a personal level, I believe that simple is the best. Bells and whistles are fun at first, but distracting in the long run. I like things that function, and function well, on the bare minimum. And while the Outback 2.5i Touring isn't completely bare (power windows, A/C, satellite radio, coloured touchscreen entertainment system), it is function over form and I adore that about it. And, of course, the added coolness of driving a manual wagon helps a great deal.
The real beauty about the 2017 Subaru Outback overall is how it perfectly blurs the line between wagon and SUV. It's got the added ride height that makes it perfect for all your off-road adventures, without the gas-guzzling size of a heavy SUV. Granted, it doesn't offer a third row, but it does provide a generous helping cargo space with 1,005 litres in the rear (back seats up).
In either guise, the 2017 Subaru Outback is a stellar choice for those in need of a practical vehicle that's both fun to drive and comfortable. It's as at home in the city as it is in the country, and thanks to Subaru's symmetrical AWD, you'll be laughing your way through the colder months with a solid set of winterized rubber to help you out.