It was almost a year ago to the day that I was standing in front of a Harley-Davidson display at the Toronto Motorcycle Show. The Motor Company had two new bikes to debut and both were slated to be something entirely different. The first, The Bronx, was their take on a streetfighter. We're not too sure whether that one will ever see the light of day now but the second bike was the one that I had the most interest in and it officially, finally, debuted today.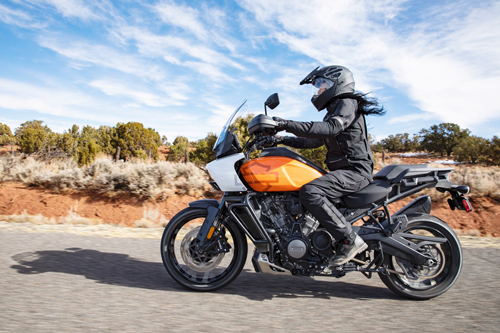 The Pan America 1250 is Harley-Davidson's first motorcycle to be specifically designed, engineered and marketed to the adventure touring crowd. It's also the first non-cruiser to wear a Bar and Shield in a very long time and that alone is a welcome announcement.
The Metrics That Matter:
Before we get into all of the special sauce that H-D is touting for the Pan-Am, let's look at the numbers that will matter most to the ADV crowd.
Powered by their all-new Revolution Max 1250, 60-degree, V-Twin, the Pan America 1250 will have 150 horsepower and develop 94 lb-ft of torque. Thanks to its 90-degree firing order, dual-draft intakes and use of variable valve timing, this power should ride a smooth and linear curve.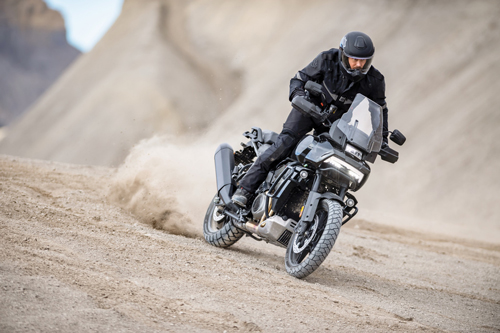 Ground clearance comes in at a decent 210mm, with 190mm of travel both front and rear. The seat height is average for this space at 850mm but interestingly enough, the Pan America 1250 Special can be optioned with a Semi-Active Suspension that, among other novelties we'll discuss below, will automatically lower the bike 25-50mm when riders come to a stop to aid in flat-footing.
The Pan America 1250 will tip the scales at 242kg, fuelled and ready, while the Pan-Am 1250 Special is a touch beefier at 254kg.
Pricing for each model is $20,999+ and $24,199+ respectively and those numbers make the Pan America 1250 a competitively priced alternative.
The Technology:
To be competitive in the ADV sector, technology needs to be at the forefront. While we've seen a lot of innovation from the stalwarts of this space, Harley appears to have done their homework.
Braking is tackled by twin Brembo and the suspension, regardless of model, comes in the form of fully adjustable Showa units. The rider display is via a 6.8" TFT screen that can be tilted and adjusted for rider preference.
There are five rider modes as standard — Sport, Road, Rain, Off-Road and Off-Road+ — and the Pan-Am 1250 Special gains an extra 2 on top of that Custom and Custom Off-Road Plus. Both models receive corner-sensitive linked-ABS-braking and traction control, wheelie control and drag-torque slip control which will actively scan wheel speeds under deceleration to avoid mid-corner shuffles.
The Pan America 1250 Special gets extra standard goodies in the form of heated grips, tire pressure monitoring, some crash protection, an extra set of auxiliary lights and a centre stand, to name a few.
The most interesting extra however, comes in the form of the Showa Semi-Active suspension kit which, similar to other units available, will adjust to the loading of the bike as well as the terrain into which it's being ridden. There are five pre-programmed suspension profiles, each of which is tailored to the riding mode selected and as mentioned above, is also equipped with an Active Ride Height system, which is an industry first.
The Pan America 1250 arrives at time in Harley-Davidson's storied history when a home run in a new market would not only help the balance sheet but do well to put the Bar and Shield onto the radar of a previously untapped market. While all of the specs and tech look promising (especially at the price point), riding is believing as they say, so we're looking forward to May when we can hopefully swing a leg over one and deliver a fulsome report.
Links: Harley-Davidson Canada