Alfa Romeo has just taken the wraps off its next supercar, and it's a certified banger: the 2025 33 Stradale.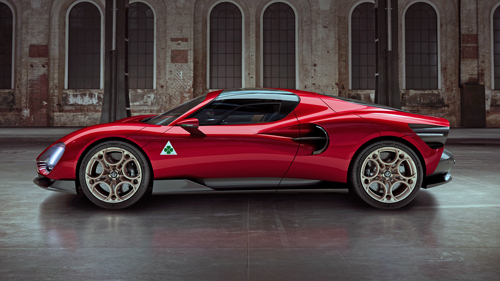 A reinterpretation for the street of the Tipo 33 race car from half a century ago, the brand intends the vehicle to serve as a link towards electrification.
"We designed the new Trenta­tré (33) Stradale in full Alfa Romeo spirit what does it mean? It means that our approach of the project was humble but not hesitant at all. Respectful but not shy. Evocative but not nostalgic. No copy paste at Alfa Romeo — we have to build the future," said CEO Jean-Philippe Imparato during the digital global reveal on Thursday.
"The result we achieved is what you see today, a car capable of mirroring our past and at the same time, bridge to our old electric future. The new Trenta­tré Stradale has been conceived to enhance our identity, raise our aspiration and epitomise our DNA and values. It is a unique car with a signature chassis number, the first produced by Alfa Romeo since 1967. And I promise you that it won't be the last."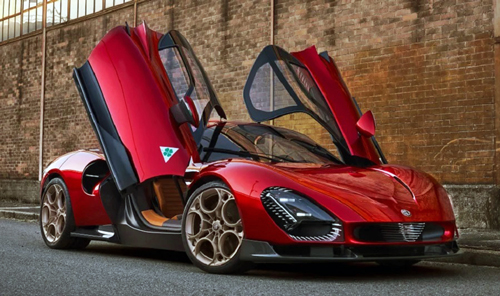 Sometimes when an archival product influences a contemporary model, the styling gets lost in translation. Not the case here as the 33 is drop-dead gorgeous. The original's massive headlight housings have returned, as well as the slim and wide front grille. The butterfly doors feature similar air inlets and the stunning wraparound sunroof gives occupants an aircraft cockpit-like feel.
Slipping inside the lightweight and aerodynamic carbon fibre monocoque, the steering wheel is refreshingly devoid of any buttons or switches. Controls are instead located on the aviation-inspired centre console finished in aluminum, more carbon fibre, leather and Alcantara. Though obviously modernized, everything down to the horizontal-quilted seats pay homage to the source material. Vital vehicle information is displayed on a novel yet retro cool 3-D telescope display.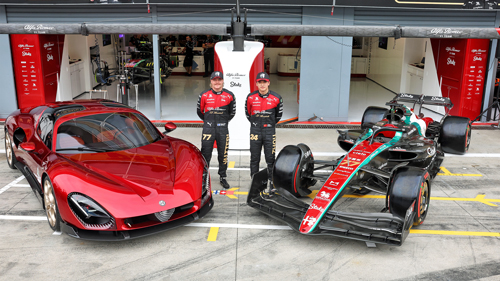 Two powertrains will be offered: a 3.0-liter V6 twin-turbocharged mill, mated to an eight-speed dual-clutch gearbox, sending 620 horsepower to the rear wheels or an available three-electric-motor EV setup making 750 horsepower and possessing a range of 450 kilometres. Both boast a 0 to 100 km/h time of under three seconds. Brembo carbon-ceramic brakes help bring all the performance to a stop quickly.
Further legitimizing its racy pretensions is an interesting developmental partnership with F1 driver Valteri Bottas, who is supporting the car's tuning at the Balocco Proving Ground in Vercelli province of Italy.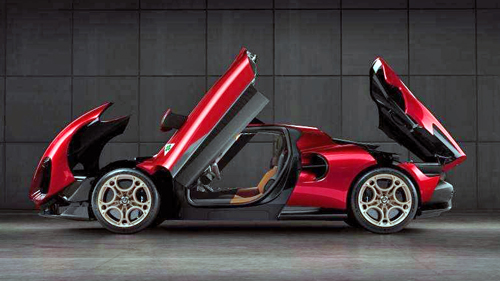 To aid daily driving, a nifty front axle lift system raises the nose 50 millimetres, at speeds up to 40 km/h, to clear obstacles like speedbumps or the steep inclines and declines often associated with parkade entrances. While in the standard Strada (road) mode, the active suspension softens, pedal sensitivity lowers and the active exhaust quiets down. Turn it over to the Pista (track) setting and the opposite happens, and an option also unlocks to deactivate traction control for those that dislike any computer assistance.
The 2025 Alfa Romeo 33 Stradale comes in two trim levels, Tributo and Alfa Course, and is limited to just 33 already-presold units. Customers get to work with the newly created Bottega bespoke service to tailor their hand-built purchase, and as mentioned above even personally sign the chassis number. Production is expected to begin in summer of 2024.