Earlier in March Kia revealed what the upcoming 2024 EV9 looks like, and ahead of the in-person North American debut at the New York Auto Show many of its specs and features were announced on Monday via global livestream.
"I'm very proud to introduce the Kia EV9, our second dedicated EV, and a vehicle that we believe will inspire more people to change the way they move. Our teams have worked hard to develop this flagship all-electric SUV, fusing contemporary design with leading edge technology to elevate the driving experience to the next level," said CEO Ho-sung Song during the virtual premiere.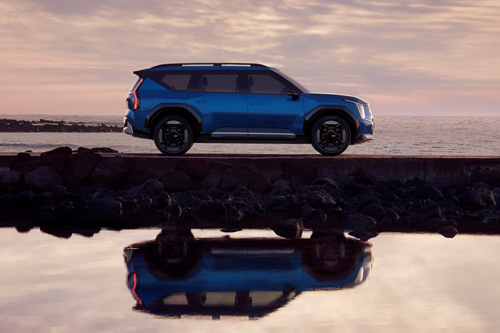 "We at Kia are committed to the belief their sustainability should be at the forefront of everything we do. And this belief has driven us to create a full-size SUV that is not only stylish and authentic, but also environmentally friendly. The EV9 will accelerate our transformation into a sustainable mobility solutions provider and support our commitment to achieving carbon neutrality by 2045."
Based on the familiar Electric Global Modular Platform shared by the Hyundai Ioniq 5/6 and Genesis GV60, the large boxy three-row crossover (roughly the size of the Telluride) measures a touch over 5,000 millimetres in length and rides on an approximately 3,100-millimetre wheelbase.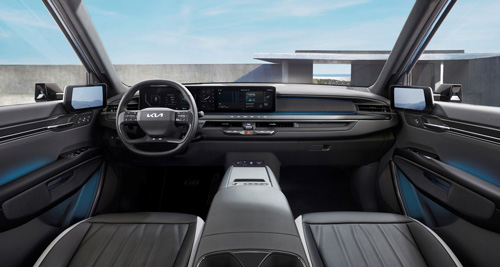 A number of powertrain configurations and trims are going to be offered, the highest, for the time being, is a GT-Line is equipped with an electric motor at each axle creating all-wheel drive and a net output of 379 horsepower and 442 pound-feet of torque. As seen on related products under the portfolio, a boost mode bumps the latter temporarily to 516 lb-ft enabling a 0-to-100 km/h time of just 5.3 seconds, which is mighty impressive for the segment. Maximum towing is rated at 5,000 pounds.
No range figures were given for the AWD variant, but the big 99.8-kilowatt battery benefits from an 800-volt electrical architecture, meaning 239 kilometres of travel distance can be added in 15 minutes when plugged into a 350-kilowatt DC fast charger. A vehicle-to-load function, supplying up to 3.68-kilowatts of power (market-specific) turns the EV9 into a rolling power bank capable of topping up phones, laptops or camping gear.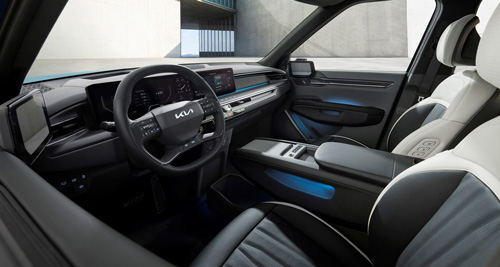 Being the top dog — or more appropriately, cat — the GT-Line boasts unique front and rear bumpers as well as an evolved form of the tiger nose grille, now simply called the tiger face. The solid body-coloured panel is actually translucent and small cube-shaped lamps underneath shine through to create various lighting effects. Owners can even purchase custom animations, and other over-the-air-installed aesthetic and performance upgrades, from the future Kia Connect Store app.
Another model-exclusive highlight is an advanced driver-assistance system allowing hands-free driving on select highways. Rated Level 3 the driver still needs to pay attention but doesn't need to have to grip the steering wheel in certain scenarios. The setup leverages lidar technology, cameras and 15 sensors to grant full 360-degree field-of-view detection of the vehicle's surroundings.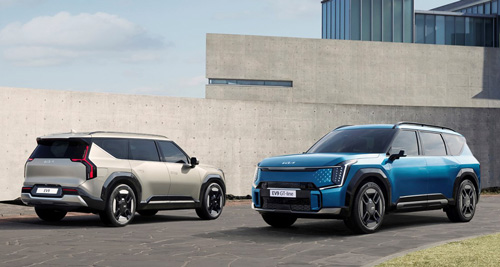 The 2024 Kia EV9 is expected to go on sale later this year.