In other EV news, Genesis took the covers off of its all-new Electrified GV70 at the Auto Guangzhou 2021 show in China on Friday.
The zero emissions SUV shares a lot of the same features as the internal combustion version, like a front fascia with the signature Crest Grille that has a hidden charging port on the driver's side. The rear of the vehicle also looks a little cleaner due to the absence of tailpipes allowing the lines of the lower bumper to remain unbroken.
On the inside, the interior is modelled after the brand's "Beauty of White Space" design concept boasting plenty of eco-friendly materials and a Glacier White colour scheme. Active Noise Control-Road technology uses microphones and speakers to analyze and counteract unwanted external sounds to promise a quiet ride every time.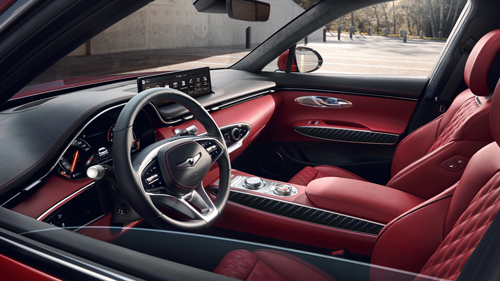 Specifications at this early juncture are few, but the GV70 is only offered in all-wheel drive and there is a Boost Mode available providing a 0-100 km/h time of approximately 4.5 seconds. A Disconnector Actuator System allows automatic transition between two-wheel and all-wheel drive to conserve power.
Thanks to rapid charging ability, when plugged into a compatible source the battery can go from 10 per cent to 80 per cent capacity in less than 20 minutes. The Smart Regenerative Braking System 2.0 turns kinetic energy generated while slowing down into electricity, and is optimized according to driving habits, real-time navigation and road conditions.
More information about the Genesis Electrified GV70 specific to the North American market to come.