In a fairly plain looking warehouse in the Suburbs of Detroit lies a collection of automotive wonders. Inside this brick building is housed General Motors North American Heritage Collection, with over 150 vehicles on display at any one time out of their more than 700 vehicle collection and a library of historical documents and records going back to the roots of GM.
A red 1957 Chevrolet Belair convertible greets us in the reception area and this beautiful car is only the beginning of the excitement. Each and every vehicle on display has a story to tell. It may be in the collection because of its design, or industry leading technical innovation that deemed it worthy of being there. Some vehicles are there because of their race heritage and others are concept vehicles that made the show circuit many years ago, with their design cues or engineering used on later vehicles. It's not all vehicles either. There are engines on display, gas pumps, prototype electric charging stations, vehicle emblems, neon dealer signs and even a giant wooden blade the same as six others used in GM's wind tunnel used for aerodynamic research.
The large, open and brightly lit room is staged with vehicles of similar divisions or types grouped together. Utility vehicles grace the walk from the reception to the centre of the room, where group functions are held regularly. Race cars are off to the left rear, while a collection of the most unique engine designs ever put in GM cars are in the right rear. A long row of Cadillac grace one side with Corvettes sitting diagonally across from them. Chevrolet muscle cars sit against one wall with Pontiacs across the room. Buick and Oldsmobile are well represented too, and then there are the concept cars scattered among them all. Did you know that the world's first hydrogen fuel cell vehicle, the Electro-van was of 1966 vintage? Here are a few of my favourite vehicles.
From Pontiac, my favourite has to be the orange 1969 GTO Judge. With its 400 CID engine, Ram Air hood and hood-mounted tachometer, the Judge is highly collectible and looks as good today as when it was built.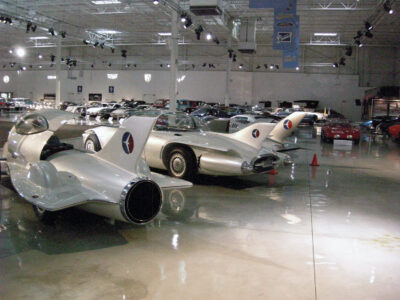 There are several Cadillac's I would drool over, but my heart is torn between two: the 1953 Le Mans Concept car with its long decklid, a bench seat for three and a convertible top that hides behind the seat. This concept car has styling cues found on many later Cadillac models. My other love is the immaculate 1931 Cadillac Phaeton V16 that was ordered by a young lady, Augusta Little, and donated to the collection by her in 1976. The rear seat speedometer and glistening nickel are priceless art.
From Oldsmobile I love the 1970 Cutlass 442 with the high performance W30 package. Only 1,542 of these cars were built! In Corvette row the 1961 Mako Shark concept car is amazing but so is the 1997 Corvette with serial #0001, the first production car to have GM's new LS engine!
The 1955 GMC pickup caught my eye. Chevrolet had the Cameo pickup with its streamlined fibreglass box and luxurious cab, but few know GMC had its own version called the Suburban! Other Chevrolet vehicles included some sporty SS El Camino and a 2007 Tahoe bristling with large externally mounted electronic modules. What is amazing about this vehicle is that all those modules have been miniaturized and are now in use on current vehicles.
The light blue 1957 Chevy Nomad station wagon was my favourite utility vehicle and there were too many other unique Chevrolets to even mention. A trio of spaceship looking winged Firebird experimental turbine-powered concept cars from the 1950's look like they are ready to go to Mars and the Electrovair, an electric powered 1966 Corvair demonstrated GM's new for the time silver zinc battery technology.
The vehicles on display at GM's Heritage Collection are constantly changing and new significant vehicles are being added all the time. Unfortunately, the Heritage centre is only open to group tours booked in advance, but they also house more than 250,0000 historical documents such as product catalogs, sales brochures, build records, service information, photography, film and video that help researchers track down the lineage of special interest vehicles. If you ever have the chance to take a tour of the centre, don't pass up the opportunity. The vehicles on display will bring back fond memories for any car enthusiast.
Related links:
GM Heritage Center