Certain tools inspire the imagination. Around 10 or 11 years old, my parents thought it wise to gift their aspiring outdoorsman a small maroon box with a Cross and Shield logo. Neatly nestled inside was a Swiss Army Knife, representing a pathway of boundless potential to any highly active mind in the pre-internet era. The world was my oyster, and I could shuck every one of them now that I was armed with minuscule scissors, a wood saw, various blades, and a bottle opener.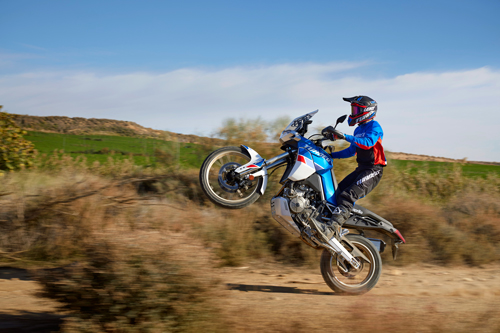 Fast-forward more decades than I'd like to admit, and the Adventure motorcycle class has seized that same energy for riders looking to color outside the well-defined lines of most roadways and go beyond the horizon. Sport, touring, and trail riding are three diametrically opposite activities, yet they happily fall under a day's work for any ADV bike worth its salt. Parked in the sweltering Los Angeles, California basin, the 2023 Aprilia Tuareg 660 is my current do-it-all survival vehicle to escape the summer heat.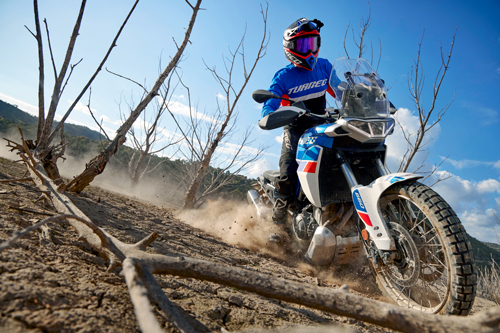 The aptly named ADV category is good for conjuring up dime-store images of snowcapped mountain passes, windswept desert plains, or tree-lined trails, all ripe for exploration by any willing party. And while many liter-class ADV owners may only migrate to and from the nearest Starbucks, the middleweight contention is fixing to put knobby tires down in those scenic lands fit for any National Geographic cover shot.
Many riders are clamoring for lighter, more maneuverable machines that will satisfy every adventurous itch. Touring? Yep, the Tuareg 660 has luggage options, cruise control, and a cozy cockpit. Sport riding? Aprilia earned many of its stripes thanks to good chassis design that's put in practice here. Well, what about off-road potential? The 21- and 18-inch wheelset will have something to say about that, but its also backed up by over 9 inches of suspension travel.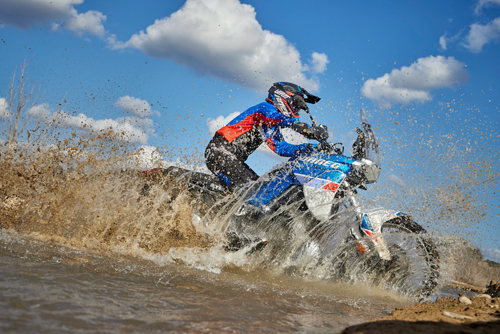 Why Aprilia, many asked, and the Italians have answered with, why not? When Madonna dominated the airwaves, most motorcycle makers played in the sandbox quite a bit, and Aprilia had a thriving line of dual-sport, motocross, and trials toys to lend a hand. Its 54 world roadracing titles and a long list of legendary sportbikes say that racetracks have held the brand's attention, but it hasn't forgotten its roots.
Aprilia's reentry into the ADV scene starts with its latest 659cc parallel-twin engine derived from the RS 660 and Tuono 660 sportbike platforms. The spunky lump turned heads in its street variants and has been repurposed for life on the dusty trail with a handful of changes, including a model-specific camshaft, a torque-focused tune, and a redesigned airbox featuring a quick-change air filter, all helping it net a claimed 80 horsepower and 52 ft-lbs of torque.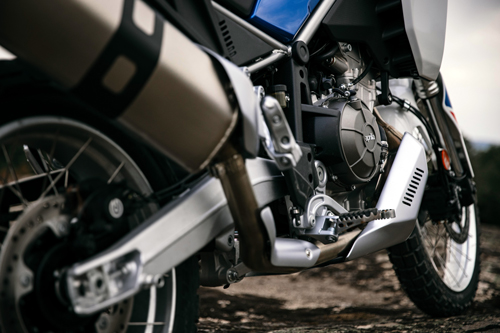 Those numbers might pale compared to the brand's mighty V4 engines that inspire this mill's sporting charm and lovely rumbling tone, but it's the right amount of p-twin punch in any environment. Linear power comes in nice and low, followed up by ample midrange thrust, both of which allow any rider with their wits about them to commandingly wrangle those ponies, especially off-road. With the nannies in their lowest setting, or even turned off, the Tuareg playfully spins up and eggs all who twist its smooth ride-by-wire throttle to nurse giant slides around fire road bends. Performing those same feats on an uber-powerful liter-class ADV bike isn't done with the same ease or confidence.
On the rider aide front, it's got all the good stuff like adjustable TC, street or off-road ABS, and a handful of ride modes to customize as you'd like. There's no IMU, but the aids served well to keep the ($400) Indaco Tagelmust livery seen here looking fresh.
The tightly packaged parallel-twin engine wields a quick-revving spirit, capitalized on by a gearbox featuring shorter internal and final drive ratios than its street-focused brethren. Things are snappier while darting through snarled LA traffic, and despite its off-road reconfiguring, the engine isn't gasping for air once you've highway speeds—that's usually where lighter-weight single-cylinder-powered dual-sport machines struggle. Our tester was equipped with the optional quickshifter unit, which works pleasantly on the way up but can be abrupt on the way down.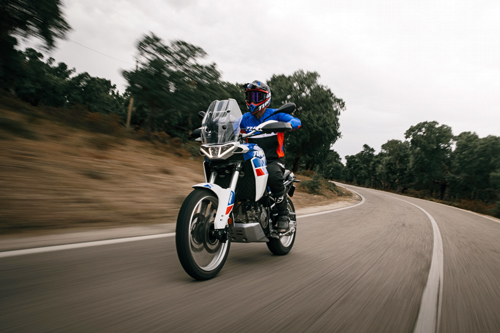 Now that we've wrapped the powerplant in a bow, we need to talk about size, which does, in fact, matter. Tipping the scales at 449 pounds, the Tuareg 660 is no lightweight, single-track-hunting thumper. And that's fine, as its extra displacement gives it a massive leg-up on paved roads and additional carrying capacity for touring. More to the point, it isn't a liter-class behemoth, which often requires a team of well-rested, strapping young lads to hoist up bikes after a minor tip in loose rock or sand. The greatest trick that Aprilia engineers ever pulled is its tubular-steel chassis design, allowing riders to swing around a nearly 450-pound motorcycle as if it were something significantly smaller.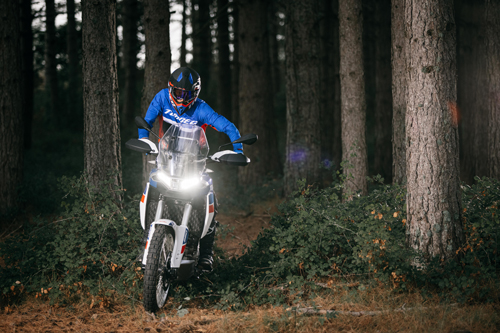 That narrative comes from the top down and begins with ergonomics. Let's be clear, the Tuareg is no short-stack, what with its 33.8-inch seat height (high and low options are available), but the whole experience is meant to mimic being on a dual-sport motorcycle. The svelte Aprilia feels slim between the knees, and when you factor in some suspension sag, my average inseam can still plant boots on the ground in technical terrain. Factor in adjustable controls, a rider triangle that works well standing or sitting, and a supportive saddle, and you're sitting pretty.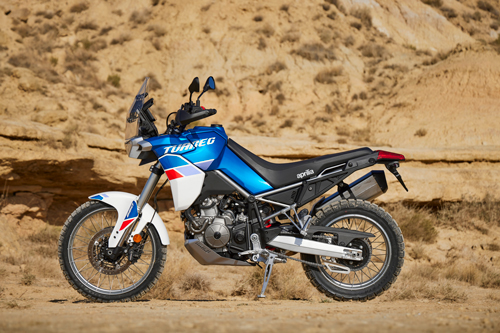 The tubular-steel frame, buttoned-up with fully adjustable KYB suspenders, is wicked fun on the street, thanks to light steering and fantastic feedback that will encourage the best kind of bad behavior on a winding route. All that translates to off-road situations, where its ample 9.4 inches of suspension travel and ground clearance see it scampering up hill climbs and blasting through two-track with ease. Naturally, the 21- and 18-inch wheels are crucial to its off-road survival, rolling over whatever crosses its path far greater than mere ADV-styled steeds with 17 or 19-inch hoops.
We should give credit where credit is due, and these glowing sentiments are undoubtedly aided by my favorite feature, the 4.75-gallon fuel tank, which houses its go-juice beneath the seat, lowering the center of gravity and improving its manners in all settings. Only KTM and Husqvarna competitors use a similar strategy, but the result is the same: The Tuareg won't feel top-heavy in slow-going technical sections.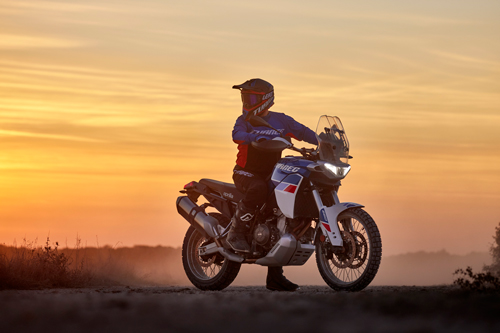 We'll touch on the brakes as things close here; 4-piston axial-mounted Brembo calipers and 300mm rotors offer a decent feel, though they aren't strong as most street riders would prefer. Still, there's an argument for that off-road. Likewise, the rear single-piston caliper and 260mm rotor out back could use less lever sweep but help you pitch the bike around or coax you down steep slopes easily enough.
My Swiss Army Knife mainly opens boxes now, but that same sense of wonder remains when I look at the Aprilia Tuareg 660 parked in my garage. Covered in mud and dirt, and it's even collected a few battle scars along the way, the Tuareg can spark any rider's desire to break out from the urban confines, see more, and do more. And if a sense of adventure is what you're looking for, then Aprilia has answered the call.
Price: $14,895.00 CAD