Wind rippled across my cheeks and through my matted hair. The road drew out in front of me like one of those pedestrian transporters at the airport. A long black line where the world moved just a little bit faster. A concussion of sound enveloped me. But it wasn't thundering V-twin noises, or the sound of rubber meeting the road. It was Bach. Like, the late 17th century composer, Johann Sebastian Bach. Streaming seamlessly via Bluetooth from my phone to the 100-watt stereo system aboard the Indian Pursuit.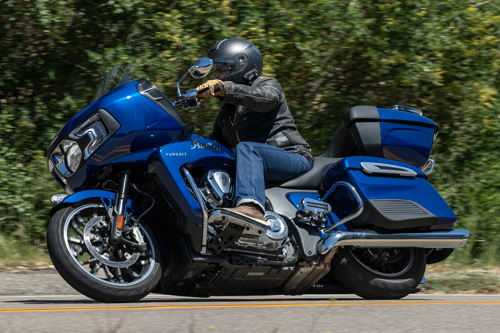 Oh, the freedom. It was tangible.
This was the first time I'd ridden Indian's new water-cooled touring platform, which was introduced in 2020 as the Challenger, a bike that was originally developed under the code name 'Raptor' for the now dead Victory Motorcycle nameplate. A shame, honestly, as Victory was posed to do some cool things. I guess we're just lucky that their technology and innovation made its way into the IMC lineup, albeit clad in a bit more chrome.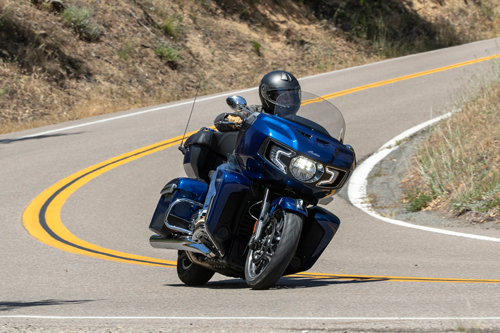 I had ogled the Challenger on its release, curious what a 120-horsepower liquid-cooled America V-twin might be like compared to its predecessors. Would it shake and rattle enough for the Bar and Shield boys? Or would the modern tech – upside down front forks, dual disk brakes, an IMU and an infotainment system scare them off? "We want less, we don't want change!" They may decree… "But, we still want cruise control, heated grips, a stereo, navigation, and a comfortable place for our lady partner to ride!" A conundrum. Indian needed to push the envelope a bit with their new touring bike. They'd been developing a platform that was poised to be more than a 'bagger.' It was 'Modern American Muscle,' according to the last Victory catalog. But did that idea die with the big V brand?
I was keen to find out.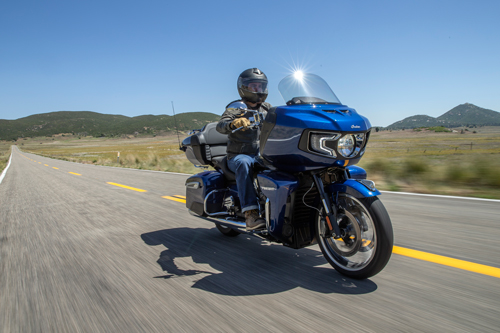 The Indian Pursuit is new for 2022. It is, essentially, a Challenger with a top case and a touring pack. Side pods that provide wind protection for your lower extremities, as well as additional storage or, if you're true to form, a place to pack more speakers. The windscreen was taller than the Challenger, too, and when in its most upright position, coupled with the side pods, you are cocooned in the comfort of Baroque and bagger sounds. The wind, in fact, was not running through my hair or rippling across my cheeks. That was all bullshit, save for the Bach bit.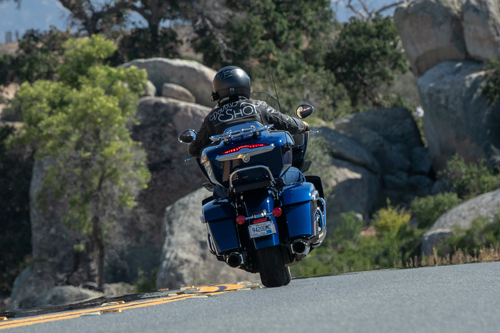 And while the Pursuit may be a gussied-up Challenger, it is cut from the exact same cloth, which means it carries the PowerPlus 108 motor beneath its tank, proper suspension, exceptional brakes and the fixed fairing that you either love or loathe. I, personally, am a big fan of the aesthetic. It's a departure from the thundering Chieftain and Road Master, providing that 'prize fighter' appeal for a new generation of road warriors.
The Pursuit is available in two iterations – the Limited with chrome finishes (starting at $29,999) and the Dark Horse with blacked-out finishes (starting at $30,999). Both versions tip the scale at 925-lbs with a full fuel tank and all the oils. Both the Limited and Dark Horse are available with a Premium Package (an additional $3,000) that adds electronically adjustable rear suspension preload, Smart Lean Technology, integrated driving lights, and heated seats for both the rider and passenger.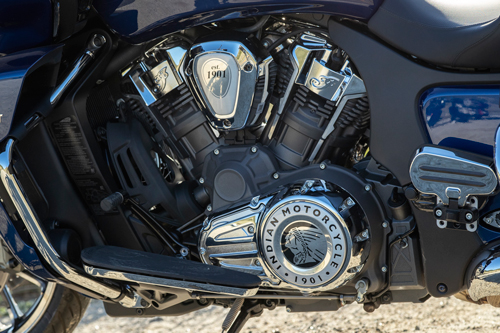 At its heart is the PowerPlus 108, a liquid-cooled, 60-degree V-Twin with SOHC, four valves per cylinder, and a 11.0:1 compression ratio that produces a claimed 128 lb-ft of torque and 122 hp at the crank. The PowerPlus 108 makes smooth, linear power and revs to its 6,500-rpm redline without breaking a sweat. For weighing in at nearly 420 kilos (wink wink), the Pursuit has no problem spinning its rear tire from a red light. It may want to ride blissfully down the road most of the time but ask it to make haste, and it'll get the job done in a hurry. Three available ride modes – Standard, Sport, and Rain – adjust the throttle-response map to suit conditions or preferences, but you'll likely find yourself knocking down miles around 65-mph at 2,500-rpm. To slow things down, the Pursuit comes standard with a pair of four-piston Brembo front calipers grabbing hold of two 320mm rotors, while a two-piston Brembo rear caliper squeezes a 298mm rotor to provide ample stopping power, especially given the gross tonnage.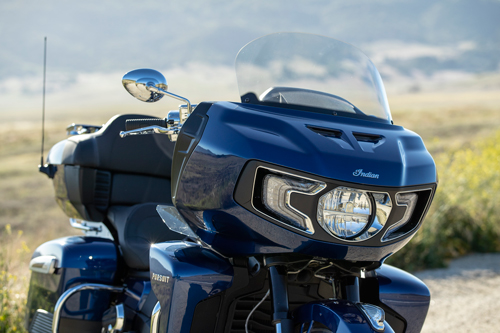 Out front you'll find a slim fender topped with an illuminated Indian headdress. The fender wraps around a 19-inch Sport Contrast Cut cast-aluminum front wheel, which is paired with a matching 16-inch wheel out back, both of which are surrounded by Metzeler Cruisetec tires. The frame-mounted fairing is equipped with a large LED headlight flanked by LED running lights and turn signals.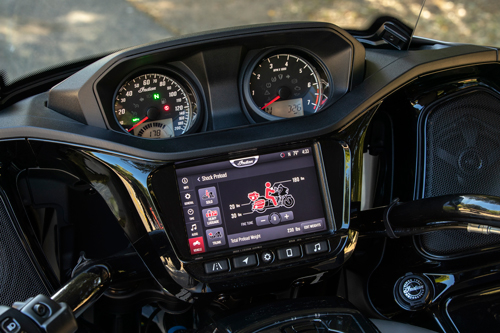 To test the mile munching capability and overall comfort of Indian's new touring model, they cut me loose on a Pursuit Limited with Premium Package, clad in the Deepwater Metallic colorway. Pure class. Befitting of my Bach playlist. We were in the Inland Empire of Southern California, a drier, more desert like version of Northern California's wine country. The roads are perfectly paved and wave across the golden-brown landscape like ribbons. Corners come at you from afar, so I had plenty of time to prepare myself for any undulations. And yet, deep into a long left-hander, the chrome floorboard scrapping across the concrete, I felt entirely at ease. Equipped with the aforementioned Inertial Measurement Unit (IMU), the Pursuit peels through corners with confidence, staggering only slightly when you stab at the rear brake when exiting a tight, twisty corner. The rider aids and computer controls available these days make the former suite of American Street Touring Monsters look all but archaic. Now is the time of lean-angle ABS and electronically adjustable rear suspension preload. The time of integrated driving lights (included on the Premium Package), and a Ride Command+ system that will tell you where to go, when you're running out of gas, what your current tire pressure is, and will even field phone calls and text messages, all while you soak up the landscape on your Blue Raspberry Starship. It's a new day, friends, a golden time for getting where you want to go on two wheels.
Okay, back to the riding bit…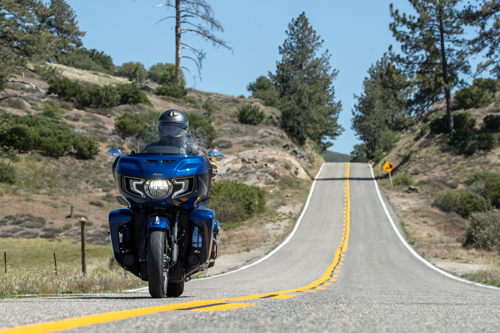 For most of the day I felt almost too comfortable aboard the Indian Pursuit. It required little input when the road righted itself and sent me straight. Wind protection was near perfection, seat an absolute La-Z-Boy of a thing, and with Cello Suite No. 1 playing as I rode, a late afternoon nap and tea came to mind. And then I considered the comfort of the potential person behind me, the pillion, the sweet spot of these road owning American cruiser machines. Whomever that may be, they will, undoubtedly, enjoy the ride. The massive top case (17 gallons (64.4 liters) of cargo capacity, which will easily accommodate a full-face helmet, and then some), also serves as a wrap-around backrest for your rear riding friend. There are integrated speakers, too, so the Bach won't be lost on them. The Premium Package even includes heated touring comfort seats, so the south end of your friend won't be withered by the weather. Lap. Of. Luxury. But that's the point, isn't it? To take an already great motorcycle, the Indian Challenger, and outfit it for further exploration. With a friend, a loved one, or a lover.
I know, I keep getting sidetracked…
Long story short, the Pursuit is about as close to big bike, bagger touring perfection as they come. The Indian Motorcycle Company left nothing undone in their effort to keep the 'Modern American Muscle' plan alive after the much beloved Victory Motorcycle brand shuttered its doors. The Challenger answered all the questions the 'Raptor' intended to, and to top that off, IMC went one step further, adding the comfort and accoutrements to that model in order to create the Pursuit, what I would consider the end of the road for road touring machines made in America.
So, where do we go from here?
2022 Indian Pursuit Limited
Price: $26,999.00 CAD
Engine: 1,768 cc, 60°, liquid-cooled V-Twin
Transmission: 6-speed
Power/torque: 122 hp/128 lb-ft
Weight: 412kg (wet)
Competitors:
2022 Harley-Davidson Road Glide Limited
Price: $ 37,451.00 CAD
Engine: 1868 cc, Twin-Cooled™ Milwaukee-Eight
Transmission: 6-speed
Power/torque: 93 hp/122 lb-ft
Weight: 436kg (wet)
2022 BMW K 1600 GTL
Price: $33,500.00 CAD
Engine: 1,649 cc, inline six-cylinder
Transmission: 6-speed
Power/torque: 160 hp/133 lb-ft
Weight: 363kg (wet)
Link: Indian Motorcycle