Supersport motorcycles are the epitome of quickness and speed. To compete in their arena, manufacturers now need to pack at least two hundred horsepower into a 200-ish kilogram package and bolster it all with cutting edge electronics. To do more than compete, that package has to deliver a manageable machine; one that can make civilians feel like professional riders and turn pros into champions.
Like this content? Subscribe here to get it delivered directly to you.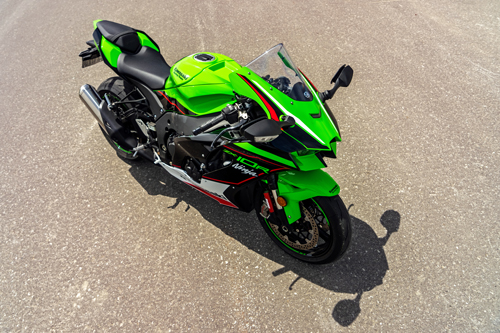 Which is something Kawasaki's Ninja ZX-10R has been doing for years. With Jonathan Rea in the saddle, Team Green has laid claim to the last six consecutive World Superbike titles. Closer to home, Brantford, Ontario's Jordan Szoke has been aboard a Ninja for 7 of his 14 Canadian Superbike championships. And both riders are looking for more.
For 2021, the Kawasaki Ninja ZX-10R has received its most substantial tweaking since 2016. European emissions standards caused some engine fettling to make it run cleaner, there are some new aerodynamic winglets and the chassis, geometry and electronics have all been tweaked too. Whether that formula translates into a winner on the track is yet to be decided, but in the interim, I figured I'd give it a go on the street to see where it stands.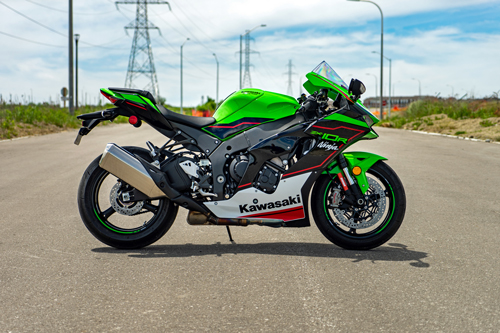 Powertrain:
The 998cc in-line, four-cylinder engine powering the big Ninja develops around 200 horsepower. I say around because our "American" Ninjas are capped at an artificial redline of 11,500rpm to accommodate EPA noise regulations. Where other markets can enjoy all two hundred horses at full trot (13,200 rpm), we have to make do with 186 hp at 11,500 rpm. To be fair, you'll never notice (or need) those extra ponies on the street and, if you're thinking of this for a new track day toy, you can have the ECU flashed to open things up.
The 85 lb-ft of torque on tap isn't a staggering figure here but it gives enough shove to get this Ninja moving quickly enough. Some reworked gearing and a taller rear sprocket means acceleration is quick although power delivery feels absolutely manageable, even within urban confines. Open it up however and, like all good inline-fours, things do get peaky near the top.
Equipped with Kawasaki QuickShifter (KQS), ratcheting through the six cogs is effortless in either direction and you'll be speeding long before you realize it. This is a supersport bike, afterall.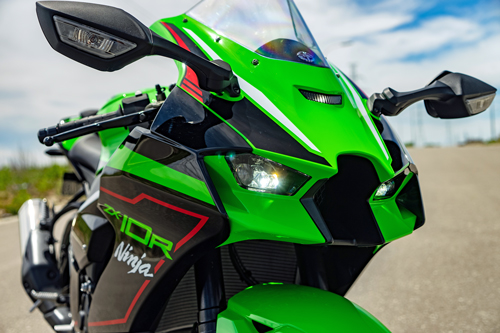 Styling:
One of the more controversial changes made to the Ninja lies at its front end. Namely, the inclusion of winglets (to aid on track aerodynamics) has caused the front end to look a bit squinty. Personally, I think the new look works quite well and provides lineage to the hypersport H2 line in Kawi's catalogue.
Speaking of those hypersports, this new Ninja ZX-10R is the only bike other than those H2's to wear Kawasaki's river mark emblem. This is significant because it implies this bike is the result of combined efforts from all of Kawasaki Heavy Industries resources. From a look and feel perspective, it means this bike is incredibly well finished and precisely buttoned together.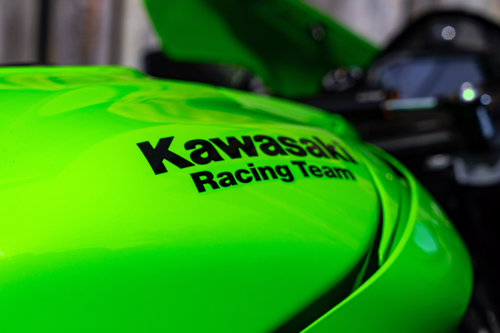 Adorned with the KRT (Kawasaki Racing Team) Edition livery, the bike looks a proper race replica, whether leaning on its kickstand or at speed on the road.
 Ergonomics:
Kawasaki reworked the geometry of the new Ninja to deliver a bike that puts the rider into full out attack mode, all the time. On a track, this is a good thing — it means the bike will be quicker to pivot, provides an easier perch for a full tuck and optimizes lean angle by keeping feet high. On the street however, it means you will suffer for style. Most of your weight is carried on your wrists and, if you're long of leg like I am, your knees will be begging for a stoplight in no time.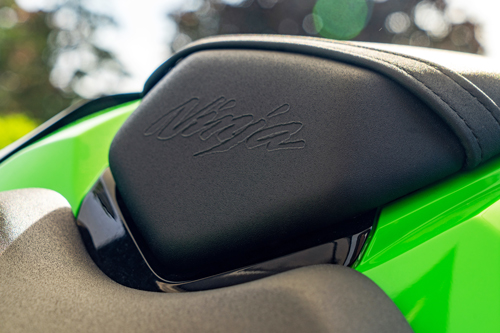 Features:
As a top-tier supersport, the Ninja ZX-10R comes equipped with Kawasaki's full suite of electronic aids and niceties. The full colour TFT display can be poked and prodded to swap amongst pre-programmed rider modes or to customize one of your own. Once in the menus, you can tailor the power output (full, medium, low) and choose from 5 levels of traction control (or turn it off, should you wish).  Riding modes can be chosen on the fly and are activated by a closed throttle.
There is a six-axis IMU at play that directs the traction control, ABS, launch control and engine braking control. Yaw control is also worked into the equation and is tackled by the ECU. Everything combines to really refine the manner in which this bike performs.
With Kawasaki's Rideology App downloaded, you can also pair your smartphone to use it to refine tuning, plan riding routes as well as record lap times.
Cruise control is equipped as standard (which helps relieve aching wrists) and heated grips are an option. Surprisingly, there is no fuel gauge though. Which seems like a pretty glaring oversight that hopefully a software update could correct.
Suspension and Brakes:
The Ninja rides on a set of 43mm, inverted balance-free Showa forks that feature an external compression chamber (that extra red tube you see) and are fully adjustable. In the rear, a horizontal, back-link type shock with remote reservoir sees action. The set-up provides an incredibly compliant and confidence inspiring ride. Where you expect a high-strung repli-racer to be tight and unforgiving, this Ninja feels like it floats.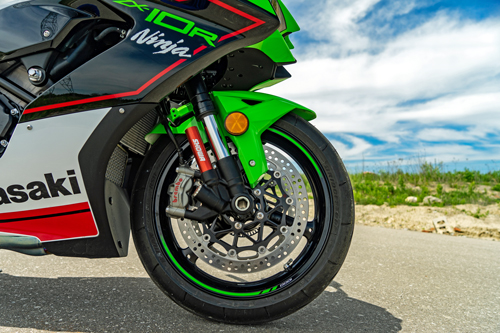 Grab the binders and a set of four-piston Brembo M50 calipers bite down on 330mm discs with authority. There is ample feedback through the lever and the initial bite is strong. In the rear, a single-bore pin-slide caliper clamps to a 220mm disc. Again, feedback through the pedal is clear and communicative.
Ride:
Eighteen year old Matt wanted nothing more than to own a bike like this Ninja. It's quick, fast, looks like it was just wheeled from the paddock and just standing beside it makes you 13% cooler. Hopping on and firing it up for the first time, brought me back to that youth almost instantly.
Of course, those illusions quickly shattered when my forty-three year old body tried to tuck itself into the only available riding position. Man, supersport bikes are an uncomfy bunch! After a stop for some stretching and cracking (that surely cost me at least 38% of my "cool" stock) I settled in and began to marvel at just how well-mannered a machine this Ninja is.
With a civilized right-wrist, the bike will simply plod along happily and dutifully. You only need to shift once or twice (to keep it legal) and the quickshifter works incredibly well. Parking lot maneuverability can be a bit of a chore but once under speed the Ninja offers near telepathic cornering. Initial turn in is quick but never once did the bike feel like it wanted to go over. You simply initiate the lean, eyeball your apex and exit, and the bike moves solidly beneath.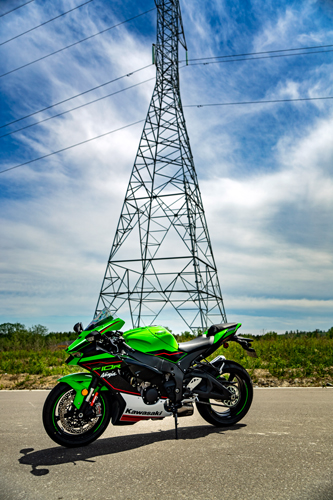 There is a noticeable difference between the three ride modes and I found Road to be the best suited for my experiences. Of course, I had to try launch control and Sport mode as well and can confirm, this bike is crazy quick. While not as dramatic an accelerator as say the Z H2 I rode last year, the 998cc inline-four here does love to rev once you wake it up, above 6k rpm. And man, does it ever sound good, too!
Over the years, Kawasaki's litre-bike Ninja has seen its share of personality changes. Sometimes they delivered an all-out performance force to be reckoned with while other iterations aimed for a tame, street-friendly ride. For 2021, it feels like the ZX-10R has combined all of the lessons of past generations to deliver a well-mannered ballistic missile. And while its specs may not win any paper races amongst its rivals, early race results indicate that the 2021 Ninja ZX-10R is consistently outpacing them where it counts: on the racetrack.
2021 Kawasaki Ninja ZX-10R
Price as tested: $20,299.00
Engine: 998cc, inline-four-cylinder
Transmission: 6-speed
Power/torque: 200 hp/85 lb-ft
Weight: 207kg (fuelled and ready)
Warranties: 12 months
Competitors: Aprilia RSV4 1100, BMW S1000RR, Ducati Panigale V4S, Honda CBR 1000RR-R, Yamaha R1
Links: Canadian Kawasaki Motors