Water crossings can be a dicey affair. Even if you're familiar with the turf during dry conditions, what lies beneath a pool of standing H2O could be anything from a flat bottom to a rutted mud bog or even an eroding sinkhole big enough to swallow your front hoop. Just outside of Kaladar, heading towards Arden, I'm staring down the barrel of five sequential puddles that are just too big to jump.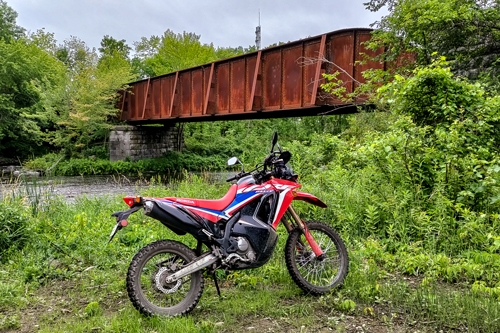 This first half of summer has been exceptionally wet around these parts, so quite a few sections of the Trans Canada Trail have suffered beatings from mother nature. The section I'm on now is usually pretty well groomed. A bed of screening typically lines most of its length. And the bike I'm riding, the all-new 2021 Honda CRF300L Rally, has been proving itself a competent dual sport steed so I figure, come hell or high water, let's give it a shot.
The first crossing goes off without nary a splash. The reworked Showa suspension on the Rally lends an extra 15mm of clearance to the bike and I don't even need a third of the 275mm total to get through this one. In addition to the increased ride height, the new suspenders have also been tweaked to make the bike more confident in rough stuff and more supple on road. Personally, I'd like things to be a touch firmer overall, the Rally hasn't really missed a beat in any condition.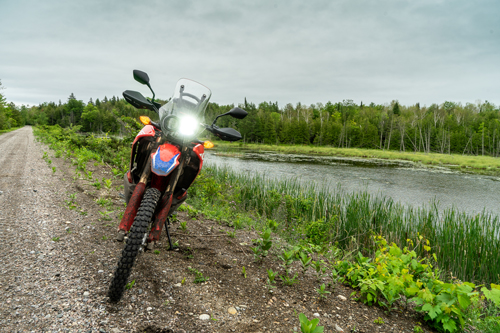 With confidence, I spool up some extra throttle for the next two crossings. Both are about four metres long and I'm guessing their depth at roughly two Mr. Turtle pools (~ 560mm) in their centre. The 286cc, single-cylinder thumper is 15% bigger than last year's CRF250L model's and generates 27.3 horsepower (up from 24.4 hp) and 19 lb-ft of torque. Those numbers certainly aren't huge but with only 152kg to shove, they're more than ample. I probably twisted up more speed than I needed, so I've now got two soakers that run from toe to kneecap and there's a bit of steam coming from that engine beneath me.
On road, that extra power and the revisions made to the gearing in the six-speed transmission combine to make the Rally decently equipped to get you to and fro. Max speed with my 82kg frame on board was around 120km/h but given I'd picked this bike up with barely 12km on the clock, I avoided pushing things any further. That said, it will cruise along with traffic at legal speeds on everything including a 400-series highway, though passing won't exactly come easy.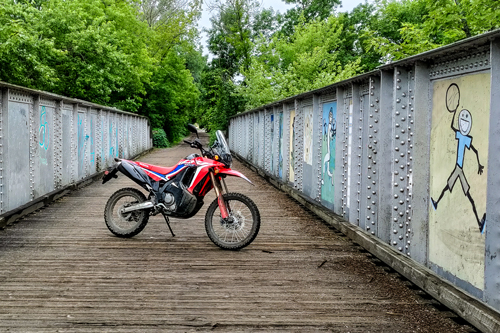 There is a bit of buzz throughout the seat, pegs and bars when the engine is spinning quickly but it's less than expected from this thumper. Really, the firmness of the new, wider saddle is the more off-putting part of any extended trip. I'm sure the padding will break-in a bit with use and abuse, but I'd probably order a comfort seat from the aftermarket ASAP as they're as cheap as chips and would improve things exponentially.
On a winding road, the Rally feels light and easy to tip in. On more than one occasion I have to remind myself that the knobbies it wears probably aren't the best choice for the corner speeds I'd like — especially since I'd turned off the rear-wheel ABS braking while playing in the dirt — but when the asphalt gives way to some resurfacing efforts, I'm happy that they're there.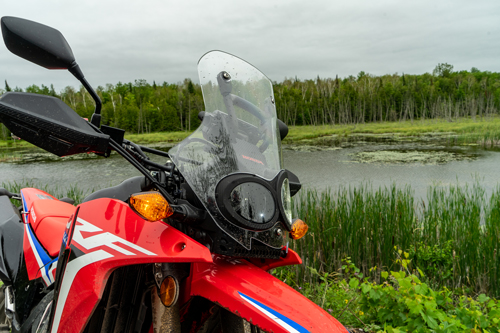 Further revisions to the ergonomics make the reach to the wide bars a natural and comfortable affair. From a standing position, the same can be said as I could comfortably keep my elbows out with just enough pivot at my hips and bend in my knees to further absorb any shocks, while remaining in confident control. The taper at the tank has been increased from last year's model as well, so pinching with your knees is comfortably done and this also helps offset the 885mm seat height to help with flat-footing at a stop.
With my now soggy boots, I've pulled up on a small mound of stone before fording the final two obstacles. Until now, I've left the rubber inserts in the pegs of the Rally but figured it may be a good idea to pull them and get the full purchase offered by the bear traps beneath. The decision pays off as the first puddle is more like a lagoon. There's easily an extra Mr. Turtle's worth of depth here and the bike slows while creating a wake. I put the power down and aim towards my left side, climbing out enough to keep the hubs from drowning and the back wheel spinning.
The final pool is the smallest of the bunch so I just keep on keepin' on. The Rally thumps its way through to the centre with no issues at all until something, a large rock I'm guessing, causes the front end to twist to the right. Some quick throttle and a dump of the clutch and I'm up and around the buried speed bump and back onto dry land. On a heavier machine, I'd probably be picking it and myself up or signaling for a lifeguard. With the Rally, the 21-inch front tire just went where I wanted it to and the rest of the bike and rider just followed along.
With its larger engine, updated ergonomics and revised gearing, the 2021 CRF300L Rally is a definite improvement over its predecessor. It's better suited to both on and off-road environments and feels less "toy" like than before without losing its characteristic playfulness. There's just enough grunt to get through, over or around most obstacles all but the most masochistic riders would attempt and there's enough on-road comfort that you could happily plot a multi-day, mixed terrain adventure without any major concerns. Sure, even more power and an adjustable suspension would be nice from the factory, but they would add cost extremely quickly. Plus, the aftermarket exists for these exact reasons. At $7,499 the Rally is a relative bargain that could happily serve as a daily commuter and weekend warrior alike. The only real downside is that the 2021 CR300L Rally appears to be almost all but sold out.
2021 Honda CRF300L Rally
Price: $7,499.00
Freight/PDI/Levies: $645.00
Engine: 286cc, water-cooled, single cylinder
Transmission: 6-speed
Power/torque: 27.4 hp/19 lb-ft
Weight: 152kg (fuelled and ready)
Warranty: 12 months
Competitors: Kawasaki KLX 300, Kawasaki Versys-X 300, Suzuki DR-Z400S, Yamaha WR250R
Link: Honda Motorcycles Canada