This isn't the Harley-Davidson I was hoping to ride. When the invite to meet The Motor Company in San Diego appeared in my inbox, I had visions of hunting apexes throughout California's southernmost canyons on their new Streetfighter and dreams of riding deep into Baja on their adventure/touring effort, the Pan American. But those Harley's aren't here. At least not yet. What is here, shimmering in the warm California sun, is the 2020 Low Rider S. And it's far from a disappointment.
For those keeping count, there are now twelve members in Harley-Davidson's Softail family. This Barracuda Silver, Low Rider S I have for the day, is the latest addition to that clan; a bike built to combine the raw performance of the FXDR 114 with the nimble handling of the Fat Bob, minus the overt visual aggression and quirky demeanour those bikes exude.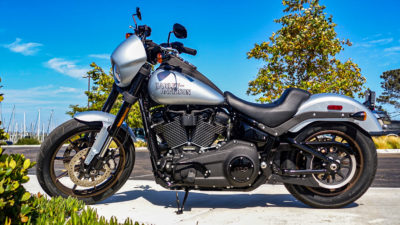 From a styling point of view, the Low Rider S is the pick of the Softail litter. Penned by designer Dais Nagao, the classic cruiser lines, stance and proportions of the Lowrider S are spot on: a stylish mix of old-school, new-school and distinctive Bar and Shield hallmarks. The typically chrome bits have been swapped in favour of blacked-out finishes and the bronzed mag wheels are unique to this model. You can tell from any angle; copious amounts of time and effort went into everything on display — I'm told securing a DOT endorsement for the smoked taillight lens took months alone — and yet nothing feels overwrought.
Settling into the solo saddle, I'm surprised by a slab of black plastic fastened to the rear of the Low Rider S's nacelle. This is exactly where I want the dash to reside but instead it sits in the centre of the tank, just out of periphery. The line the console creates does indeed look good in profile, but it does nothing for the rider. Outside of this, there really are few missteps save one glaring oversight.
Harley-Davidson spoke at length about their new technology suite, RDRS (Reflex Defensive Rider Systems). Like similar systems in play by other manufactures, RDRS uses a six-axis, Bosch IMU (inertial measurement unit) to add cornering sensitive traction control and ABS abilities. Harley also added a Drag Torque Slip Control feature to the kit for smoother downshifting and a rider actuated hill assist mode. All these systems are aimed squarely towards attracting new riders and yet, none of them (save standard ABS) are available on the Low Rider S. Not even as an option.
There is a slight reach to the elevated bars and the mid-mounted foot controls sit high and keep a bend in my knees. If I had one in my garage, I'd probably rotate the bars back a smidge as it would offer a bit more comfort and a touch more control. Regardless, this riding position provides just enough relief to tackle long-ish stints on the highway and falls into its own when roads begin to twist. Lean angles can be explored up to 30-degrees in either direction before sparks start to fly. Surprisingly, this is a couple of degrees less than the Fat Bob and FXDR, but exploiting those limits feels more natural and inviting on the Lowrider S. And should you need to push beyond that slant, the first hard parts to touch are soft mounted so things remain drama free. And you will want to push this bike.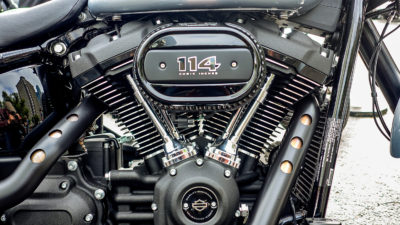 That's because the 114 version of the Milwaukee Eight engine powering the Low Rider S is so damned good. It pulls like a freight train from way down low in the rev range and triple digit speeds can be easily achieved before power starts to fall off. Torque peaks at 3,000 rpm (with 119 lbs-ft on tap), so whether you're boulevard cruising, looking to leave a big-rig in your dust or bombing canyons, maximum grunt is near always available.
Much like it was for the FXDR 114 I rode last year, the Softail chassis underpinning the Lowrider S is both stable and communicative. Bumps and broken pavement won't upset things and there is no mid-corner wallow. Equipped with a preload adjustable, coilover monoshock in the rear and 43mm, inverted forks up front (all courtesy of Showa), the suspenders are well up to the task of keeping this bike controlled under thrashings as are the brakes.
The twin, 300mm disc, ABS-equipped binders at the front do an excellent job of bringing all 308kg of speed and steel to a halt. Feel from the lever is intuitive and progressive despite not feeding fluid to pistons via a braided steel line. The rear brake lever is positioned well but takes a bit of flex before it begins to scrub any speed. Personally, I like the way it's set up so I can fine-tune momentum, but other riders may prefer less vagary on initial push.
Hustling the Low Rider S along the border-hugging Campo Road, my mind can't help but wander a bit as I wonder how much quicker the Streetfighter could be through these curves. This is a road I've travelled numerous times before and hold in high regard as a test bed for both bike and rider. It winds and undulates amongst the landscape rewarding with tight switchbacks and long, high-speed sweepers. And of course, I slow a bit outside of Potrero, looking longingly to my left where the southern artery towards Tecate meets this wonderful stretch of tarmac. But those adventures will have to wait. Right now, this is the Harley to have and I'm happy behind its bars. The Low Rider S is a highly capable and utterly polished dance partner — a performance cruiser with heritage, style and one gem of a sonorous V-Twin — that could only be made better with the addition of RDRS.
2020 Harley-Davidson Low Rider S
Price as tested: $24,049.00
Engine/transmission: 1,868cc, Milwaukee Eight V-Twin
Torque: 161Nm
Fuel (capacity): Premium (18.9 L)
Combined fuel economy ratings (L/100 km): 5.0 L/100 km
Weight: 308kg