The Harley-Davidson CVO Street Glide sells for $49,799.00. That's not a typo. This is a near-as-dammit-is-to-swearing, fifty-thousand dollar motorcycle. Think about that for a moment. This three-season slice of Americana retails for a hair less than a well-equipped, V8-powered, Ford F-150 Lariat. And if trucks aren't your thing, you could snag a pair of Honda Civic EX sedans. Whoa.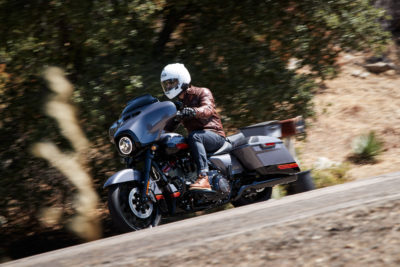 That fifty-large does land you one hell of a machine, though. Every millimetre of this top-of-the-line Street Glide has been sweated over in terms of performance, fit, and finish. The Smoke Grey and Black Hole paint applied to the one I'm riding is gorgeous. The grey runs deeper than Lake Mazinaw and every retro-tastic pinstripe adds to the design and each lines up perfectly from fender to belly pan to pannier. All of the bits you interface with — the grips, pegs, seat and switchgear — have been upgraded already, so there's no need to accessorize. All Custom Vehicle Operations (CVO) models now receive Harley's Reflexive Defensive Rider System (RDRS); a suite of rider aids that includes cornering enhanced ABS, traction control and drag torque slip control (a fancier version of a slipper clutch). There's also a unique hill-hold feature and tire pressure monitoring included. And then there's the motor.
Powering the CVO Street Glide is H-D's most powerful version of their Milwaukee-Eight engine, the 117. Churning out 169Nm of torque and around 94-horsepower at the rear wheel, this Screamin' Eagle mill is a riot to ride. Ninety-eight percent of peak torque is available at 2,500 rpm and the curve it follows is near as flat as Saskatchewan, until it falls off at 4,800 rpm. Few things with this much mass gain speed so quickly, confidently and effortlessly as this Street Glide. And this engine, combined with RDRS, could make a good argument for coughing up all of that dosh. Except I'm not quite sure that they do.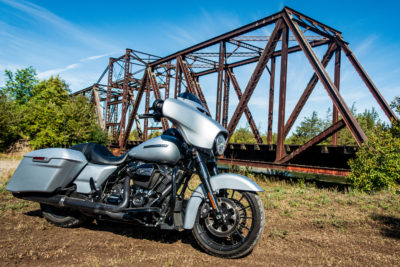 A few weeks before swinging a leg over the CVO Street Glide in San Diego, California, I had a 2019 Street Glide Special at my disposal for a week's worth of romping around. Retailing for exactly $16k less ($33,799+), the Street Glide Special features a slightly quieter version of the GPS equipped BOOM! GTS Infotainment system and is powered by the smaller but still sublime, 114 version of the Milwaukee Eight engine (that creates 167Nm of torque). There are other differences too, but few that truly stand out. Especially when you consider the Special can be optioned with RDRS as well (for 2020).
Both versions of the bike handle with equal aplomb. The chassis is more communicative than you'd expect for a bagger and the suspension is well sorted. Braking is direct and linear in feel and despite the upgrade in seating on the CVO, both offer similar levels of comfort. Sure, the Special misses out on that exquisite paint and some of the pretty bits that the Bar and Shield's rank and file install for you, but sixteen grand can buy a lot of accessories — I immediately appreciated that there was noticeably less buffeting on the CVO model, so a taller shield would be a must. And even if you went crazy at the dealership's accessories department, you'd still have plenty left over for a Screaming Eagle Stage 3 tuning kit.
For roughly a quarter of your change ($3,348 plus installation), your Street Glide Special's 114 engine can be breathed on by H-D's in-house experts and land back in your garage with a 24% bump in power. The kit includes new pistons, heads, cylinders, a new cam and all of the bits to bolt it together and make the CPU happy too. We're still talking about dropping near $40k on a bike when all is said and done, but a savings is a savings right?
Of course, I'm not thinking about money, power or that Street Glide Special as I shuffle all 393 kg of rolling, CVO thunder through the curves of Route 79 towards Julian, California. I'm thinking how impressed I am that a bike this big and heavy is agile enough to link the myriad of apexes through this route. I'm thinking how much smoother my downshifts feel and how less worried I am about cracking the throttle coming out of a corner thanks to the psychological security the RDRS system provides. I'm thinking about how this bike feels like the first truly finished product — a bike that needs absolutely zero customization — I've ever ridden. I'm thinking about asking whether Harley would entertain letting me trace Route 66 back to Chicago and beyond towards home in Toronto on this big beast. And, most importantly, I'm thinking about pie. Apple pie to be exact. With a slice of cheddar on top. You see, Julian is famous for its apple pie and, I figure if I'm gonna enjoy my slice of Americana, I might as well go whole hog and finish it appropriately.
2020 Harley-Davidson Street Glide
Price as tested: $49,799.00
Engine/transmission: 1,923cc, Milwaukee Eight 117, V-Twin
Torque: 169Nm
Fuel Capacity: 22.7 L
Combined Fuel Economy Ratings:5.7 L/100km
Weight: 393 kg
Links:
Harley-Davidson Canada