By: Matt Neundorf
The Long Sault Parkway is a meandering ribbon of asphalt linking a group of eleven islands that jut out into the St. Lawrence River. As Wikipedia reminded me, those islands were created during construction of the Moses-Saunders Power damn, which required the flooding of the area and resulted in the complete submersion of nine communities. As a region, its intrigued me since I first learned of it (many more years ago than I care to admit) and looking at its squiggly path on Google Maps, I figure it marks the perfect spot to check out on a motorcycle.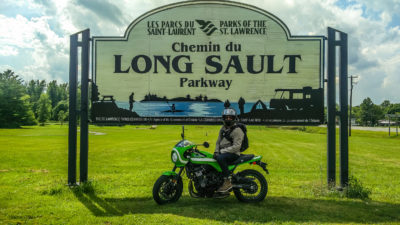 The Vintage Lime Green Kawasaki warming its fluids in preparation for the trip is the all-new Z900RS Cafe; a limited edition, vintage homage to "Steady" Eddie Lawson's race-replica KZ1000R from 1982. It's the kind of motorcycle that sounds angry even at idle and looks as cool as it does fast — from every angle. There's just something about a retro styled bike that will always get my heart racing and I've been eagerly awaiting seat time with this gorgeous example since it first broke cover at EICMA last year.
One of the major reasons why this new Zed has me all aflutter is because of its powertrain. Unlike every other "modern retro" bike to hit streets in this latest nostalgia fueled wave, the Z900RS Cafe (and its equally stunning stablemate, the Z900RS) doesn't rely on twin-cylinder power for its motivation. Instead, the Zed Cafe employs the requisite UJM (universal Japanese motorcycle) standard, an inline four-cylinder engine configuration. And what a honey of a motor it is.
Derived from the 948cc, DOHC mill that powers the award-winning Z900, in RS guise that motor has been retuned to deliver torque lower in the rev range. This helps create a responsive yet smooth bike that feels just as happy to lug around the city as it does screaming through an onramp towards redline. For paper racers out there, the Kawasaki has more horsepower (110 hp at 8,500 rpm) than the competition from Triumph, BMW, Scrambler Ducati and Moto-Guzzi but it does fall a bit short of the Thruxton R and R nine T Racer in the torque department, with 73 foot-pounds of twist.
Although I don't think most riders will notice any missing grunt. With a mitt-full of throttle, the Z900RS Cafe comes alive with a remarkable combination of speed and sound. The howl from the intake and Kawasaki's expertly engineered exhaust note offer just the right amounts of grumble and wail to make you forget those extra foot-pounds and keep things pinned towards peak power in every gear. There were more than a few times I had to short-shift the final three cogs to exude a modicum of concern with staying licensed.
A diversion down onto the Kings Highway in Belleville cools my pace and reveals the Kawi's manners on broken pavement. The suspension offers up 119mm of travel via its 41mm inverted front forks with ten levels of adjustable compression and a dozen damping rates. Out back, the horizontally mounted back-link shock is good for 140mm of movement and riders can finesse preload and rebound. As it was set from the factory, the ride was a touch stiff making it jarring on the cracked and pock-marked portions but the balance it offered through whatever twisty bits I could find made that easy to ignore.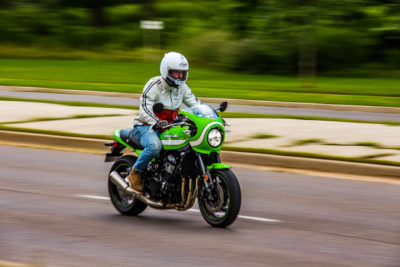 And it's during these spouts of aggressive riding that the Z900RS Cafe feels most at home. It's not as laser focused as a fully-faired sport bike or super naked — I'd say pushing to 8/10's is as far as the comfort zone allows — but the trellis frame chassis is communicative and it's easy to flick around. Just the lightest touch on the Cafe's bars initiates lean and the 2100mm wheel base feels planted until pegs begin to scrape. The Z900RS Cafe is equipped with ABS and two-levels of KTRC (Kawasaki TRaction Control) to help keep over exuberance reined in and neither system felt obtrusive at all. Bite from the twin, radial mounted binders up front delivered excellent feedback and even though it felt a touch soft, the single disc in the rear was more than up to slowing 215kg of cafe racer.
The riding position on the Z900RS Cafe is less aggressive than its name or look would suggest. Sure, the humped seat and sculpted front cowl deliver a picture-perfect racer's stance, but behind that bikini fairing sits a set of well positioned drop-bars, not clip-ons. The foot controls aren't exactly rear-sets either, so things are actually quite comfortable during extended stints and my six-foot frame had very few issues running around on my 700km day. The ergonomics are upright and neutral, with only the slightest hunch needed for comfort and that fairing provides decent protection from the wind. I'll admit that the seat was less compliant than I'd like but it was roomy enough to move around to relieve pressure and keep blood flowing without pulling over. I fully expected to hate every minute of riding after draining the 17l tank twice in one go, but that just wasn't the case.
Think of this bike then as a "cafe styled" standard motorcycle and not a stripped down, speed focused racer. Much like its only slightly less stylish stablemate, the Cafe version of the Z900RS perfectly captures the spirit of the UJM and reminds why those motorcycles were so popular when they debuted in the seventies: they were damned good bikes. The Kawasaki Z900RS Cafe delivers performance, comfort and style in a rock-solid package that feels like the natural evolution of the motorcycle as an expression of fun and fast transportation. The fact that it looks as good as does, well that's just icing on the cake. Or in my case, the two scoops of Pralines and Cream I devoured at the eastern end of the Long Sault Parkway.
2018 Kawasaki Z900RS Cafe
Price as tested: $13,599.00
Engine/transmission: 948cc, liquid-cooled, in-line four cylinder/6-speed manual
Power/torque: 110 horsepower/ 73 ft-lb of torque
Combined fuel economy ratings (L/100 km): 5.5 L/100 km
Competitors: Triumph Thruxton R, BMW R nine T Racer, Moto-Guzzi V7III Racer, Scrambler Ducati Cafe Racer, Honda CB1000R
Related links:
Kawasaki Canada