CALABRIA, ITALY – Just when you thought Porsche couldn't possibly bring us yet another iteration of its venerable 911 sports car, they do this. I'm slicing through the mountainous southern tip of Italy's boot in the 2024 Porsche 911 S/T – car that celebrates the 60th anniversary of that historic day in mid-September of 1963 when Porsche showed its 911/901 for the first time at the Frankfurt auto show. A lot has changed in 60 years, but a lot hasn't. The rear-engine 911's distinctive fast-back profile is as identifiable as ever, as are its prominent front fenders, upright headlights and diving hood.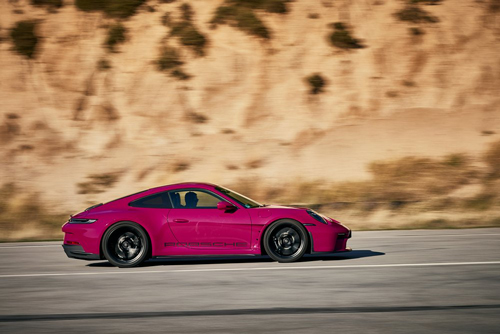 And while I'm quite certain the original 911 with its 148-hp 2.0L air-cooled flat-six would be an absolute delight on this spaghetti plate of tight, endlessly winding roads, my very limited edition 2024 S/T would be long gone after the first bend, the wail of its 518-horsepower 4.0L naturally-aspirated flat-six echoing off the hillsides as it once again chases that 9000 rpm redline.
As a road-going, driver-focused, 911 analogue experience, this new S/T (six-speed manual only, thank you) has no equal. But what about the 911 GT3 Touring with a manual transmission? Isn't that the car that puts one at the edge of the 911's scalpel? I'll admit, I have declared it to be peak 911. Seems Porsche had a different idea.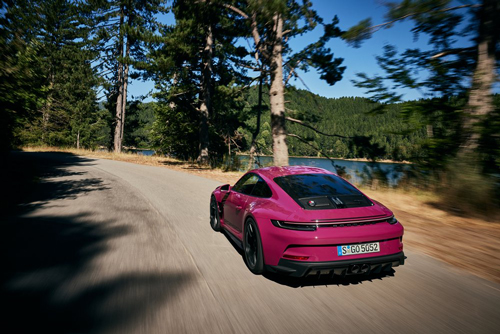 The 2024 911 S/T gets its handle from the lightweight 911 ST of which only about two dozen were produced from 1969-72. Based on the 911S, the ST used a combination of lightweight parts from 911 R race car. By 1972 it ran with a 2.5L flat-six making up to 270 hp. Quick, spare and rare. Ditto the new 2024 S/T. The donor car is the current GT3 Touring, and no, the S/T is more than just a slightly hotted-up, rebadged version. The S/T is fully engineered special that was two years in the making, and after getting to hang out with a few of the engineers who honed this sports car, an obvious labour of love. Porsche's intent was to create the purest, most driver-focused version of GT3 Touring it could muster, which is a tall order considering the latter is arguably the Holy Grail of road-going 911-ness. So how does Porsche turn the GT3 Touring up to eleven? Heck, let's make that twelve, because the regular GT3 is already at eleven.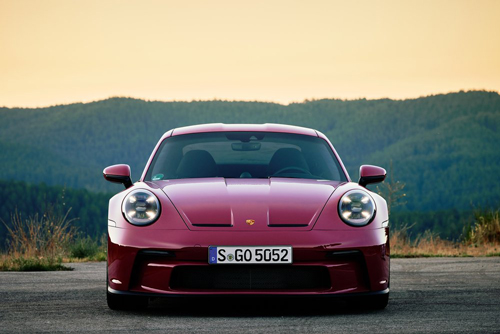 Powering the S/T is the GT3's epic 4.0L naturally-aspirated flat-six in top RS tune – 518 horsepower at 8500 rpm and 343 lb-ft of torque at 6300. Modest numbers in this era of big turbocharged power, but by gawd, this engine delivers. Thanks to the S/Ts lightweight single-mass flywheel and smaller clutch, throttle response is instant. It's a screamer that needs to be revved hard to deliver, but hitting that redline is an addictive analogue hit, one that you want to repeat over and over again.
Helping in this regard is the S/T's bespoke six-speed manual packed with eight-percent shorter ratios (shorter shifter throws too) that has the car topping out at 120 km/h in second gear as opposed to 130 km/h in the GT3 Touring. Nonetheless, the first day of driving these largely deserted roads doesn't give us much chance to wind the car out, even in second gear. Ah, but the engine pulls hard from 4000 rpm, and finding a rhythm in this mechanical marvel is easy, such is its lofty and accessible dynamic harmony. Its steering feel, turn in, poise, grip, balance and playfulness make the S/T an instant back-road companion. No mysteries, no handing uncertainties – just a 911 that screams to be pushed harder and revved higher.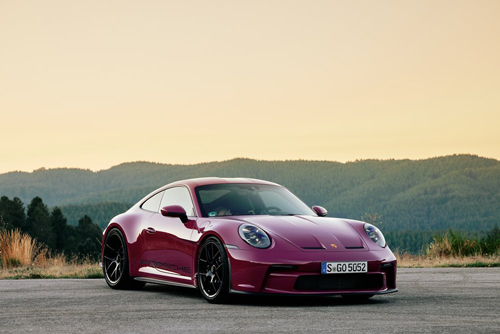 Weight-saving measures in addition to the lighter clutch and flywheel include standard carbon bucket seats, carbon-ceramic brakes and Y-spoked magnesium wheels (20-inch front, 21-inch rear), carbon-fibre-reinforced plastic (CFRP) hood, roof, doors and front fenders, lightweight carpet, thinner glass and reduced sound insulation. Since the there's no electrically activated rear-wheel steering (a 6.5 kg saving), Porsche got away with using a smaller capacity and lighter lithium-ion battery. The S/T borrows the carbon-fibre rear anti-roll bar and carbon shear panel from the GT3 RS. All that effort has the S/T coming in at 1380 kg, which is about 40 kg under a stock GT3 Touring with manual transmission.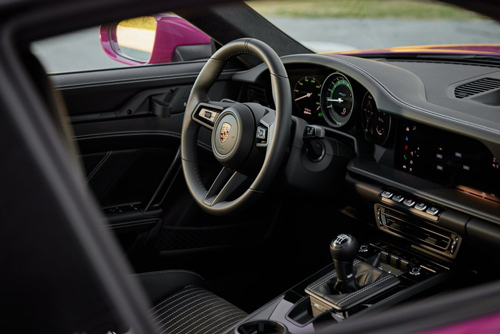 Porsche's expected drive mode selector is not to be found in the cabin. Fire up the engine and there's one mode only – balls-out and screw-the-neighbours loud. Despite this inherent aggression, the S/T is not a track car. Porsche is not going for top speed numbers, Nurburgring lap times or crazy down force figures. The S/T's mission as a road car is driver engagement –  three pedals underfoot and six-cylinders behind, singing a Swabian symphony for the ages.
Limited to just 1963 examples, the S/T is a rare tip of the hat to racy, limited edition specials of Porsche's past, and one helluva send-off as we reach the end of the pure internal-combustion era of the 911.
Canadian pricing starts at $343,900, over $100k more than the slightly less fabulous GT3 Touring which, in all honesty is a better car for daily use. The 2024 911 S/T is loud and uncompromising, and if you don't have endless kilometers of deserted mountain roads on which to wring the S/T out properly, it doesn't make much sense.
But here's the reality. In this wacky world of limited special-edition Porsche sportscars, most of our small allocation of the S/T will be snapped up by wealthy Porschefiles who collect these cars like trinkets, rarely drive them, and watch their values soar. I feel blessed to have been able to at least nip at the edges of the S/T's performance envelope, and to tell the engineers who poured their blood sweat and tears into this 911 that they did good.