Vienna, Austria – The Mercedes-Benz four-door sedan glides over the cobblestone road – its suspension soaking up imperfections with uncommon ease. The front seat is surprisingly comfy too, and I'm reassured by such familiar Benz cues as the delicate shift lever sprouting from the steering column, obsessive build-quality and an overarching sense of vault-like solidity. Ahead, the three-pointed star hood ornament perches at the business end of the sculped hood. But wait. I might be here for the launch of the all-new sixth-generation 2024 Mercedes-Benz E Class sedan, but this car precedes the new offering by… oh, 65 years.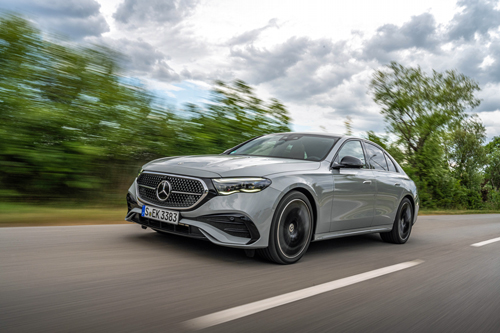 Yep, this little '58 180 "Pontoon" sedan, a forerunner to the E-Class, is charming my socks off. There's not a lick of plastic to be found in here, nor will you find a touchscreen or a computer anywhere. There is a clutch though, and that delightful chrome shift lever? It's a four-on-the-tree. Over six decades might separate the new from the old, but there is a defined thread of DNA connecting the '58 with the '24.
The mid-range sedan (dubbed E-Class since 1994) is an important vehicle for Mercedes-Benz – the Stuttgart automaker has shifted over 16 million since 1946. Here in Europe, the automotive landscape is filled with sedans and station wagons, and while a four-door with a trunk is not such a hot commodity in North America, other world markets still wholeheartedly embrace this traditional configuration.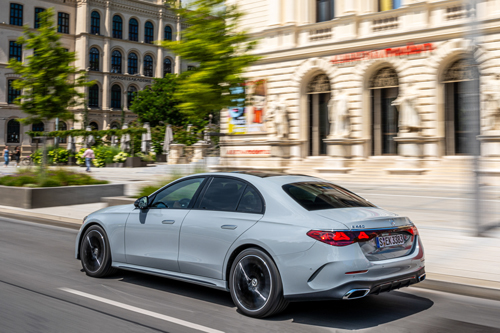 The 2024 E-Class is slightly longer, wider and taller than its predecessor (no surprise here) and as such, passengers enjoy more room. For riders in the rear, knee room and maximum legroom are increased by 10 and 17 millimeters respectively. Close to current S-Class levels. The designers have given this new E some pretty slick duds. Its decidedly "cab backward" profile lends a sense of timeless elegance – long hood, short rear deck, graceful roofline and short front overhang. The sedan's flanks are smooth and largely unadorned. The grill panel, with its large central three-pointed star, is bejeweled with a pattern of small, repeating three-pointed stars, and the taillights echo that theme with a pair of LED stars in each.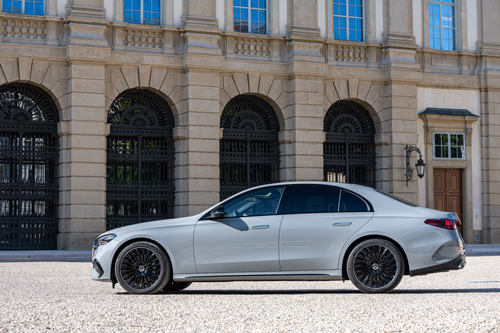 Benz has not gone for flash here, fashioning an E-Class sedan that cleaves the air in quiet grace. All Canadian models get standard AMG body treatment (no hood ornaments for us), and maximum wheel size will be 21-inches. At this world launch there was a host of Euro forbidden fruit (plug in hybrid, diesel, station wagon), but Canada is getting only two gas-powered sedans – the E 350 4Matic and the E 450 4Matic. The E 350 4Matic runs a 2.0L turbocharged four-cylinder making 255 horsepower 295 pound-feet of torque from 2000-3200 rpm. Moving up to the E 450 4Matic nets a 3.0L turbocharged inline-six generating 375 horses and 369 lb-ft of torque from 1800-5000 rpm. Both gas engines are mated to a nine-speed auto and get 48-volt mild hybrid system with integrated starter-generator (ISG). The latter contributes 23 horses and 148 lb-ft to the proceedings, while also helping with fuel economy. Benz's 4Matic all-wheel drive is standard.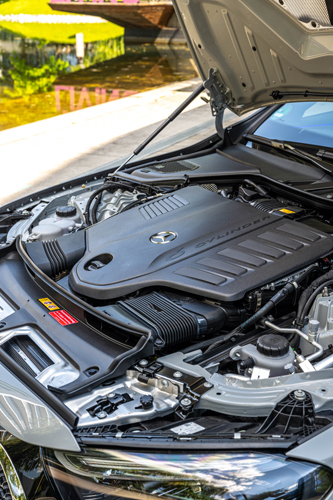 The 2024 E-Class is the first vehicle to use Mercedes' next level electronic architecture, one that will make its way into most vehicles moving forward. Central to this is a single in-house processor that runs just about everything aboard, be that MBUX infotainment, safety systems, and mechanical systems. Naturally, processing speed ramps up, and as the engineers tell me, Mercedes is reducing the number of suppliers it relied upon for hundreds of electronic components.
The new E's cabin is a showpiece of design and fine execution. Open pore natural wood trim is standard, as will be the new Active Ambient Light strip that sweeps across the upper dash and into the door cards. Among other things, it will dance to the music, pulsing and changing hues depending on the mood of the tunes.
Standard issue in the new E will be a 10.25-inch digital instrument cluster along with a freestanding 14.4-inch central touchscreen – like what we see in the current S Class. Optional is the MBUX Superscreen – an evolution of the Hyperscreen introduced a couple of years back in the fully electric EQ range. The Superscreen is a warmer approach, more tuned to the traditional E Class buyer. The imposing glass swath of the Hyperscreen is broken up with a 10.25-inch free standing instrument display in front of the driver, while the rest of the glass panel gets a nicely integrated metallic border, the upper of which houses HVAC vents. Like the Hyperscreen, said panel incorporates a large central touchscreen and 10.25-inch passenger display. The latter can keep those riding shotgun occupied with an array of distractions – games, apps, navigation info, TV, and so on. While cruising along the Autobahn, I caught up on world news via CNN.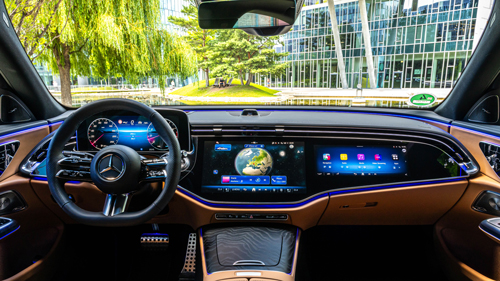 No, I wasn't driving. If the driver so much as glances toward the passenger screen, it dims. Thank the driver-facing dash-top camera for that – the one that keeps a close eye on your peepers for other such techy things like attention assist, semi-autonomous driving, and facial recognition for calling up preset profiles. Up to seven different profiles with a total of around 800 parameters are possible in the vehicle. Dubbed "Routines" by Mercedes, the onboard system uses AI to learn the driver's preferences. Mum likes soft ambient lighting, her Eagles playlist and gentle massage when driving. Teenage son has the standard Burmester sound blaring Swedish death metal, the seat in full cruise mode, and the windows and sunroof open for all the world to experience his badassness.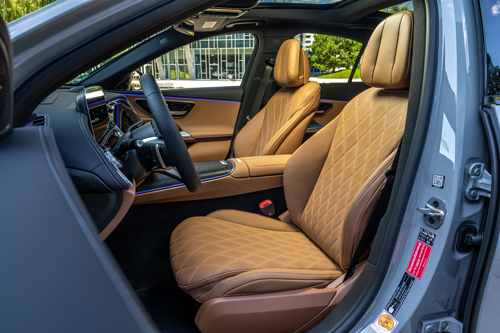 Yes, there's enough computing power here in the new E-Class to dim the lights at Google headquarters, and while I could on and on about advanced safety systems, Energizing Comfort programs, built-in selfie function or Zoom meeting capability, for many buyers, the biggest question will be: Is the new E-Class comfortable? I'm happy to report Benz has not lost sight of this sedan's prime mission of delivering a comfortable, luxurious, and in the case of this E 450 4Matic (the only Canadian-spec car at this event), a swift driving experience. Despite all the tech, the new E is essentially plug and play. Hop into the comfortable and supportive bucket, press the starter button, dip the shift wand into Drive, and motor away. There's well marked haptic panel in the central screen for accessing HVAC functions, and the ergonomically-sound seat controls on the door panels (with hard buttons for heat and ventilation, thank you) make getting comfy and positioned straightforward.
It's a rich and beautifully designed cabin, here especially inviting in this tester's saddle brown perforated leather. My car also has the optional Technology Package that adds adaptive air suspension and rear-wheel steering. The ride is smooth, the cabin hushed, and the turbo straight-six's 375 horses and 369 lb-ft of torque moves the sedan out with effortless authority. Selecting Sport mode adds a bit of starch to the proceedings, but never at the expense of comfort.
There's no Canadian pricing yet for the 2024 Mercedes-Benz E-Class sedan, but we can expect those MSRPs closer to arrival dates, those being late 2023 for the E 350 4Matic and early 2024 for the E 450 4Matic.