Austin, Texas — This goes without saying, but the folks at Lexus know a thing or two about luxury. They've also got plenty of experience with sport utility vehicles, dating all the way back to the Lexus LX 450 (which debuted  in 1996) and the original Lexus RX 300 (from 1998). Lastly, they know how to engineer hybrids, knowledge gleaned from the first Toyota Prius (year of birth: 1997) on forward.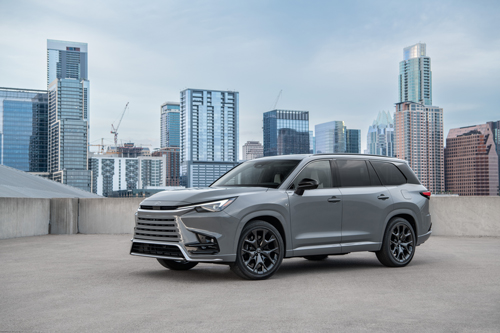 All of this experience comes together nicely in one slick package called the 2024 Lexus TX. This three-row luxury SUV joins the Lexus family, giving the nameplate seven different models if you count the latest RX and its all-electric RZ derivative separately.
The TX is the largest of them all from a dimensional perspective, it's some 65 mm longer than the Lexus LX, 280 mm longer than the GX and 300 mm longer than the RX. The TX effectively replaces the RX L (long-wheelbase version) in the fleet. It's built on a stretched version of the platform used by the RX, NX and ES, but is most closely related to the recently released Toyota Grand Highlander in terms of construction and dimensions.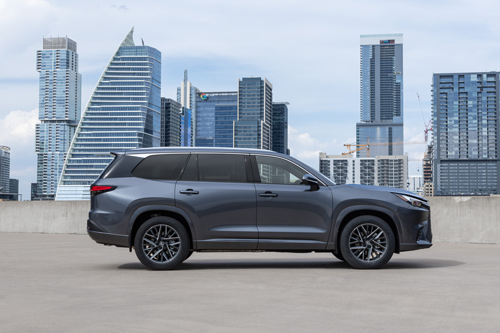 At launch, there are two distinct powertrains to choose from. The first is a turbocharged 2.4-litre 4-cylinder engine linked to an 8-speed automatic transmission, which powers the TX 350.  Here in Canada, this model also features standard all-wheel drive; horsepower and torque roll in at 275 horsepower and 317 pound-feet, respectively.
The second powertrain sees that same gas engine blended together with a 64-kW electric motor and a 6-speed automatic. This is the motivating force behind the TX 500h F SPORT Performance, rated at a combined 366 hp and 406 lb-ft of torque.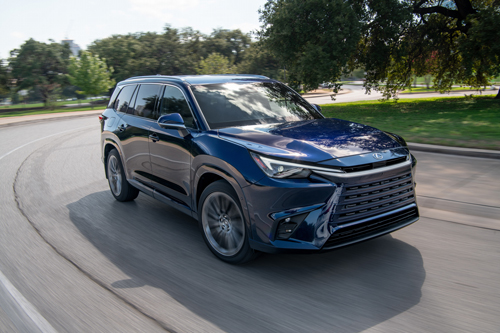 A third model, the Lexus TX 550h+ is a plug-in hybrid. This version features a 3.5-litre V6 gas engine, a two-motor transaxle and a continuously variable transmission. Total system horsepower rings the bell at 404 hp and the vehicle is also rated at 53 km of all-electric range.
While the TX 350 and TX 500h are on sale right now, the TX 550h+ will be available at a later date. During a drive event held in and around Boomtown USA (aka Austin), we had the chance to sample the two models you can purchase today. For simplicity, these first impressions fall into two categories: driving performance and interior amenities.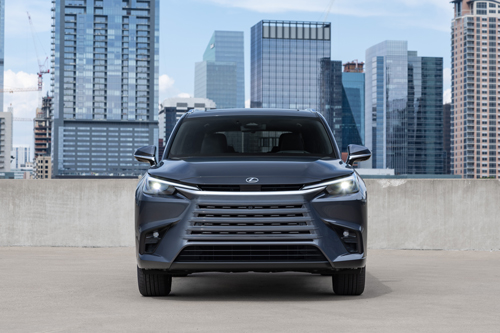 There are many manufacturers out there that like to emphasize the "sport" in sport utility. Whether it makes sense that a 2200 kg+ (5000-lb) SUV can accelerate as fast as a supercar and break lap records around the Nürburgring is up for debate. But there are a bunch of luxury sport utilities on the market that offer this exact kind of performance. The Lexus TX is not among them.
On one road outside Austin city limits, a curvy stretch that bore a real resemblance to Mulholland Drive, the TX 350 proved not so inspiring. Granted, it was a front-wheel drive version (not offered in Canada), so opinions may be skewed. But it was striking how difficult it was to pilot the vehicle in a proper line around the bends while driving even at the 40-mph speed limit. It just required so much attention and effort to keep pace with pick-up trucks and all sorts of everyday vehicles.
Then, on the open freeway, the TX 350 had the annoying habit of wandering around in the lane (maybe due to crosswinds?), which the automatic lane keeping system failed to correct with enough aggression. The numb feeling of the steering certainly didn't help, either; again, it just required so much attention to keep the TX pointed in the right direction.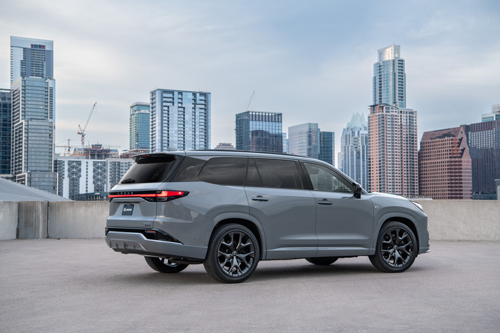 Switching over to the TX 500h+ F SPORT Performance, things took a turn for the better. Not only did the added power make the vehicle more enjoyable to drive, so too did the all-wheel drive and the Dynamic Rear Steering (DRS) systems. The DRS also gives this TX a surprisingly tight turning circle. The TX 500h+ also comes standard with adaptive variable suspension, which expertly ironed out imperfections in the country roads.
While the Lexus TX may not be a match for some when it comes to dynamic performance, it's got the goods to compete in the sheer luxury caged death match. First off, there's space for either six or seven passengers, depending on the seating configuration chosen.
The third row is a legitimate space for adult-sized passengers; during the product introduction, someone 6'2" in height sat there with decent clearance above and enough space for his legs. What's more, there's 572 litres of cargo space behind the third row, enough for seven pieces of carry-on luggage.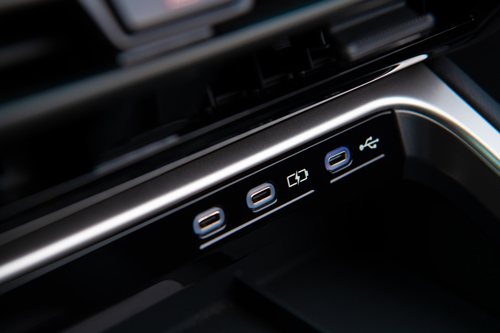 The entry-level TX 350 Luxury comes loaded to the teeth with desirable amenities. There are seven USB ports in total, stretched out across three rows, and multiple storage spaces, including a dual-opening console and removable cupholders for the front seat.
This TX also features heated/cooled front seats, panoramic sunroof, wireless Apple CarPlay and Android Auto capability, a 14-inch high-definition touchscreen and 20-inch wheels. The 2024 Lexus TX 350 Luxury starts at $68,750—a remarkably low price for an authentic luxury SUV with seating for up to seven. There are three other trim levels available with this model.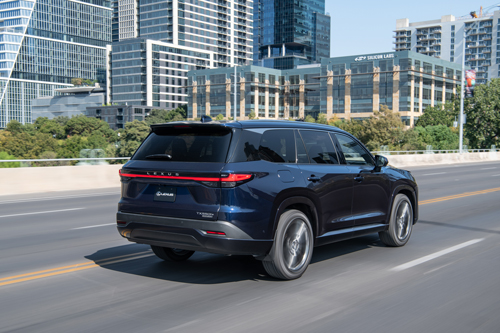 Stepping up to the TX 500h F SPORT Performance costs a lot more—specifically, $84,200 for the entry-level version of this model. This TX is similarly equipped to the TX 350 Luxury, but adds a digital rearview mirror (which works well), heated/cooled second row captain's chairs, F Sport leather seats (which, for sure, offer better support) and 22-inch alloy wheels.
There's much to like about the 2024 Lexus TX and, for sure, families in need of a lot of seats and a lot of space will want to give it a closer look.