Sand Hollow State Park, Utah —When you've just finished touting the extreme off-road ability of the 2024 Jeep Wrangler, a mere glorified cottage trail simply won't do as a test of those abilities.
So we're here, all 33 of us automotive scribes, in a state park that could give legendary Moab — another Utah location known for off-road adventures — a run for its money.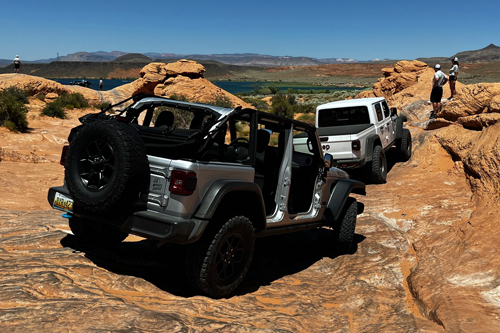 Sand Hollow did not disappoint. We're about a half hour outside Saint George, Utah. Sand is piling up in the footwells, sun is beating down and rock formations are appearing impassable.
Except we aren't passing them, we're rolling right over them.
On one rock, the face was so inclined it felt like driving up an isosceles triangle, the hood so high in the air, the guide at the top could only make his instructions known by signalling a touchdown. Only his hands were visible, even with his arms fully extended.
On the way down the other side, the 4×4 low mode of the two-speed transfer case, which offers automatic 4×4, part-time 4×4, locked 4×4 and 4×4 low, kept the vehicle under control without overtaxing the brakes.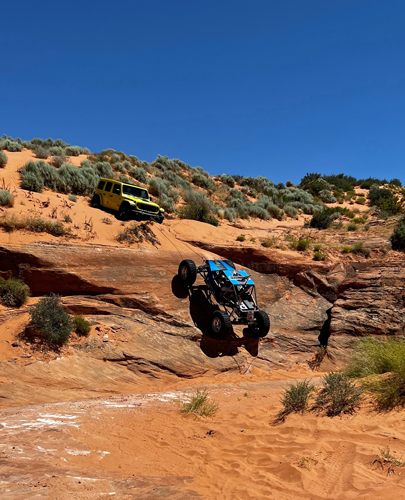 It's in these situations the Jeep's front camera comes into its own. It commands the Wrangler's new 12.3-inch screen and gives a full, wide-angle view of the road ahead. Or the road beneath, as the case may be.
It's also a demonstration of the screen's new FALD — full array local dimming — technology. Ryan Nagode, vice-president, interior design for Jeep, says the display is designed to give crisper graphics, better text legibility and to be immune to glare from sunshine, an important consideration for a vehicle with a removable top and doors.
It lived up to its billing, especially in the morning when we were roofless, putting the screen's ability to be seen even in glaring sunlight to the test.
That screen, and the digital display nestled between an analog tach and analog speedometer, also have another tool handy for off-roading: pitch and roll meters, which visually display the outline of a Wrangler and its current pitch (the angle between the front and rear axles) and roll (the angle between the left and right sets of wheels).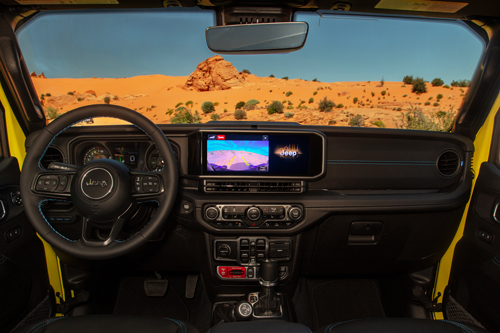 The entrance to our off-road adventure was 100 metres or so of soft sand — which explains why the tires on the vehicle I'm driving are about 10 per cent underinflated. The Wrangler made it, but in my case, not without taking a few runs at it. I'm driving the topline Rubicon 392, with a massive 6.4-litre V-8 engine. It has tons of power, but also tons of forward weight, which I think made it easier to bury the front axles. The 2.0-litre turbo Wrangler ahead of me had an easier go of it. At no point did I require a winch, however.
Calling the Wrangler an icon is, it seems, a fitting use of a word whose definition includes "a person or thing widely admired and of significant influence in a particular sphere."
So imagine the trepidation a design team feels when embarking on a new generation of a model that has defined off-road ability since the Second World War.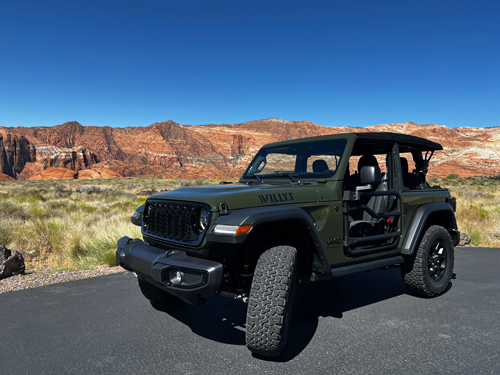 Make it better, but don't screw it up in the process. So if you think the changes to the overall look of the vehicle are minor, you're right. Without the seven openings on the grille, the nearly vertical fold-down windscreen, removable doors and roof and wheels pushed as far to the corners as engineering allows, it wouldn't be a Wrangler.
Pete Milosavlevski, director of vehicle development for Wrangler, didn't mince words: "If it ain't broke, don't fix it."
Tavon Brooks, vice-president, Jeep product marketing for North America, said changes to a vehicle that is Jeep's top-selling product in Canada and No. 2 in the U.S., are carefully considered.
"Every time we touch a Jeep, we make it more capable," he told assembled media at a launch event outside Saint George, Utah.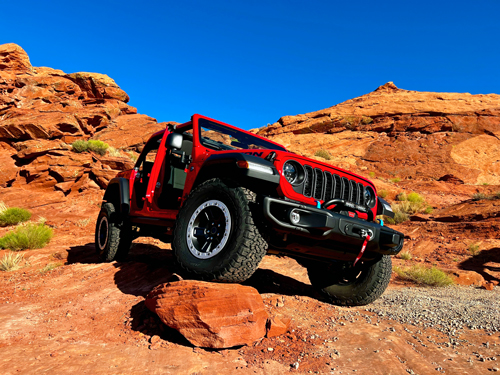 That means visible differences are minor: it has lost its traditional whip radio antenna, replaced by a printed-copper strip embedded in the windshield. (Considering my dad's 1986 Chevy Malibu had such an antenna, everything old is new again, I guess…)
The Jeep-defining seven-slot grille remains, but to make room for an optional, factory engineered Warn winch in the bumper, the slots are shorter. That meant opening the spaces between the slots to make up for lost airflow. Other tweaks to the grille include its surround: gloss black in some trim levels, matte grey in others.
A handy feature, if yours has navigation, is a set of maps for off-road trails. Jeep partnered with Trails Offroad, an American association that has compiled maps for 3,000 trails on which to test a Jeep's ability. Some 200 trails are supplied with the Jeep package, and access to the rest is available for an annual US$39 subscription.
Only a handful trails are mapped in Canada, but Todd Taylor, founder of Trails Offroad, said the association is planning to begin mapping Canadian trails this summer. "We are eager to start working on the rest of the country."
The trail maps give turn-by-turn instructions to the trailhead, and then detailed instructions for the trails themselves, including waypoints marking challenging obstacles and tips for traversing.
As for capability, our off-road adventure proved the Wrangler's worth, but some improvements are less obvious.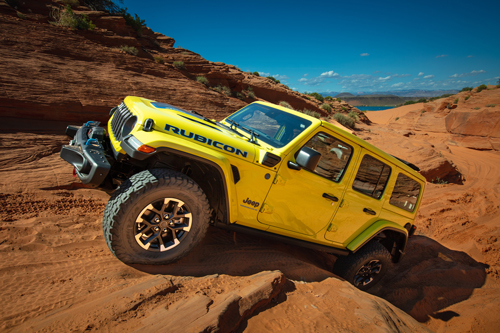 Case in point: the new Wrangler can ford water up to nearly three feet deep, an increase of more than a half-inch from the 2023 model. And even if you don't top out at the Rubicon's 34 inches of water fording ability, you can still wade it through 30 inches. Customers can now order a factory-engineered Warn winch capable of winching 8,000 pounds. A rear locking differential — crucial in many off-road situations — is now standard, as is an off-road mode.
Even changes someone might scoff at are, on closer inspection, significant. Take the power seats, for example.
"So you added power seats, something that's been available on cars for decades. What's so special about that?" began Brooks. "What's special is they're designed to handle what Wrangler can handle."
In other words, they'll still work even if you ford those 30 to 34 inches of water.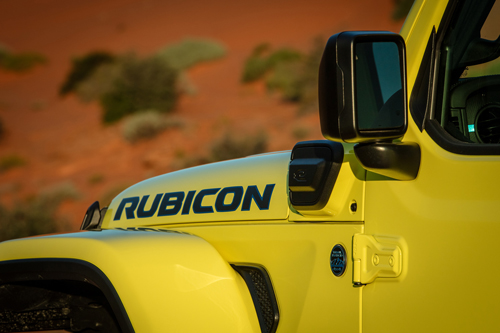 To put that fording ability into perspective: ground clearance on the Rubicon, with its 34-in. ability, is 12.9 inches. That means water can rise 21.1 inches above the vehicle's lowest point. In the standard Wrangler, with 30 inches of ability, ground clearance is 9.7 inches, letting drivers immerse 22.3 inches above the lowest point in water.
If you do get your Jeep dirty — and if you don't, then why did you buy it? — removable carpets, drain plugs and a washable floor are standard.
The Wrangler's approach and departure angles are unchanged from the 2023 model. Has the pinnacle of these specifications been reached? Approach angle ranges from 41.1 degrees on Sport to 47.4 degrees on non-392 models of Rubicon. To have both the bumper clearance and the power to push itself up something steeper than 45 degrees is impressive. Breakover angle remains at 25 to 27.8 degrees and departure angle from 35.9 to 40.4 degrees, both dependent on model chosen.
Wrangler comes with four engine options and two transmission options: base models come with a Pentastar 3.6-litre V-6 with a six-speed manual transmission. Upgrades include a 2.0-litre turbo four-cylinder with an eight-speed automatic, and a 2.0-litre turbo hybrid. Top of the line, weighing in at $114,500, is the Rubicon 392, with a 6.4-litre HEMI V-8.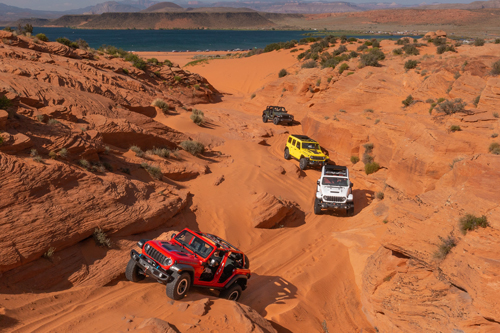 Regardless of engine option, you won't be hurting for power. Even the base V-6 delivers 285 horsepower and 270 pound-feet of torque. The turbo four has a bit less horsepower (270) but 295 pound-feet of torque. The hybrid has the same 2.0-litre turbo but adds 44 horsepower and 39 pound-feet of torque from its e-torque, belt-start electric motor/generator.
Four types of transfer case are on offer, depending on engine and depending on options selected: all are two-speed, the main differences are in ruggedness and the ability to select 4×4 auto. All are controlled by a lever next to the gearshift.
If you do get into the weeds, that aforementioned winch will come in handy. It's a collaboration between Jeep and Warn, which has been making winches for about the same time as Jeep has been making Jeeps. It will rescue up to 8,000 pounds of vehicle, more than Wrangler at its heaviest, and uses a synthetic winch cable, which is safer than braided steel. Jeep demonstrated it by towing a 6,000-pound sand buggy up a steep slope.
Ride quality is very good for such a short wheelbase vehicle. My tester in the morning was the two-door Willy's, with a puny 96.8 inches of wheelbase, yet — completely unlike a ride in a 1980s CJ — not at all punishing. Thank the coil springs, trailing arms and stabilizer bar on the rear suspension for that.
The 2024 Jeep Wrangler goes on sale in summer of 2023, and ranges in price from $45,865 (incl. $2,095 destination fee) for the Sport two-door to $116,365 (incl. $2,095 destination) for the Rubicon 392. While the top end of pricing encroaches on Land Rover pricing, it's hard to imagine much cross-shopping between the two brands.
As a plug-in hybrid, Wrangler 4xe qualifies for rebates: $2,500 federal, plus $1,500 in Newfoundland and Labrador, $2,500 in New Brunswick and Prince Edward Island, $2,000 in British Columbia and Nova Scotia, $5,000 in Quebec and $3,000 in Yukon.