LISBON, PORTUGAL – BMW has been investing heavily in the transformation to electric vehicles rolling out battery powered versions of some of its most popular models.  The i4, essentially an electric 3 Series, is the first real sport sedan that feels like a proper driver's car versus the appliance-like feel many EVs seem to possess.  The i7 is a rolling sanctuary, the 7 Series of the future, but available today. With dual-electric motors and over 500 horsepower, it wasn't lacking for power, but BMW decided that it needed more anyways. And that's where their M-division and this new i7 M70 xDrive comes in.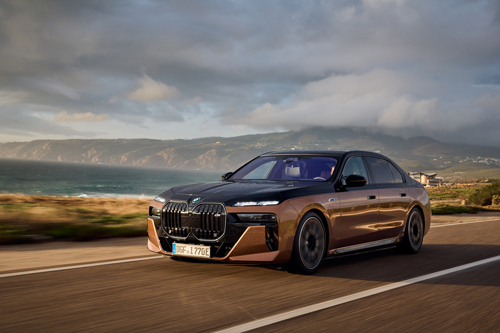 As the current flagship of the "i" range, the i7 gets ALL the latest toys from BMW's catalog, including, a 31-inch widescreen TV that drops down from the headliner offering lucky rear seat passengers the best movie watching experience possible in a vehicle, There are even individual touchscreens in each rear door to control everything from the seats, to the audio, helping fine tune the experience.
The new i7 M70 changes none of this. It's the same amazing package but now fitted with BMW's newest and most powerful electric motor on its rear axle. The 360-kW motor has a six-phase design with a dual inverter which might not mean anything unless you possess an electrical engineering degree but it forms the basis for what is their most power dense unit to date with an output of 2.4 kW/kg. This motor alone makes a whopping 489 horsepower. Coupled with the 193-kW motor on the front axle, the i7 M70 makes 650 horsepower and can generate up to 811 pound-feet of earth-stopping torque. With the added grip of all-wheel drive an i7 M70 can accelerate from 0-100 km/h in just 3.7 seconds.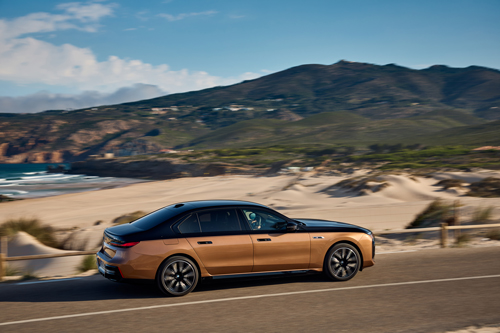 To access all the power, there's a small paddle labelled "Boost" on the left side of the steering wheel. Pull it for more than 0.8 seconds and you can dip into all the torque, all at once. This is the equivalent of the "Nitro" button on all the racing video games. The acceleration is fierce. It feels like it's pushing the air out of your lungs. It's a big, heavy vehicle weighing in at over 2700 kg, which makes its forward momentum even more amazing.
The i7 M70 gets an uprated air suspension and has additional structural enhancements on the front end for a more buttoned-down feel. Everything's been tuned by the M-division, and they've added their signature smattering of M badges inside and out. It's meant to sharpen the big Bimmer's reflexes, but still maintain a ride quality worthy of a presidential escort. Other clues that this is the king of i7s are the twin-stalk mirrors, a staple on M- cars, and a unique rear bumper insert. There's a new gloss black grille surround and contour grille lighting for the first time highlighting what might be its most controversial bit of styling. It would still take a keen eye to spot an M70 but the i7's polarizing styling attracts attention in a way M-badges never could. With DRLs and headlights separated into their own housings, a massive now light-up grille, and a large range of two tone, and one-tone colours to pick from, the i7 makes a statement wherever it goes.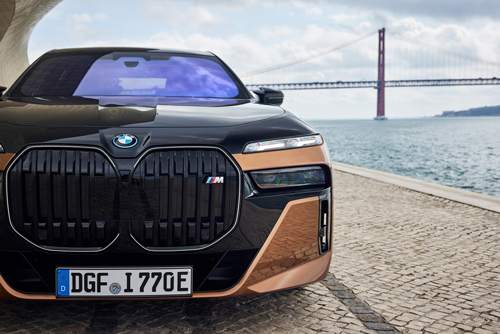 There's so much to the car, from its brilliant power operated doors that can be closed by just stepping on the brake pedal to its sumptuously tailored interior with a jewel-like light bar running across the dash, an on overall feeling of space and tranquility.
The front seats are big and inviting. Sitting in them makes the outside world fade away. They massage, heat and cool and impart a feeling of weightlessness. They set the stage for the rest of the experience the i7 offers.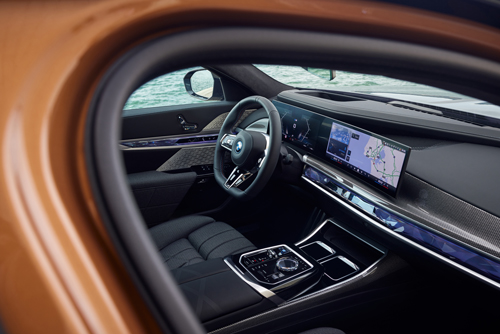 The back seats are, of course, the best place to sit, even when charging the battery. The one behind the front passenger can be reclined fully allowing for a true business class experience in a car. The 101.7 kWh pack can be charged at up to 195 kW and can deliver an estimated 474 km to a full charge. A new max range function can unlock even more range if necessary in situations where a charging station is out of service, and that happens all too often. It lowers output from the electric motors, disables the climate control and various comfort functions and limits top speed to 90 km/h. It can add an additional 15 to 25 per cent of range by doing this.
The M70's ride can only be described as pillowy but not in a way that would give its occupants sea-sickness. There's little noticeable change from the switchover to a sportier suspension setup and an i7 M70 will never be mistaken for an M3, but show this big sedan a back road and the competence with which it negotiates corners is impressive, nonetheless.
It's absolutely not a sports car; even calling it a sport sedan may be a bit of a stretch. But it's fun when the roads get twisty and for something the size of a small bus, you really do get that physics-defying feeling so often ballyhooed about by auto journalists everywhere.
This then is the perfect getaway car. It's big, expensive, and imposing, hiding its passengers inside acres of glass, leather, and metal as it sails down the motorway at incredible rates of speed in complete silence. There's even a bullet-proof version if you've made more enemies than friends.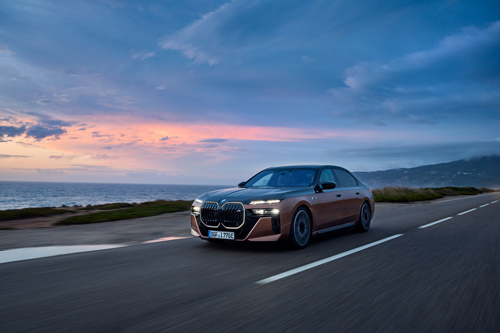 Of course, a car like this doesn't come cheap. Prices start at $185,000 CAD making this one of the most expensive BMWs of all time but the price of this car is all relative. Rolls Royce buyers would think they've ended up in the discount section of the auto mall.
The BMW i7 is such a convincing luxury vehicle, the last thing it needed was more power. But in a car that's all about excess, the M70 delivers big on its mission statement.