LISBON, PORTUGAL – In another world, the launch of a new BMW 5 Series would have created much more buzz that what we're seeing now. Still a hugely important model to the company, much of the public attention now has moved over to their SUVs. And there's a lot of them from X1 to X7, but it's the 5 Series that really speaks to the company's history as a producer of some of the finest sedans the world has ever seen.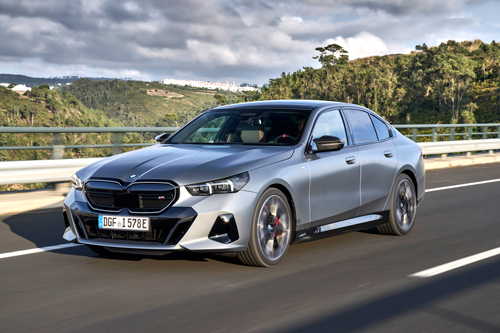 They still make some great ones; look no further than the current M3 and M5 as examples of BMW sedans that pack more performance in their practical body shells than most thoroughbred sports cars.
From its outset in 1972, and now in its 8th generation, the BMW 5 Series offered a premium ride and sporty handling with a straightforward business-like interior, but it was also a hotbed for the latest in automotive technology
The 5 Series is an aspirational vehicle. Something to graduate to when that first big promotion arrives. No more junior-management 3 Series here; when executives drive to work, only a 5 Series will do.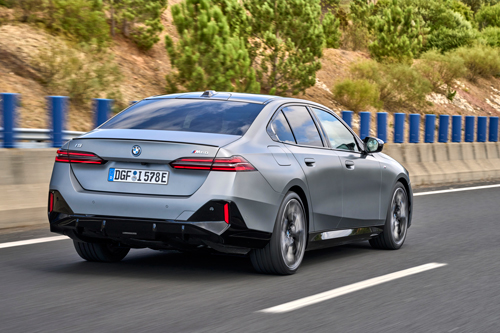 The last flagship of the 5 Series range, the stupendous BMW M550i, utilized a great big V8 assisted by two turbos to make well over 500 hp. It was the 5 Series at its best. An autobahn-friendly missile that could cruise at 200 km/h all day long while coddling occupants in Nappa leather-lined environs.
At the launch of this new 5 Series, the top-of-the-line i5 M60 xDrive sounds even more powerful on paper, but there's no V8 under the hood. In fact, the new 5 Series was launched with a focus on the two fully battery-electric models, so there were no engines to speak of at all. These were the models BMW wanted us to drive, meanwhile we're getting an all-new 530i xDrive, but there was no fanfare over that traditional gasoline-powered model.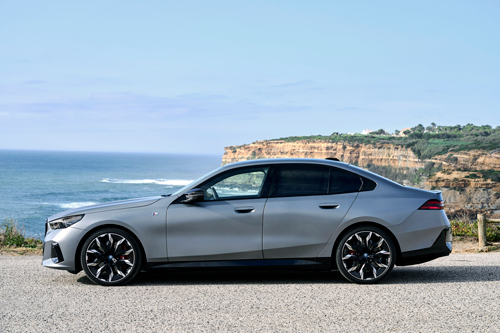 The new dual-motor i5 M60 xDrive is the first-ever all-electric 5 Series, launched alongside the single-motor eDrive 40. The latter will not be coming to Canada, so for now, it's just the top dog 5 for us and that's not a bad thing at all.
The i5 M60 produces 593 horsepower and 605 pound-feet of torque, combined, from its highly integrated motors, one on each axle.  Supplying electrons to those motors is an 81.2 kWh low-profile battery pack that doesn't take away any room from the passengers or the trunk. It can charge at up to 205 kW, providing an adequate DC Fast charger is being used, and BMW says that going from 10-80% battery charge takes under 30 minutes.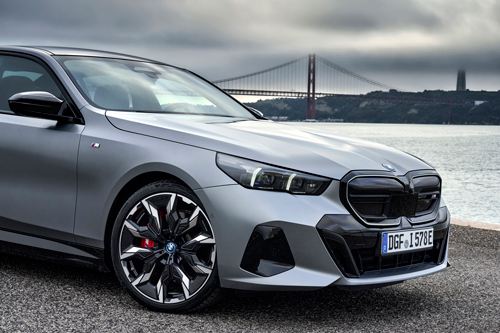 The new 5 Series grows in all dimensions but that muscular and tightly sculpted look seen throughout its existence is still prominent here. This is a sedan that's unlikely to be mistaken for something from another brand, or even for a 3 Series. The rear taillights still have a familiar "L" shape and are basically condensed versions of the ones on the new 7 Series.
Step inside to an exquisitely tailored interior that's a bit less serious than before, taking the nifty-looking Interaction light bar from the new 7 Series and incorporating it into the 5's dashboard. It helps bring a bit of life into an otherwise very straightforward cabin.  A large curved display comprised of a 12.3-inch driver display and a 14.9-inch centre touchscreen is standard fare across the lineup and remains a stunning representation of a premium infotainment system.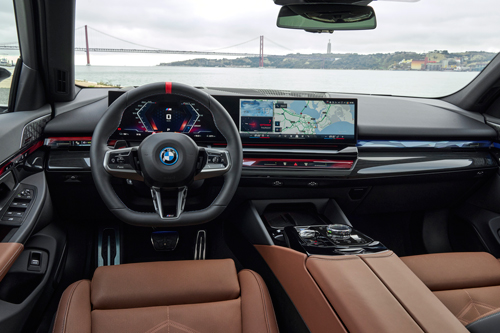 The fundamentals remain: superb seats, an excellent driving position, and class-leading ergonomics. Using the main screen to access virtually every function might not be as good as hard buttons, but the large screen, and intuitive menus of the updated BMW OS 8.5 is a pleasure to navigate. It's also a good thing that BMW insists on including its rotary controller seen here in crystal from, which makes manipulating the system much easier and safer when on the move.
Now, on to what everyone wants to know: How does the new 5 Series drive? Let's just say customers that have driven one before will not be disappointed. Behind the steering wheel a small paddle labelled "Boost" is a tempting proposition and self-explanatory in a car like this. Pulling it gives access to all 605 lb-ft of torque at once. Floor the accelerator pedal and the i5 M60 springs forward like it was just rear-ended by a Mack truck.  Synthesized music plays through the speakers to make for a more emotional experience but the intense G-forces have already done a better job of that. The M550i was fast, but the i5 M60 feels even faster. BMW claims it will do the 0-100 km/h sprint in 3.8 seconds, matching the M550i, but it feels faster than that still.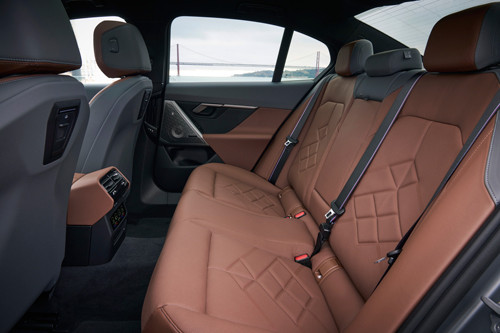 Exercising the equipped Continental EcoContact 6 tires was no problem at all thanks to some of the most technical and ribbony tarmac your humble author has ever had the pleasure of driving on. Portuguese estradas are narrow but the landscape they scythe thorough is breathtaking, setting a stunning backdrop of tropical mountains rising from miles of pristine coastline.
The steering is accurate, allowing perfect placement of the i5 but more feel through the thick rim would be welcome. Body roll is non-existent, thanks to active sway bars, and grip is prodigious, generating even more Gs than full throttle blasts can. Integral active steering (read: 4-wheel steering) also makes this big car feel smaller than it is, a good thing.
This is still every bit a 5, as long you keep in mind that it's a quieter, more isolated, and more refined affair than it was before, a reality of every successive generation.
This new i5 M60, being one of the most powerful new BMW's today is also one of the most efficient.  While its 412 km of total range to a charge isn't class-leading by any means, it's the average consumption of 15.9 kWh-18.9 kWh per 100 km that is, frankly, unbelievable for such a big, heavy and technically advanced sedan. Even the smaller i4 M50 isn't as efficient and this is due mainly to advanced underbody aero enhancements that help the i5 "cheat the wind", so to speak.
A properly equipped i5 M60 will also get the world's first application of a hands-free lane change using nothing but a glance in the sideview mirror. When in full assist mode on the highway, the car will suggest a lane change when it's safe to do so. Glance at the corresponding side mirror and the i5 will automatically change lanes. It works impressively well and has to be tried to truly understand its operation.
After two days of some intense driving, the last thing that came to mind was the missing V8 under the hood.  Would it have still been a great car with a more traditional powertrain? Sure. But the electric i5 M60 xDrive is just better in every way.