If I didn't already know the make and model of the car, I wouldn't have believed it. No full-size grand tourer-slash-sedan should feel this lively and predictable in my hands, but the Audi RS7 Performance is a car that is unpredictable in its predictability.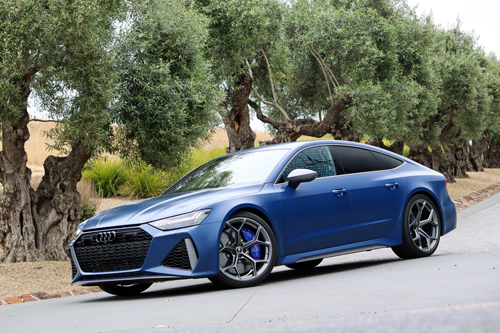 Before we get to all that fun stuff, however, we should talk about the styling. More precisely, in fact, we should talk about the body style. Indeed, there are few body styles out there that convey feelings of continent-crushing in comfort than that of a full-size four-door with a big hatch. It's more sporting than a station wagon, but provides a level of comfort and practicality that you will not get even from large two-door grand tourers such as the Bentley Continental GT or Maserati Gran Turismo.
Even with that aggressively-sloping roofline and hatch, rear seat room is ample enough – it shares a wheelbase with the full-size S8, so there's lots of legroom back there and headroom is taken care of by low-mounted rear seats. While you might think that it's four-door coupe-like profile may suggest the existence of just two seats in the back, there's actually seating for three though we're unsure about how often they will be made full use of.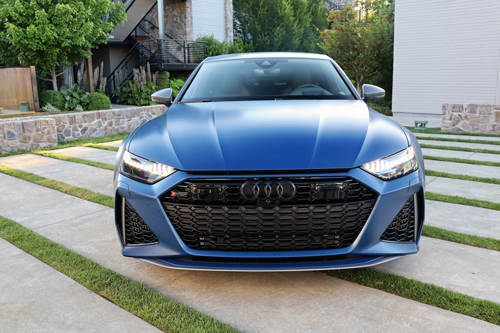 Otherwise, inside is as techy as you'd like in this day in age; the gauge cluster, dash and centre stack are all made up of touchscreens and haptic panels – yes, that does mean almost everything is controlled via touch, though we do have a volume knob, which is nice. Usually I'm a bit bent out of shape about this, but these screens are properly responsive. That said, having to use them instead of a buttons to activate more oft used on-the-fly stuff such as drive modes is a bit of a hassle. Then again, there is also an "RS" button on the steering wheel that lets you choose from between two custom drive modes and I'm thinking most RS drivers – drivers that aren't always waffling through modes for the sake of a road test, as I do —  will likely take a fire-and-forget approach; choose a mode with the RS button, move on.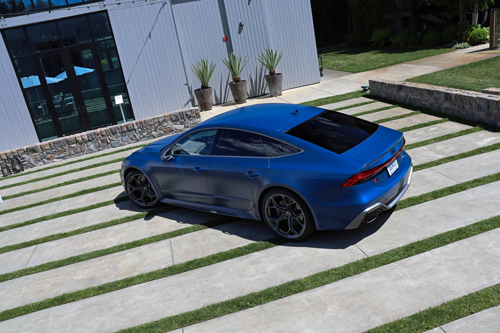 Back to the exterior looks – first of all, the paint. It's an all-new shade for '24 – Acari Blue – and it's a very nice fit for the Performance and the blue interior accent colour. There are other stitching colours to choose form – white and red – but the blue is the way to go here, especially when you consider the optional exposed carbon fibre weave option, which is already fantastic to start, made all that more so by the blue accent.
With 621 horsepower and 627 pound-feet of torque being sent violently to all four wheels through a lighting-fast eight-speed automatic transmission, you knew it was going to be fast. Like, supercar fast to the tune of under 3.5 seconds from stop to 100 km/h. Indeed, you feel every one of those ponies when you drop the hammer, especially if you've made use of one of the more aggressive driving modes and easy to engage launch control. It may weigh nigh on 5,000 pounds, but you wouldn't know it with that power.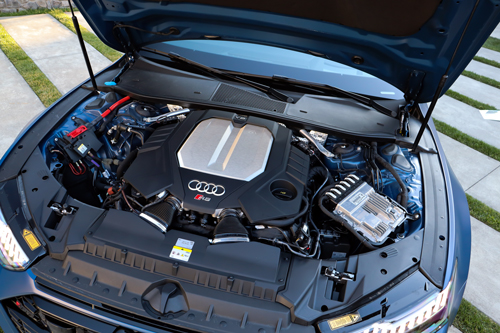 Still, though; anybody who's anybody in the fast-car world knows about the drive capabilities of fast Audis. You can see all that on paper. What you can't see is just how effective the RS7 Performance is when it comes time to slow things down a little and tackle the bends on your favourite country road.
In addition to the extra oomph, Performance-spec adds 285-section Continental Sport Contact 7 tires wrapped around stylish 22" wheels, each weighing 5 kg less than what was seen on the non-Performance model in '23. They look absolutely fantastic and the blue caliper peeking out from within – all 10 pistons of them up front – is a great look, especially when the spokes are so thin that there's very little hiding them. Carbon ceramic brakes are, of course, an option and they will haul you from sky-high speeds back to reality in short order, while nicely eschewing the noise and the warm-up period that brakes of this type have long been associated with.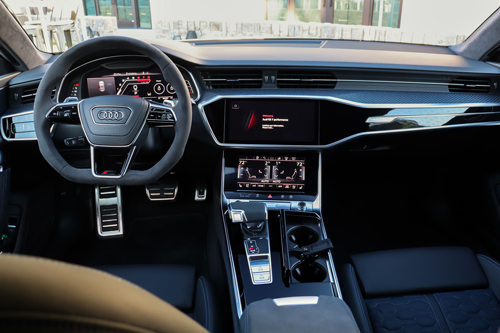 The choice of an air-suspension or a Dynamic Ride Control (DRC) set-up complete with three-stage mechanical dampers at all four corners means is the RS7 can easily feel out what's going on underneath it and sense just how aggressively the driver wants to proceed and adjust things accordingly. Our tester was fit with DRC, which controls the stiffness of linked diagonally-opposed shocks to provide better stability through turns. It does this so well that you feel the big RS7 shrink 'round you as you push forth, the brainy chassis set-up doing all it can to keep the body in-check and the rubber mushed firmly into the tarmac below.
The real icing on this twin-turbo'd Quattro cake, though? Has to be the steering. The weight is on-point, but you can easily add weight without necessarily adding feel. Not here, though. The feel through the Dinamica sueded wheel is closer to a sports car than a performance sedan, with just enough vibration through the thick rim to let the drive know what is going on beneath that big rubber up front.
Sure; go ahead and stick to your interstates, your autostradas or your autobahns. You'll do fine there, but you'll miss a big part of what makes this latest take on Audi's big hatchback so special and when you're laying out upwards 140 grand for a car, why would you want to do that?
2024 Audi RS7 Performance
Price as tested: $160,558.00
Configuration: front engine, AWD
Engine: 4.0-litre twin-turbo V8
Transmission: 8-speed automatic
Power: 621 horsepower/627 lb-ft of torque
Warranty: 4 years/80,000 km bumper-to-bumper
Website: Audi Canada