"Performance". It's a word, a common word that can mean any number of things, pertaining to any number of objects; in the context of this story it's a noun, but is usually a verb – all fine. It's a common word we all know, but it's not the most exciting one.
Just don't tell Audi.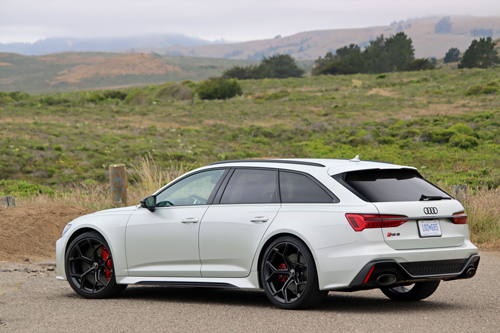 Don't tell Audi because for the RS6 Avant station wagon in 2024, that word means a whole lot and we were let loose on the lovely winding roads of California's Napa Valley region to see just how much capital-P "Performance" has been added to this latest version of Audi's genre-bending car.
On paper, the addition of that word to the RS6 name means 621 horsepower and 627 pound-feet of torque from a 4.0-litre twin-turbo V8, increases of 30 and 37, respectively, over the standard RS6 model. The extra power comes courtesy of larger turbochargers and boost pressure. That, in turn, translates to a 0-100 km/h time of about 3.4 seconds. Yes; this Audi station wagon is about as fast as the brand's R8 supercar and while the latter's lower centre-of-gravity and weight mean it will still be faster around a track, the RS6 should be able to hold its own even in those conditions.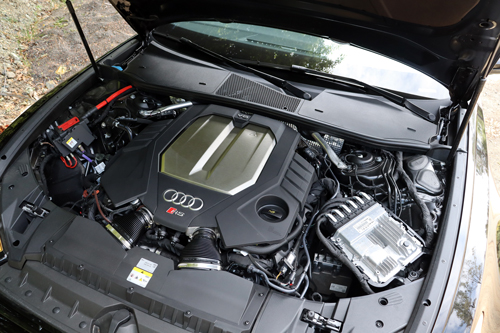 Helping do so is a set of fat 285-section Continental Sport Contact 7 tires, optional ceramic brakes (an RS6 first), lightweight 22-inch wheels and the choice of two distinct chassis systems: one with air suspension, the other a Dynamic Ride Control set-up which uses three-stage mechanical dampers to counter body movements. There's also less sound-deadening in the Performance model so it's lighter and sounds a whole lot better (if you like that kind of thing, of course, and if you're buying a hot rod station wagon like this, you probably do) than the standard car.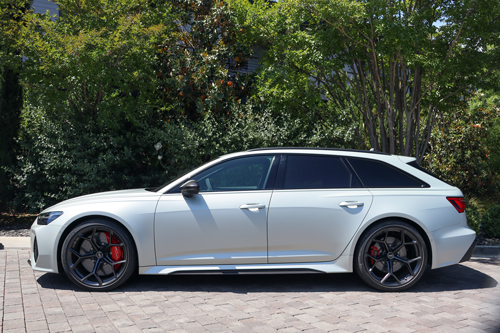 It looks darn fine during its 0-100 sprints (or even just standing still) as well; the new Dew Silver (pictured) and Ascari Blue matte paints are gorgeous and the new wheels come in four different colour choices ranging from a bronze to a black, helping bring the whole stance right down to the tarmac below. It's a good thing that they are so big; any smaller, and they would have a hard time containing the 440 millimetre 10-piston front brakes — with optional ceramic discs — whose calipers must be a foot-and-a-half long if they're an inch. They look incredible painted in blue or red and while my tester didn't have the ceramics, we also spent some time in the RS6's RS7 twin that did have them and their stopping power is astronomical. Such is the pace of progress, meanwhile, that unlike ceramics of old, they aren't a hollering, gritty-feeling, squeaky mess when dawdling through town.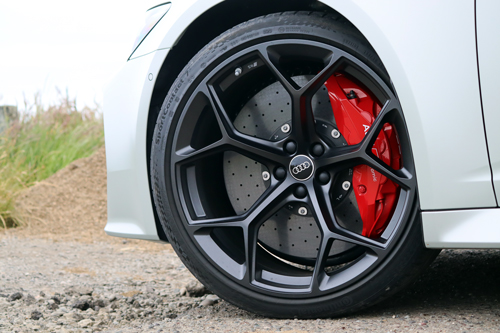 While the massive rear diffuser from the RS6 hasn't been changed, you can have it finished in matte on the performance model which still gives it purpose without seeming quite as cartoonish as the gloss black item seen on the lower spec. It's a move that I really appreciate; I like a big rear diffuser and a fast wagon as much as the next person, but the item on the standard RS6 just seems to aftermarket to me. Love the twin oval tailpipes, however, which make their triumphant return with the switch to Performance spec. The result is an awesome take on what a muscle wagon should look like in 2024; for all its efforts to keep the RS6's Q-car advantage, there's no denying the brute force that sits within that long hood.
In addition to the exterior tweaks, the interior of the Performance version has been given a nip n' tuck as well. Both the RS6 and RS7 can be had with contrast grey, blue or red stitching on the seats, dash and wheel, as well as matching "RS" logos on the headrests. The steering wheel is finished in suede-like Dinamica as standard and the digital gauge cluster now features a shift-light indicator once manual mode is selected. Shifting gears in manual mode, meanwhile, can be done via wheel-mounted paddles and while that's great, it would be nice if they'd been given a real aluminum or carbon finish as opposed to plastic.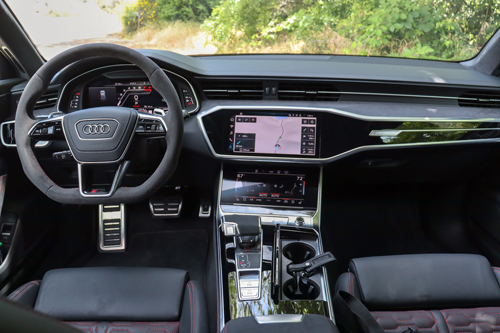 If you really want to make your RS6 Performance special, you can opt to have more of the Dinamica material sprinkled throughout the cabin and – my favourite part – exposed real carbon weave. No lacquered finish means no questioning how real it is. Not only does it look cool, it helps reduce glare as well.
After all that, of course, you have all the wagon stuff we love; massive rear cargo with almost as much room as a Q7 with its third row folded and plenty of head and legroom both front and rear. It's all the beauty of the long roofers, and we're all for it.
Then, you start it up and things really take a turn. It's tough to describe stepping into a family-moving wagon, plipping the start/stop button and hearing the fury of 621 turbocharged horses do their thing but I'll try: think seeing a dapper black sport jacket, only to open it up and see the liner finished with a neon splatter pattern.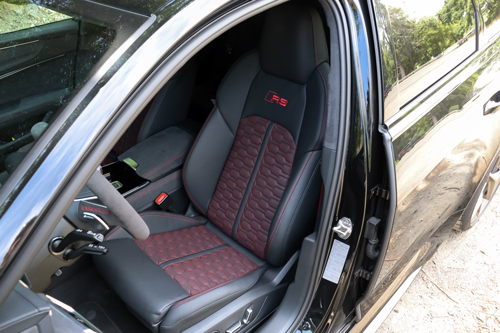 That's just the noise; dip the throttle and feel as all that mass – about 5,000 lbs. of it – surges forward with nary a delay or hint of turbo lag, even with the larger turbochargers. It's just pure, unbridled power all the way to redline; there's very little else out there that can feel so big and coddling but so lithe at the same time.
Our tester had the air suspension and while it's not quite as firm as the mechanical option, it can still be tweaked via drive modes – of which there are count 'em seven — to tighten things up in a noticeable manner. Turns that may have led to just a smidge of uncomfortable oversteer all of a sudden become less daunting as the RS6 digs in and rotates through – it's AWD, but with a rear-biased set-up – sending you to the exit so you can tip in and unleash that force all over again.
The body control is remarkable, but the steering is the real highlight. Even when dealing with all that weight and all that power, big wheels and so on, there's a remarkable amount of feel that I was not expecting. It trumps what's on offer by either the BMW M5 or the Mercedes E63 and provides tons of response, making it feel like the RS6 Performance is shrinking around you. That may sound a cliché, but it's the hand-on-heart truth. A bahnstormer it may be at heart, but this latest version – and possibly the last version – of the RS6 is at home on the curves, too.
Ahh, "the last version". It's no secret that engines like this – all gas power, no electrification to speak of – are quickly disappearing. Audi's own e-tron line seems to be everywhere these days and is showing no sign of slowing down. If indeed the RS6 Performance is a last hurrah for the model, well, that ratchets up the want factor for petrolheads that much more. Indeed, if ever you thought of owning a part of performance car history…
2024 Audi RS6 Avant Performance
Price as tested: $138,665.00
Configuration: front-engine, AWD
Engine: 4.0-litre twin-turbo V8
Transmission: 8-speed automatic
Power: 621 horsepower/627 lb-ft of torque
Warranty: 4 years/80,000 km bumper-to-bumper
Website: Audi Canada