If you've never heard of VinFast, we don't blame you. The carmaker didn't even exist a decade ago. Yet here we are, in Haiphong Vietnam, sampling a VF 8 preproduction electric SUV next to a 3,350,000 square meter assembly plant that was erected in just 21 months.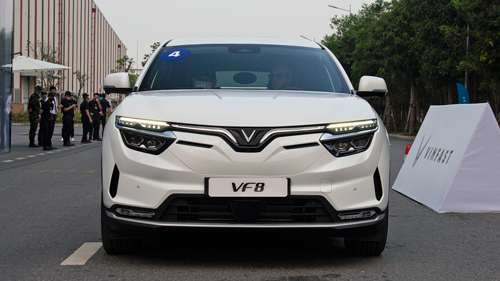 It's with the VF 8 that VinFast plans to jumpstart its North American expansion this fall. And no, this is not some other posh EV start-up that appeared out thin air. Among the cavalcade of new EV carmakers heading our way, VinFast is by far the most serious, the better structured and potentially the biggest threat to mainstream brands.
That's because it's part of a gigantic Vietnamese conglomerate called Vingroup. Founded in 1993 by local billionaire Pham Nhat Vuong, Vingroup has tentacles in 13 sectors, building everything from scooters, buses, massive apartment buildings and even hotel resorts.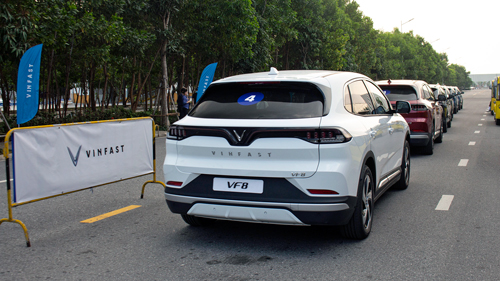 And it doesn't end there. VinFast, which was founded in 2017, recently announced its plans to invest $ 6.5 billion US in a state-of-the-art assembly plant in North Carolina by 2024, promising to create more than 7,000 jobs in the process.
Curious to know more about this fast-moving jumpstart carmaker, we flew to Vietnam to discover the Vingroup universe and drive the VF 8, the first-ever Vietnamese-built vehicle destined for our market.
Aimed Directly at Tesla
VinFast doesn't hide the fact the VF 8 was designed to take on the Tesla Model Y head on. Sitting somewhere between a compact and a midsize, this crossover utilizes an 82 kWh (usable) battery that powers two electric motors installed on each axle for standard all-wheel drive.
Output will vary according to two trims. The entry level VF 8 Eco pumps out 348 horsepower and 368 pound feet of torque, while the Plus model cranks things up to 402 horsepower and 457 lb-ft. Range, according to WLTP standards, are rated between 510 km for an Eco and 460 km for a Plus. We're still waiting on official EPA numbers.
Charging speed on a level 3 fast charger is set at 150 kW. VinFast protects the VF 8 for 10 years or 200,000 km and plans on selling its vehicles through corporate stores, like Tesla.
Another interesting trait about this carmaker is its battery leasing service. While details are still scarce and pricing needs to be established for our market, VinFast will sell you a car without a battery and lease it through a separate subscription program. Once that battery degrades at more than 70%, VinFast will replace it at no extra cost. It'll also be possible to upgrade the battery down the line.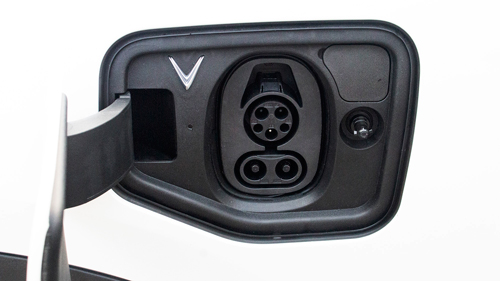 The full price ladder isn't yet established for our market, but VinFast hints at a $51,250 entry price before freight and optional packages. Since the federal government still hasn't released the specifics of its updated EV incentive program, we don't know if the VF 8 will be eligible to a rebate.
A Solid Foundation
Our drive of a VF 8 prototype was brief and could only be performed on VinFast's territory, but it did allow us to sample the basics. While the vehicle we drove still needed some fine tuning, we were shocked by how capable the VF 8 is and how it could, if properly marketed, shake the cages of other competing EVs like the Volkswagen ID.4, Ford Mustang Mach-E, Hyundai IONIQ 5 and Kia EV6.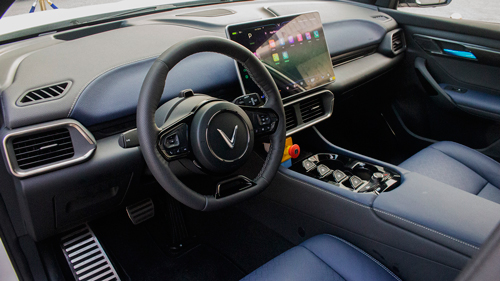 The VF 8's cabin is massive, both front and rear, to the point where it could very well be a midsize SUV. And while VinFast still hasn't released full cargo specifications, we noticed a massive rear area as well as a cavernous frunk (front trunk).
Like Tesla, VinFast centers most of the car's controls via a large command screen. Except VinFast's system is Android-based. We couldn't properly evaluate it due to our preproduction model's unfinished nature, but we did appreciate the interface's colorful layout, quick-reacting menus, and full array of available features, like in-car gaming and sentry modes.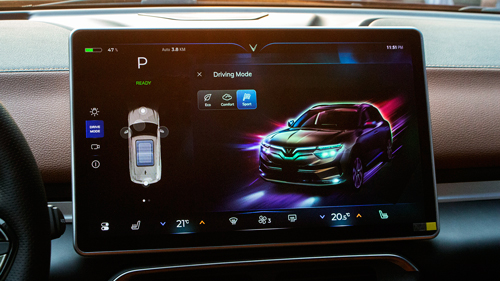 The VF 8 Plus isn't as quick off the line as its 402 horsepower suggest, but it's no slouch neither. It's smooth, quiet, and properly well insulated inside. The squared-off hood – a Pininfarina design – makes the VF 8 feel beefier from behind the wheel. Handling is neutral, with a solid, European feel to the way it's hunkered to the ground.
Brakes had good bite, but we yearned for more resistance from the regenerative braking system. VinFast says this will be corrected through over-the-air updates. Lastly, we enjoyed the resistance felt in the steering wheel. It gave the VF 8 a sporty, upscale feel.
Of course, it's still way too early to properly evaluate the VinFast VF 8. We'll have a chance to drive a production-ready example closer to its release date sometime this fall. But consider us impressed: VinFast may have big ambitions, and so far, it seems to have the credibility to back its claims.
But selling a good electric car is only half the battle. VinFast has a steep incline ahead of it. First, it must convince North American consumers that's it's better to buy Vietnamese than Japanese, South Korean, American, or German. Then, it must back it all up with a solid after sales service, stellar reliability, and robust market value. It took Hyundai and Kia nearly 30 years to achieve this. Will VinFast get there in less time? If we were to base ourselves on what they've accomplished in such a short timeframe, it's safe to say VinFast could quickly become a force to be reckoned with.
2023 VinFast VF 8
Price as tested: N/A
Freight: N/A
Configuration: Dual motor all-wheel drive electric propulsion
Engine/transmission: liquid-cooled 82 kWh usable battery (90 kWh raw).
Power/torque: 402 horsepower / 457 lb-ft of torque
Fuel (capacity): N/A
Combined fuel economy ratings: N/A
Observed fuel economy N/A
Warranties: 10-year, 200,000 km (basic)
Competitors: Ford Mustang Mach-E, Hyundai IONIQ 5, Kia EV6, Tesla Model Y, Volkswagen ID.4
Link: VinFast