Lisbon, Portugal – The new compact EQE SUV crossover might be Mercedes' fourth vehicle launched on its dedicated electric EQ platform, but it surely has the most weight resting on its gracefully sloped shoulders. The premium compact SUV segment is hot, and now there's a growing subset of electric entries vying for your EV dollars. But unlike this newbie's big brother, the three-row EQS SUV that launched last year with only one real competitor (Tesla Model X), the tidy two-row EQE SUV will be facing the Genesis Electrified GV60 and GV70, Cadillac Lyric, Audi Q4 e tron, Volvo XC40 Recharge and Tesla Model Y.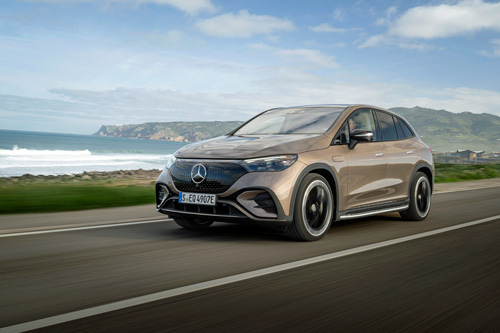 The 2023 Mercedes-Benz EQE SUV doesn't scream its green credentials – no look-at-me-I'm-electric styling going on here. It's smooth, demure and quietly elegant, with a large grill-like front panel giving this EV a traditional face. Mercedes doesn't want to ruffle its traditional base with contentious styling, and it surely isn't ruffling the atmosphere much either, as the EQE SUV cleaves the air with an impressive drag coefficient of 0.25. Put into context, that figure matches the A-Class sedan and E-Class Coupe. This is accomplished largely through complete underbody cladding (panels made of recycled plastic), aerodynamic wheels and tires, flush door handles and careful tweaking of the rear end to reduce turbulence.
The EQE SUV uses the bones of the EQE sedan, although with a 9mm shorter wheelbase and shorter overhangs. We'll be getting two models in Canada – the EQE 350 4Matic SUV starting at $94,900 and the EQE 500 4Matic SUV at $104,900. Both models run with a 90.6 kWh battery powering a permanently excited synchronous electric motor on each axle – 288 hp and 564 lb-ft for the 350 4Matic, and 402 hp and 633 lb-ft for the 500 4Matic.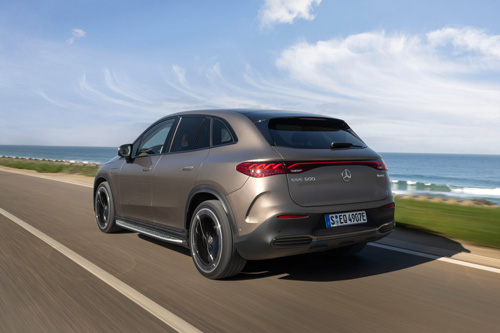 We'll get three somewhat simplified trim levels in Canada. The Executive gets a full count safety systems and driver's aids, 19-inch wheels, adaptive cruise with map-based speed adaptation, active ambient lighting, and MBUX augmented reality for the navigation. Moving up to the Pinnacle adds head up display, addition USB-C ports, Thermotronic four-zone climate control, digital lighting with steering code and more. The AMG Line Exterior package adds AMG styling upgrades to the Pinnacle trim.
I snag a velvet brown metallic EQE 500 4Matic SUV for my escape from Lisbon and head up the coast toward Ericiera where the long beaches and big waves lure surfers. The 500's standard rear-wheel steering (optional on the 350) really helps in negotiating Lisbon's warren of ancient narrow cobblestone streets, and once out in open country the electric cruiser stretches its legs.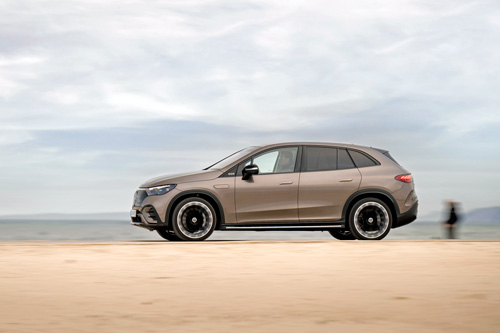 By now we are well accustomed to the effortless and instance urge of premium electric vehicles, and the EQE 500 4Matic SUV responds to prod on the go pedal (can't call is a gas pedal any more) with eye-widening acceleration. This vehicle is fast – like AMG V8 fast – without the noise and such quaint time wasters as transmission kick down and turbo spool up. In other words, anodyne speed with little emotion. But damn, it's impressive. Welcome to the new world.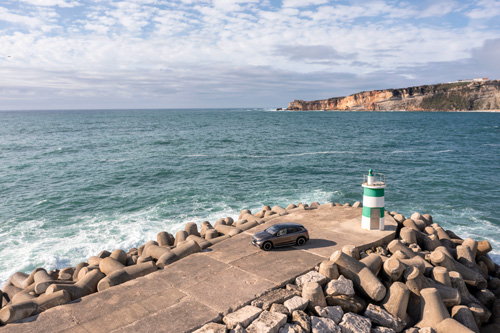 Also signaling this new automotive reality is the feeling of mass. At about 2550 kg, this crossover EV is a cruiser, not a fighter, and Benz has tuned it to be just that. Even when firmed up in Sport mode, the EQE 500 SUV is nothing less than supremely comfortable, gobbling up the kilometers and gliding over most road imperfection in the way one expects a luxurious Benz to do. I'll happily take the EQE SUV's well-judged comfort and "sporty" handling over a more aggressive setup.
However, forward visibility is not great here. There's a high cowl line and the thick A-pillars hamper sightlines when cornering.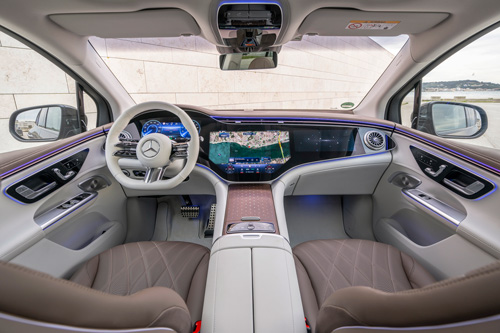 Mercedes-Benz has been quietly tuning the drive-by-wire braking system of its EQ electric vehicles, addressing criticisms of the system's unnatural feel and response, mostly when in Intelligent re-gen mode. Happily, none of the 2023 EQE SUVs on this event showed any of those disconcerting traits.
The EQE SUV brags two "firsts" for Benz's EQ family of electric vehicles – a disconnect system for the front axle and a heat pump. The heat pump harvests heat from the battery and motors to help warm the cabin, while the freewheeling feature disconnects the front axle under light loads and while coasting, which according to Mercedes, can increase efficiency by up to six percent.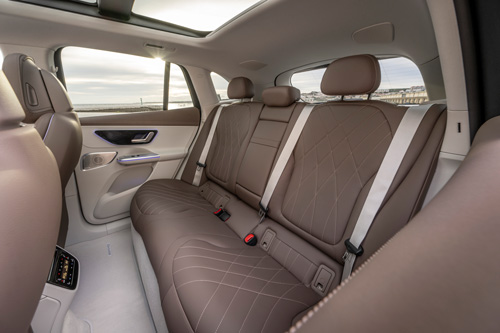 Range for the 350 model is a claimed 407 km, while the 500 is pegged at 433 miles. The 400-volt architecture means the EQE SUV can be charged from 0 to 100 percent in 10.75 hours using a 240-volt Level 2 charger, or from 10 to 80 percent in 32 minutes on a DC fast charger.
The 2023 EQE SUV gets the full arsenal of safety systems and driver aids. Standard will be a 12.8-inch portrait-oriented touchscreen display and 12.3-inch digital instrument cluster, but you'll want the available curved Hyperscreen for its uber-cool wow factor. It's a dash-wide swath of glass that seamlessly integrates three screens – a 12.3-inch driver's display, 17.1-inch central screen and the 12.3-inch display with its own interface for the passenger that can entertain with movies, games, etc. But for the driver, no peeking allowed. Merc's sneaky camera that monitors the driver's eyes (mainly for attentiveness) knows if you're trying to watch your kid's movie and will summarily dim the screen. The progeny will not be happy.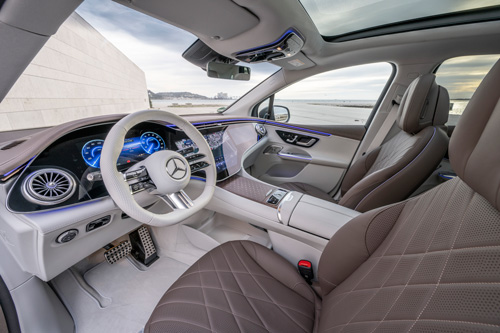 Benz blends the EQE SUV's dizzying amount of tech into a chic and finely crafted cabin – its dramatic sweeping aesthetic dominated by a floating centre console. It looks spectacular in lighter hues, and hint, go for the optional 3D Burmester Dolby Atmos sound system. The standard Electric Art interior is "cow free", although hide is available.
The cabin is pretty much bereft of analogue controls (a volume knob would have been nice), so we're using haptic panels, screen icons, fussy haptic controls on the steering wheel and voice activation to run things. That said, this "zero layer" MBUX interface (meaning all functions are accessible from the main display) is pretty easy to get a handle on, and at all times "Hey Mercedes" calls up the pleasant and obliging lady in the dash who does her very best to make your life better.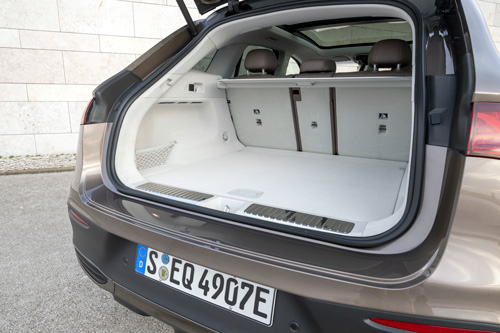 For most EQE SUV shoppers, the less powerful EQE 350 4Matic SUV will provide all the urge one could ask for. Instead of blazingly fast when prodded, it's merely plenty quick, and we shouldn't be put off by its lesser range. The Mercedes brass tell me the reason for the discrepancy is the 350 was tested on winter tires while the 500 was wearing all-season tires. Presumably the 350 will do better on all-seasons.
Back seat legroom is generous, and with cargo space behind said row measuring 520 L (expandable to 1675 L with the 40/20/40 seatback folded), the EQE SUV is well suited to domestic duties. Max towing capacity is 1800 kg.
The 2023 Mercedes-Benz EQE SUV will be available in Canada sometime in May. Compared to its competition this EV is a pricey piece, but for that we're getting leading range figures, astounding levels of tech, lush appointments and of course, the Mercedes badge. Let the games begin.