The Genesis G80 and G90 sedans look spectacular and the GV70 and GV80 SUVs are also doing well but there's one segment in which Genesis hasn't really yet competed, and it's an important one: the compact crossover segment and more precisely, the electrified compact segment. Mercedes, BMW, Audi and even Jaguar all have entrants here (well, jury's out on exactly where the Jaguar I-Pace competes), so if Genesis was ever going to be considered a real player here, they needed to step up to the plate.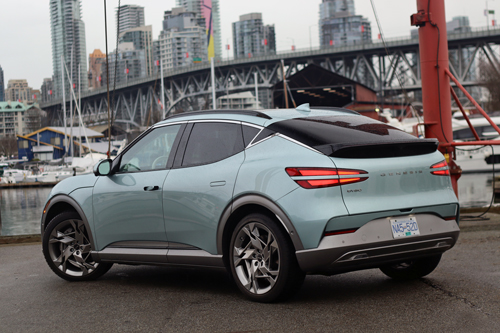 And so they have with this: the GV60.
Exterior: While the dual head- and taillights the GV60 features are a clear adaptation of a Genesis signature, it doesn't have the massive grille seen on other Genesis products. Here, it's replaced by a smooth leading edge meant to lower drag. That's fine, but I think they could have tightened things up by bringing those headlights closer together.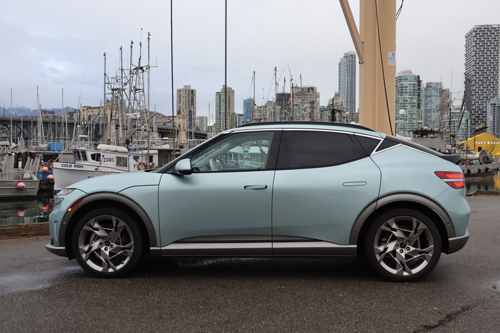 Also awkward is the stubby back end; the GV60 has a long 3,900 mm wheelbase which means the wheels are pushed far to the corners, leaving little room for any overhang and allowing for more interior pace. That's fine too, but when seen in profile, it's a little too reminiscent of the stubby BMW 318 ti hatch from the '90s, one of the more awkward looking BMWs we've seen.
The rest of the styling package, however, is spot-on. The spidery wheels look fantastic, the smooth surfaces found throughout provide the kind of modernity required in this segment and while I do find the "Hanaua Mint" paint on my tester a little soft, the gloss black inserts on the a-pillars and 'round the side windows and the matching "point" seen on the c-pillars provides a nice contrast.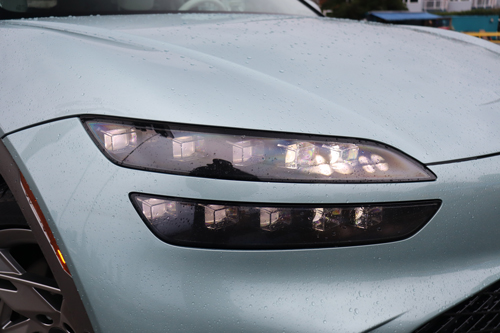 Interior: Inside, beautiful leather graces the seats, armrests and dash, the lighting is soft and luxurious and the metalwork sprinkled over many of the buttons and switches is what you want from a vehicle in this segment.
Speaking of buttons and switches: there are a number to choose from here, meaning there's less of a need to rely on touch displays and panels for climate and infotainment controls. The touchscreen that does exist gets a nice wide treatment but one that's not so wide that it becomes hard to reach, as is the case with the larger Genesis products – which is all of them. The gear selector is dial-style, but that's not the coolest bit: when you've powered down, it rotates 180 degrees to display a glassy orb. It looks cool and it tells you when you've fully powered down and the car's ready to be locked.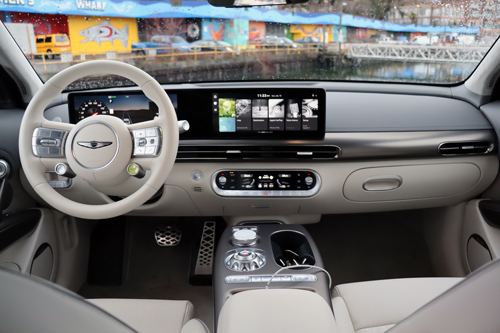 Cabin space is generous thanks to the flat floor and the way those wheels are pushed so far to the corners. The battery is stuffed nice and low in the floor so headroom isn't bad, although it feels more generous in the GV60's Hyundai Ioniq 5 cousin.
There is no wireless Apple CarPlay and Android Auto, which is too bad because unsightly cords spoil the image of what is otherwise a very clean cabin. You can, however, easily swap between CarPlay and the native operating system with the press of a button, which I am a big fan of. Add eight-speaker Bang and Olufsen audio and that's the top of most luxury buyers' checklists covered.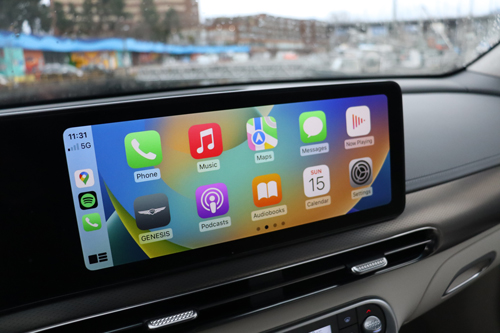 While I do love the quality of the interior, how white it is in my tester makes me nervous. Those carpets will get dirty in a heartbeat and that steering wheel will start to show grime; darker choices are available, however. Its rim is also a little thick and the wheel spokes make for a tough grip at the 10 and 3 o'clock positions.
Powertrain: Power comes from dual electric motors – one on the front axle, one on the rear – for a total system output of 320 kW, 429 horsepower and 446 pound-feet of torque. Which is quite a lot and becomes even more so when you stab the wheel-mounted "boost" button which provides an additional 54 hp and 70 lb-ft for 10 seconds. Hit that button and mash the throttle – especially in Sport mode – and you are treated to an on-call launch control system.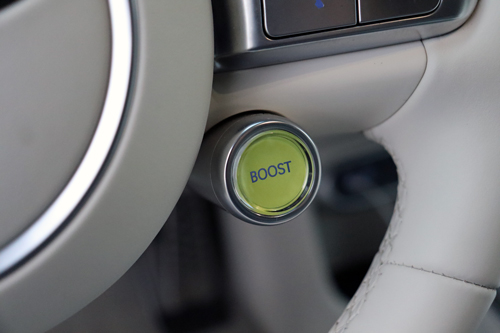 Use boost too much, however – there is a thirty second cooldown period and you can turn it off by pressing the button again – and you will cut into your range, which is quoted as 370 km. My full charge got me 365 km and that's about right for in town when you can use the high-regen i-pedal system (one of four different regen settings, chosen via wheel-mounted paddles). When I hit the highway, however, I ended my drive with 50 km less on the computer than actual kms driven. Charging, meanwhile, can be done at up to 350 kWh – that gets you from 10-80% in 18 minutes – but charging on a 110V trickle charge took so long that there's no way I'd have one of these without first installing a level II charger.
Drive: While it is the smallest Genesis, the GV60 is quite wide and at 3,900 mm, has a long wheelbase. Both of those factors are great for stability at speed; on that same highway drive I encountered gallons of standing water that the GV60 just sliced through like it had a hull. No writhing through the wheel, no hydroplaning; it felt like physics themselves had been defeated. Poise through corners is also nice and neutral and while at 2,204 kilos the GV60 is no lightweight, it disguises its heft well enough.
Those dimensions do make things a little tougher in-town, however; the width means it's tougher to park the GV60 than you might think and that long wheelbase means a big turning circle that takes some getting used to. With that width, it's a good thing you're allowed to have it pull out of or into a tight spot by just plipping the keyfob while standing outside the car.
Conclusion: The real takeaway, though, from my time with the Genesis GV60 was just how relaxed I always felt when stepping out after a drive. The airiness of the cockpit, the materials used, how easy it all is to navigate, the confident and quiet handling even in adverse conditions – all of it contributes to a supreme effort from Genesis for its first EV crossover.
2023 Genesis GV60 Performance
Price as tested: $79,000.00
Configuration: dual engine, AWD
Engine: front 160 kW EV motor, rear 160 kW EV motor
Transmission: 1-speed automatic
Power: 429 (483) horsepower/446 (516) lb-ft of torque
Charge rate: up to 350 kW
Battery size: 77.4 kWh
Combined fuel economy ratings: 2.6 Le/100 km
Warranty: 5 years/100,000 km (basic), 8 years/160,000 km (battery)
Website: Genesis Canada