Volkswagen has been working on perfecting the GTI for a long time. The venerable nameplate has been around for almost 40 years, having debuted in 1983, and this year it hits its eighth generation.
A lot has changed from that first homely little car that turned out a whopping 90 horsepower from its 1.8-litre engine. The new GTI is very modern. The latest in safety technology and IT architecture are melded with a powerful 2.0-litre turbo engine and upgraded vehicle dynamics.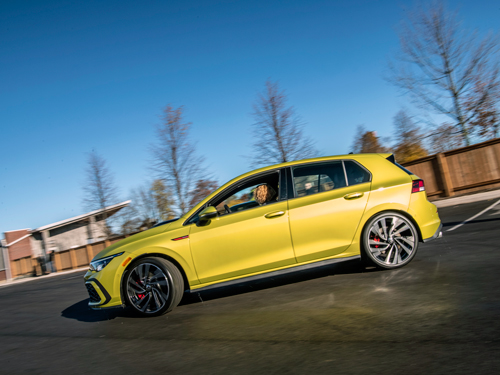 But VW has also turned an eye backwards and paid homage to the GTI's roots with small design touches like the 'golf ball' shifter and plaid 'scale paper' seating surfaces that were found on the original.
"This is the best GTI we've ever made," said Patrick Danielson, VW Canada's director of product planning. "And it should be. We've made evolutionary, meaningful changes to the way the car drives."
He's right. This 2022 Mk8 GTI is a smooth operator. Gorgeous on the outside, sophisticated inside, it is packed with enough power and precision to make it doubly suited as a daily driver or track day toy.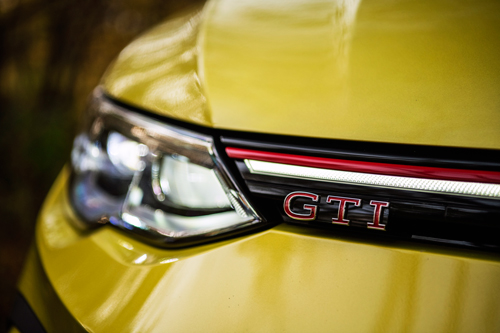 Powertrain: The GTI comes with either a 7-speed DSG or six-speed manual transmission. The engine is an updated EA888 2.0-litre turbo that makes 241 horsepower – a boost of 13 from the Mk7 – and 221 pound-feet of torque. Both transmission options deliver butter-smooth shifts and a satisfying amount of acceleration.
Drive: VW has rethought the GTI's handling, adding an available adaptive damping system and changing the spring stiffness to facilitate turn in. It's got an electronically controlled torque-sensing limited-slip differential. Compared with mechanically operated differentials, the system intervenes depending on the actual driving situation. None of this background activity is perceptible on the road, but the GTI offers predictable grip through a variety of cornering and road conditions.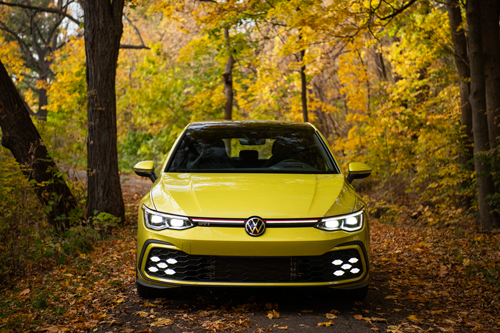 Exterior: The GTI sports strange but distinctive fog lights – think a five-spot die – a red grille line and calipers, and dual exhausts. Painted in the limited availability Pomelo Yellow (an acid green), it looks properly quick and eye-catching.
New this year is an available 19-inch wheel package that comes from the factory with summer performance tires.
Interior: One thing has not changed with the Mk8 GTI – the interior remains calm and understated. However, the plaid 'scale paper' upholstery and throwback shifter knob give the car a slightly whimsical, retro feel. Canadian buyers can enjoy this entry-level seating even on the top of the line model, with a free 'leather delete' option.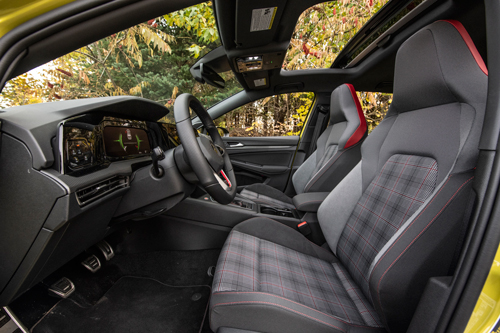 The front seats are comfortable and definitely designed for enthusiast driving. The hard, flat rear seats would not be particularly comfortable if the driver were throwing the GTI around in a spirited manner, though.
Infotainment: The Mk8 is using an all-new technology platform, and on top of the latest in connectivity and customization, it also eliminates all the knobs and switchgear in the cockpit. It makes for a sleek look, but when the heat is blasting and it's already hot outside, having to dig through a menu to find climate control just increases the temperature of the driver.
That said, a 10.25-inch touchscreen is standard, and it allows drivers to create a customized display, including car status, driving data, phone information, album art, driver assistance features and more. The cockpit digitization includes touch panels that control the lighting, defrost, HVAC and audio functions, as well as operation of the available sunroof. There's also a Head-Up Display (HUD) on the top-line Performance model, which is the first time the tech has been offered in North America.
Conclusion:
The GTI's long pedigree and success will no doubt spur interest from long-time fans and curious newbies alike. There's something for them all here.
The 2022 GTI is a great hot hatch, especially at the entry-level price of $31,495. The base model is well equipped, although the DSG transmission will set you back an extra $1,400.
As a hatchback it retains the practicality that has been a hallmark since the get-go. Maybe not a family car by today's standards, it has plenty of room for everything a sporty single or couple might need. Add roof racks and it's roadtrip ready.
In the inevitable comparison to its more powerful AWD stablemate the Golf R, it cannot keep up, literally, with the R's performance. However, the GTI wins on price and with three trim options its got something for those looking for a slightly less pricey ride.
2022 Volkswagen GTI
Price as tested: $40,245.00
Freight: $1,750.00
Configuration: Front engine/Front-wheel drive;
Engine/transmission: 2.0-litre turbo four-cylinder; 6-speed manual or 7-speed DSG
Power/torque: 241 horsepower/ 273 lb-ft of torque
Fuel (capacity): Regular (50L)
Combined fuel economy ratings (L/100 km): 8.5
Warranties: 4 year/80,000km comprehensive, 5 year/100,000km powertrain
Competitors: Honda Civic Type R
Link: Volkswagen Canada