There are some things on this planet which are guaranteed to happen only sporadically in our lifetime. The appearance of Halley's Comet, for example. Or hitting a line drive on your very first swing of the bat. And don't forget the centenary changing of fryer oil at Ches's Fish & Chips in St. John's.
Something else on that list? The appearance of an all-new Toyota Tundra.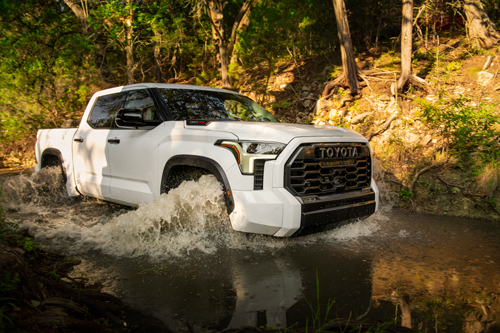 Thanks to a glacier-like design cycle, folks rocking a 2007 model find themselves behind the wheel of a rig not much different than those built recently. That all changes for 2022, with Toyota imbuing its full-size pickup with a dose of new style and fresh engine options – not to mention a modern rear suspension and a gonzo off-road trim.
More on those last two items in a moment. First, we'll start up front between the fenders, a location to which many pickup truck buyers gravitate even if they don't know the difference between a teapot and a tie rod. Gone are the V8 options of old, replaced with a choice of twin-turbo 3.5L V6 engines, one of which is appended with electrified hybrid gubbins. It's the latter with which our test truck was fitted, wearing the name i-Force Max and belting out 437 horsepower plus an immense 583 lb-ft of torque.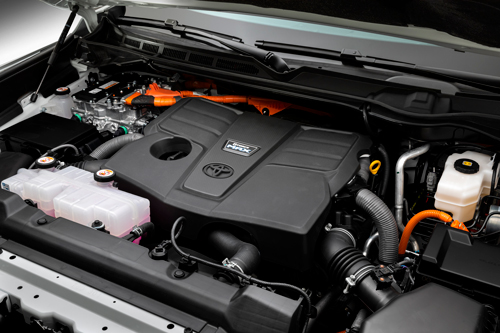 It's torque that's instantly felt at the flex of the driver's big toe, especially since all that twist comes online at just 2,400 rpm, a full 600rpm sooner than when the 570 lb-ft of torque in the hybrid-powered F-150 PowerBoost shows up for duty. This difference makes the Toyota more responsive than the Ford in low-speed situations like driving around town or crawling the campground with a trailer in tow. However, while Blue Oval engineers have figured out most owners of turbocharged pickups don't want to pilot a rig which sounds like a Hoover, the Toyota crew has yet to receive that memo.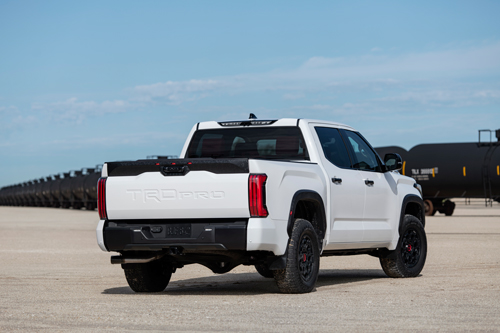 This hybrid system is a parallel design, with an electric motor/generator sandwiched between the engine and ten-speed automatic transmission. On its own, it is good for 48 ponies and 184 lb-ft of torque, dumping power into the 1.87kWh nickel-metal hydride battery pack. Toyota's smart to leverage their decades of hybrid experience in this manner, and the new Tundra reaps the benefits in terms of smooth power delivery and seamless transitions between drive modes. A switch to rear coil springs gives Tundra a better unladen ride than the F-150, and the TRD Pro utilizes beefy shocks and roll bars to quell body motions during spirited off-road driving. On-road, they simply smooth out road wrinkles.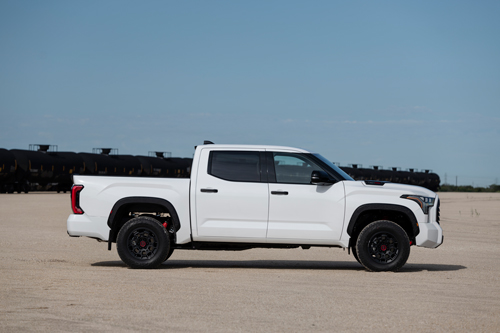 Styling is a subjective topic, and the new Tundra is polarizing. Keyboard warriors say it's too similar to GMC but those ninnies need to make an appointment with their optometrist. Toyota strikes out on its own with a set of expressive headlights bookending a grille that's bigger than it looks in pictures – if that's possible – while adding integrated auxiliary lamps such as the built-in TRD light bar. Turn signals are sequential both front and rear, a visual delight, and this model has its trim name hammered into the tailgate. We'll reserve judgment on the entire effort until we see other trims (SR5, Limited, et al) in the flesh, but your author is not put off by the over-the-topiary design cues on this TRD Pro.
There have also been untold dollars shoveled into development of the new Tundra's interior. While our test truck was a top-rung TRD Pro, its basic shape and layout are a good proxy for all Tundra trims. Chunky buttons and switches have a pleasing rubberized feel, like Chicklets infused with maple syrup, standing ready to adjust common functions like audio and ventilation, providing opportunity for physical commands instead of relying on the truck's massive 14-inch infotainment touchscreen.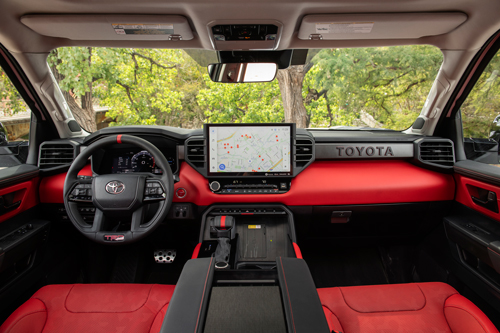 A 12.3-inch digital gauge cluster was fitted to this TRD Pro, displaying an oversized speedometer that looks like a leftover Bill Nye prop. Perhaps different configurations will be programmed when the truck enters official production (ours was an early build pre-production sample). An available trailer brake controller sprouts from the same place as the old truck, while the vast centre console has more storage than some apartments in downtown Toronto. Charging pads for smartphones are placed for convenience instead of mitigating distraction, and the shift lever consumes a lot of real estate but feels hefty and is pleasant to use. Head- and legroom (both front and rear) are best measured in acres and the large TOYOTA billboard on the passenger grab handle is a tremendous bit of visual theatre.
Offsetting the wins in the powertrain and interior columns is a lack of practical innovation. The one-upmanship wars have long since spilled into the cargo area, with useful tools like Ford's Pro Power Onboard Generator and Ram's Rambox providing a yaffle of convenience to modern truck buyers. Tundra makes do with a basic lighting system and typical household-style outlet in the bed, features which have cropped up on the competition for ages. Also, save for a bed rail cleat system, there are but a quartet of not-very-well integrated places on which to tie down a load. Perhaps the team ran out of money after designing the hybrid powertrain and top-flight interior. The lone nod to innovation is the retention of Toyota's fantastic fully retractable rear window, an idea so good that every other truck maker should have copied it decades ago.
With these omissions in mind, we can't call the 2022 Tundra a home run – but we can say it's a heckuva lot more than a line drive. Let's call it a strong triple that manages to elbow the competition a couple of times while rounding the bases.
2022 Toyota Tundra CrewMax TRD Pro
Price as tested: TBD ($78,000 est.)
Freight: TBD
Configuration: Front engine/Four-wheel drive
Engine/transmission: 3.5-litre twin-turbo V6 hybrid/ 10-speed automatic
Power/torque: 437 horsepower/ 583 lb-ft of torque
Fuel capacity: 146 L (87 octane)
Official fuel economy ratings (L/100 km): TBD
Payload: 725 kg (1,600 lbs)
Towing capacity: 5,070 kg (11,175 lbs)
Competitors: Chevrolet Silverado Trail Boss, Ford F-150 Tremor, Ram 1500 Rebel
Link: Toyota Canada