Welcome to the perfect place and time to test a "new" car. Striking all-year round, Quebec's Gatineau region is positively regal in autumn when almost bereft of other out-of-region traffic like us. Occasionally, these steep curvy hills just minutes north of Ottawa look like the not-quite mountains of southern Vancouver Island. So, to add some spice, imagine you're driving through French Columbia.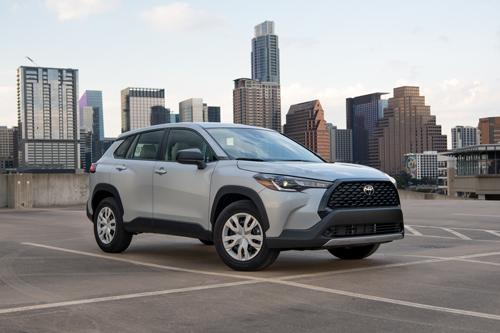 Writers from across Canada have the better part of a day here to test drive the "all new" Corolla Cross.
Yes, the Corolla Cross is not just "new" but "all new" — with both descriptors in quotes because:
A) the brand name Corolla is only a year younger than your author and, unlike him, has sold 50 million units worldwide
B) the car term Cross has long since become like a religion among Canadian drivers
C) this compact crossover is built on the same platform as its sister Corolla, and
D) today is Toyota Canada's first product launch since 2019. All the appropriately distanced bodies at the kick-off presentation in the morning are giddy as maidens on their wedding night.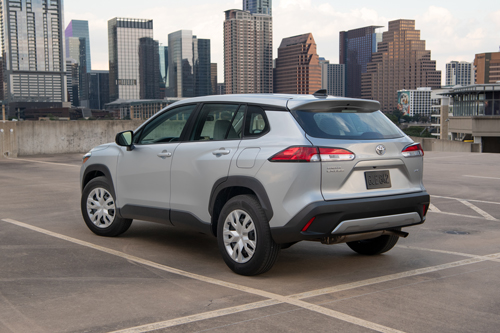 But let's consider A and B, the names, from a marketer's perspective.
First, when you have a powerful brand name like Corolla, you can extend its reputation like a halo, giving an otherwise untested product a head start in the market. Think of all the sub-brands you're aware of under Coke®, President's Choice® or Trudeau™. If you trusted Toyota in the past, you're more likely to trust them in future. Same goes for the sub-brand Corolla.
Second, like mixed breeds that end in 'doodle', crossovers have become so common, they're a set of breeds unto themselves, this example being compact SUVs. Consumers want one car that can do it all: everything from country trips equipped for skiing weekends to fitting into a tight city parking space. It's a race for the middle.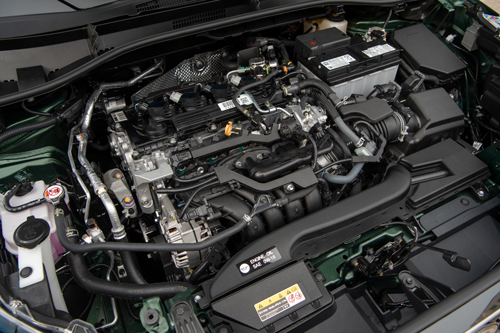 Hence, the Corolla Cross's position between Toyota's other 'cute utes', the RAV4 and C-HR. Marketers charmingly refer to this practice of releasing similar products to their own as 'cannibalism.' That means they're eating some of their own customers but there must be significant room between the other Toyota brands or the Corolla Cross wouldn't be here. Sure enough, Toyota Canada VP Stephen Beatty expects the Cross to sell well, especially here in Quebec. So let's drive it.
The morning: The base trim Corolla Cross L proves its value and worth.
Before taxes and freight, the L retails for $24,890. Considering all you get and the media hysteria around rising prices, that's a great price. Here's just some of what it includes: heated front seats (now considered a Human Right in Canadian winters); a 6-speaker audio system; 7" touch-sensitive display; and, best of all, Toyota Safety Sense, a comprehensive collection of safety features that keep you from killing yourself while surfing tic-toc dances behind the wheel.
Mind, that price means front-wheel drive. All-wheel drive (AWD) pushes it to $26,290.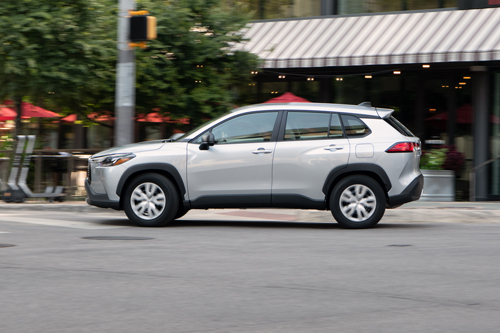 As for country/city versatility, we only got to drive it out of Ottawa with a few city roads and highways before really testing the Cross on southwest Quebec's twisting and pockmarked country lanes.
Bottom line: it functions well. Safety alerts kick in when it crosses lines inappropriately (part of the test). The steering feels good at speed. You won't win envious stares when you take it the track but when you reverse into the small-cars-only space without scratching it at the grocery store, then pack it with 750 litres worth of groceries, you will raise eyebrows (hoarder!).
The Cross's target market is adventurous 30+ Millennials, most likely in a relationship. The L's ignition ignites with the turn of a key. How retro — the automotive equivalent to analogue recording. VP Beatty's expectations regarding sales seem sound: Millennials should flock. Add hand-cranked windows and Gen Zs would wear that like a badge (they may even consider getting their license).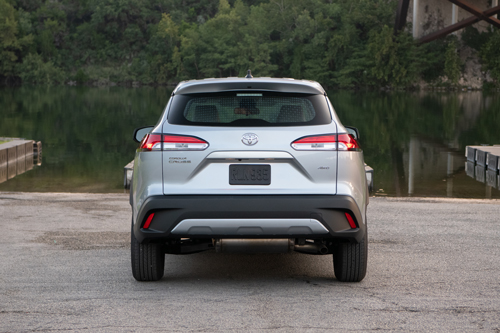 Speaking of badges, Toyota has stamped 24 logos throughout the Corolla Cross. Like some tipsy limping aunt who just got a tattoo 'somewhere', our hosts dared us to search for them. Over to you!
At 4,474mm, the Cross is not as long as the Corolla sedan. It shows. A truncated wheelbase could cut the circulation off the legs of a large backseat passenger, though they'd still have great headroom. Instead, the Cross spreads slightly wider and sits well higher than the sedan.  Which we'll talk more about that after lunch at a lovely converted mill (un << moulin >> — yes, that's why you always thought cancan dancers were Dutch).
Afternoon: Corolla Cross XLE from $33,990 (aka $34k)
We hope you didn't eat too much at the mill — especially that huge piece of chocolate cake — because this afternoon's 1.5-hour nauseous drive is even "turnier" than the morning's. Fortunately, all trims come with specially sprung seating for correct support.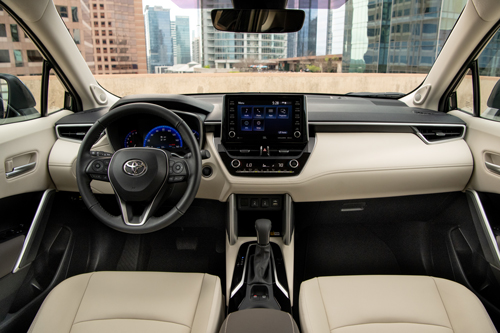 Given that aforementioned higher seating position, you supposedly need differently designed seats. PR or marketing experts and not yoga instructors or chiropractors, our hosts couldn't tell us just how these seats differ from a regular Corolla's. And after the soporific lunch we just had at the mill, the prospect of a phone interview with Toyota's worldwide VP Ergonomics doesn't spark joy. So, we can only report what may have been a placebo. After this day with over four hours of driving, one of few over the past twenty months, my normally aching ancient spine felt great (at least better than after yesterday's one-hour AC trip).
Plus, that supportive Cross seating bends eight ways, power operated, and features a leather-substitute textile that your beloved pandemic puppy's filthy paws and shedding hide won't stink up. These two features are unique to the XLE.
Moreover, this peak trim only comes with AWD, adding most of the almost 200 more pounds it weighs than the base L, for a total of 1,495kg (aka 3296lbs). That may feel a bit hefty accelerating up steep hills like you'll find in this afternoon's country tootle, where the 2-litre, 4-cylinder engine whines like a spoilt princess if your foot's down hard. Fortunately, Toyota's designers engineered the appearance of gears into the continuously variable transmission, so you can deliver more low-gear oomph, shooting you through any I-think-I-can chants.
Not that you're going to win many races. That engine achieves just 160hp and 151 lb-ft of torque but if power was what gets your own engine running, why did you even read beyond this article's headline? For this launching year at least, you get that same engine with any trim.
Finally, here are just a few other extras that only the XLE delivers: 18" alloy wheels versus the 17" aluminums that this morning's ran on; a 9-speaker JBL audio system with remote — to silence those backseat passengers who want more legroom; dual-zone auto AC (who knows how many marriages have ended over thermostat wars?); auto-dimming rearview mirrors, so you're not blinded by impatient drivers behind up accelerating up steep hills; and a power gate.
The Corolla Cross is available now in Canadian dealerships.
Link: Toyota Canada