A recent asking for vehicle-buying advice from our niece, the mother of a three-year-old with another baby on the way, struck me. Our niece, who currently drives a sedan, did not say: We're looking for a new car or we need to start thinking about a van.
She specified she wants a crossover vehicle.
Crossovers bridge the gap between the family sedan and the sport utility vehicle, usually built on a truck platform. Taller than a sedan and generally equipped with all-wheel drive, they give a feeling of assurance in variable road and weather conditions. Family friendly, like the minivan, they don't have that connotation of 'Ugh. How did I become the minivan-driving parent I swore I'd never become?'
Crossovers have dominated the automotive market for the past few years, arguably playing a role in the demise of the sedan. Navigating the crowded crossover market is daunting. No wonder our niece is interested and no wonder she wants help figuring out which one.
I tested three crossovers in a row, proving there truly is a crossover for every taste and budget.
2020 Lincoln Corsair
The 2020 Corsair is the smallest crossover that Lincoln makes, replacing the MKC. By the way, thank you, Lincoln, for moving away from the three-letter nomenclature of your vehicles. It's so much easier to remember Corsair rather than MKZ, MKX, or was it MKC?
Sleek, sophisticated and sure-footed in its luxury, our upscale tester, clad in pristine white paint, was handsome. I loved the 24-way Perfect Position seats, specifically the dual seat cushion under the thighs – and the massage oh my!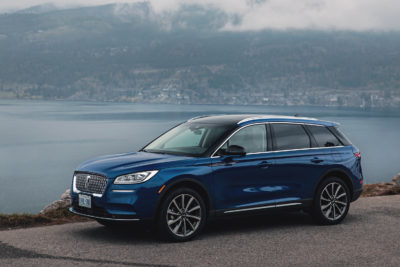 The Corsair glided with confidence on smooth roads and took the jangling roadways of the Maritimes with aplomb, offering precise steering and reasonable body control. The peaceful interior makes the road, engine, and indeed, the world seem far away. The 2.3-litre four-cylinder engine produces 295 horsepower.
The Lincoln Co-Pilot 360 Plus Suite provides a plethora of assist systems like Active Park Assist Plus, Adaptive Cruise Control with Traffic Jam, Lane Centering Assist and Evasive Steering Assist, which, luckily I didn't need.
I appreciated the elegant simplicity of the centre stack and the easy-to-operate controls, including the push-button gear selector lined up horizontally under the vents.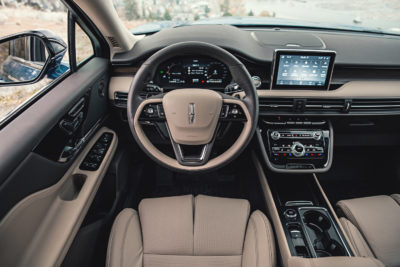 The price ranges quite a bit, starting at $36,940 and moving way up to $67,725.
Our tester was equipped with an added $12,000 of luxury and technology equipment, supporting the automotive world's belief that consumers today see a vehicle as an extension of a device or appliance, like a smartphone, laptop or smarthome, where connectivity and creature comforts are considered more important than horsepower and torque.
The 2020 Lincoln Corsair certainly adheres to that philosophy.
2020 Subaru Outback Outdoor XT
You really do see Subaru's Outback everywhere, although it's not the brand's best seller. On the outside, the Outdoor XT still has that go-anywhere Subaru look. The gunmetal painted 18-inch alloy wheels add to that tough look.
I was surprised the steering wheel was not heated, offered only on the next trim level up. Note to Subaru from the northern world's cold-handed people: Delete the CD player and add a heated steering wheel instead.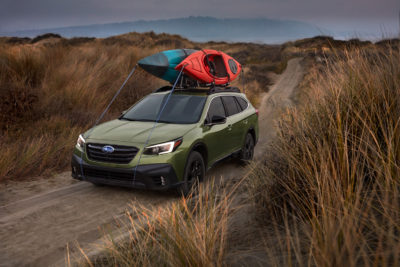 The in-your-face tablet-style 11.6-inch screen infotainment system in the Outdoor XT, somewhat overwhelming at first, required a few moments of familiarization with its functions and features. Standard on other trim versions is the 7-inch high resolution screen.
The Outback Outdoor XT is powered by a new turbocharged four-cylinder 2.4-litre BOXER engine with 260 hp and 277 lb-ft of torque, the same engine found in the larger, three-rowed Subaru Ascent. The standard engine is a revised 2.5-litre horizontally opposed four-cylinder engine, which delivers 182 hp and 176 lb-ft of torque.
According to Subaru, this is the most capable Outback ever built. Choose one of two modes, deep snow/mud or snow/dirt, and the new dual-function X-mode controls the transmission, engine output, AWD torque-split and braking, giving you confidence should you choose to leave the pavement.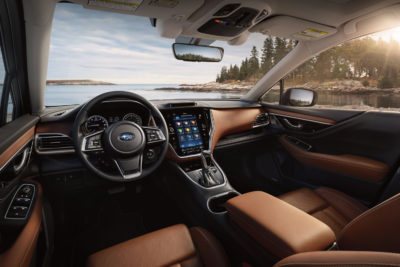 New Year's Eve was a messy affair, not due to over-celebration but to stormy weather, slush and snow, of course. For the Outback? No problem. Driving in heels? No problem. After all, it's a Subaru.
The 2020 Subaru Outback ranges in price from $30,695 – $43,795; our tester, the new Outdoor XT trim is $38,695.
2020 Hyundai Venue
I just liked this vehicle, getting into it, driving it and integrating it into my life for the week. It has a jaunty fun look, from the two-tone roof to its square, friendly headlights to its pushed-to-the-corners tires.
The basic and fun Venue ranges in price from $17,099 to just under $25,000.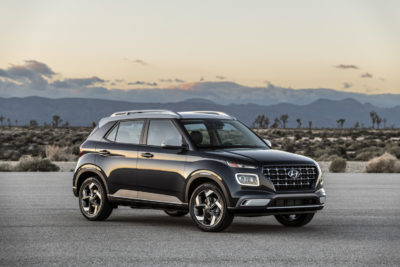 It's offered with front-wheel drive only which may discourage young consumers living in the snow belt of Canada as perhaps the standard six-speed manual transmission would too. I say, bring on the MT… oh, what fun that would be!
All Venue models come with heated front seats, remote keyless entry, an eight-inch touchscreen infotainment system with Android Auto and Apple CarPlay, a rear-view camera and heated outside mirrors. Moving up the trim walk will get you GPS navigation, a six-speaker sound system and satellite radio and that all-important heated steering wheel.
The Venue's control buttons and knobs are logically laid-out. Two alternate interior designs include a Denim package that features a jeans-inspired seat material and denim-coloured accents throughout. V cool.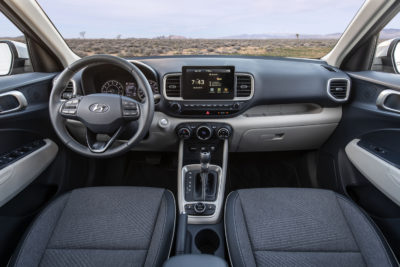 The Venue comes in vibrant colours like Acid Yellow, Fiery Red and Intense Blue, all easy to spot in a crowded city parking lot. Speaking of parking lots, this cuddly urban runabout has a tiny turning radius of 5.1 metres. I tested this feature many times, purely for research purposes, naturally. I dub the Venue worth checking out if only to gleefully drive around in small, tight circles more than is actually necessary.
There really is something for everyone out there. Make your checklist and go for a test drive or three or four. Permission to shop!