It's interesting. When it coms time to redesigning a vehicle as huge – nay, as massively-selling – as the Honda Civic, you have to walk a certain line. You don't want to overdo things for fear of upsetting your local fanbase, but you do want to make it notable because this is such a symbol of your company.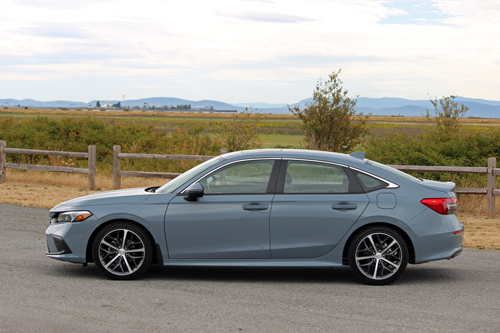 Which is a bit strange because when they delivered the last-generation (2015-2020) model, it was a massive departure from its predecessor. A wild front fascia with headlights that looked almost concept-like in form, as well as the "crab-claw" taillamps. Then there was the slightly more ornery Si version and the altogether mental Type-R version. This was probably the biggest departure the North American market Civic ever undertook.
Well, for 2022, the Civic has been transformed once again and again, it's a big paradigm shift. Where the last model went younger, this one seems more mature, to the point where I had a fellow motorist – a Honda driver, no less – approach me at a gas station and mistake this Civic for its Accord sibling.
What originally caught his attention, however, was the paint; even though its matted look is becoming more and more common in the car world today, it remains an eye-catcher here.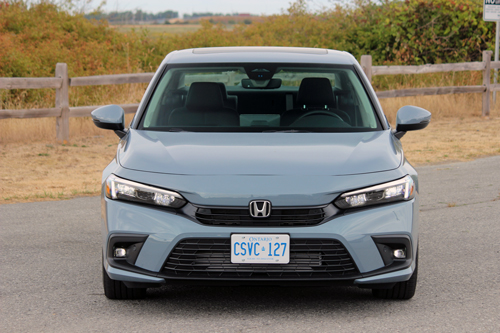 Otherwise, where the last Civic was a somewhat cab-forward design, this new model gets a longer hood, longer wheelbase, is longer overall and has less real estate aft of the A-pillars. It's a more neutral stance, but still appears low to the ground (especially when seen from the front) thanks to narrow headlights, a low-profile grille and clamshell-style hood. I like it for the most part, even if the gap between the leading edge of the hood and the grille is a little large between the headlamps. The wheels measure 18" in Touring spec seen here, but they could use an extra inch to better assert themselves amongst the bodywork that surrounds them. We'll likely see tweaks like that – and many more – when the more performance-oriented Si and Type-R versions arrive later this year.
When considered from the rear, it appears a little more upswept, though the integrated trunklid spoiler is a nice touch and the clear lens/red lens taillamps work well enough. At 408L, trunk space is ample (though down from 419L on other trims) and the opening is large enough to easily load an adult-sized hockey bag. The rear seats, meanwhile, split 60/40 (through a trunk-mounted release) so you'll have no problem threading the sticks through, either.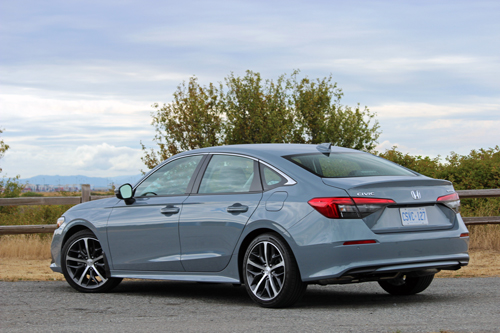 The large trunk is the perfect microcosm for the rest of the interior, for which "spacious" is the perfect adjective. Back seats, front seats, headroom, legroom – that's all covered but it's not always enough to just provide the space; you have to know how to make the best use of it, especially when dealing with a compact footprint to start with.
Honda has nailed this, too; errant elbows and knees rarely struck uncovered, hard plastic – the dash fits just so, as to provide plenty of room and more than that, a feeling of spaciousness and airiness in general. Yes; you still need to find space for all the electronics and airbags in there so the gauge hood does encroach into your line of sight a little (especially if you have the power-adjustable seat set low, as tall folk like myself tend to do) but the overall feeling is one of comfort.
It's one of quality, too; everything is nicely fastened together, tight as a drum with hardly a shake or rattle to speak of. I mean, when the slight rattle from your metallicized water bottle in the cupholder is your main distraction, you know you're in a cabin where great attention has been paid to sound-deadening and insulation. Compact cars probably don't need to feel quite so robust, but Honda's paid that no mind and delivered one heck of a product here. Especially in Touring form, which gets extra insulation in the floor.
That's helped, of course, by my Touring spec's leather seats and thick-rimmed heated steering wheel as well as digital gauge cluster and big nine-inch display — a 7 incher comes as standard. It's too bad that gauge cluster isn't customizable in any way and there are only a few little tweaks when you select different drive modes, but it's clear-faced and pleasantly low on glare.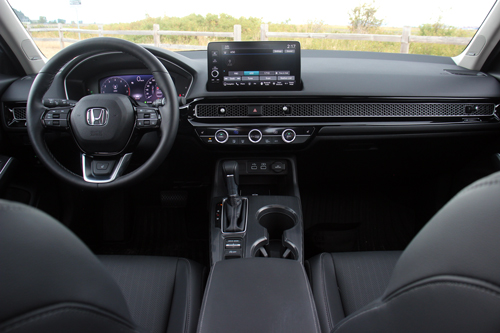 There's some great detailing as well, most notable of which is the honeycomb insert between the upper and lower dash. It's partly for looks, but it also hides the vents (partially; the controls remains exposed because they kind of have to be) so it's functional as well as really cool to look at. Also great are the steel-look inserts that sit where fingerprint-attracting piano black inserts normally would, as they're easy to keep clean and look classy in general. My particular tester's interior colourway was a little on the buttoned-down side – mostly black with a few chrome inserts — but if you're looking for a more luxurious take, this is not a bad way to go.
While the latest Honda looks altogether different than previous – good luck finding a single panel or detail that recalls the old car – the powertrain choices remain basically the same: a 2.0-litre naturally-aspirated four-cylinder is your entry-level choice, while the Touring model gets a turbo 1.5-litre unit good for 180 horsepower and 177 pound-feet of torque, up 6 and 15, respectively on the outgoing model.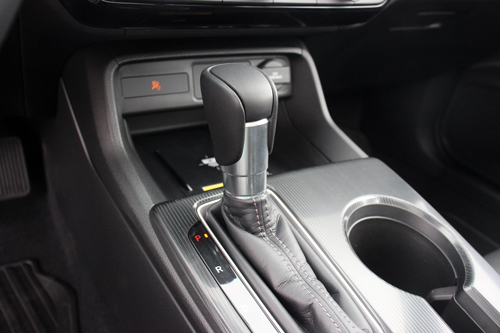 In addition to that change, there's also one at the transmission level that will disappoint some: the six-speed manual is no longer available, replaced on all trims by a CVT automatic. It gets a manual mode with a pair of wheel-mounted paddles to allow drivers to move through "virtual" ratios but if you want to row a shift lever and pop a clutch, you're going to have to wait for the Si.
That's a bummer for sure, but don't let it dissuade you entirely because that turbo motor is a real cracker and it does well to make the most of its marriage to the CVT.
Power comes on smoothly; peak horsepower arrives at 6,000 rpm, but the real story is how peak torque is reached at 1,700 rpm and stays constant all the way through to 4,500 rpm. I've driven smaller cars with more power than this – as well as the last-gen Si – but this Civic Touring does a bang-up job of getting you up to speed in such a manner that, like the interior fit and finish, you get the impression that there's so much more here than your typical compact sedan offers.
It's not just about the powertrain, either; you need to be able to harness all that lest some unseemly concrete cracks or sunken manhole covers throw the illusion out of whack. It's one thing to go fast; it's quite another to offer a chassis that can take it and with these damper settings and spring rates, the Civic can handle it just fine. It's a trend that started with the last model and it continues through to '22, and you can see why the Civic's so popular based on its ride alone.
The ride doesn't stand alone, though; it comes accompanied by the direct steering that we've all come to know and love from the Civic. There's very little delay between turning the wheel and having the (longer) nose following quickly behind as turns are dispatched with authority and even a little bit of panache, the Civic staying nicely flat as you move through the bends, where this Civic feels right at home, just as it always has.
Speaking of "always has": my guess is that this latest generation of Civic will sell in droves, although I do wonder if this much-matured look will be a bit of a shock after the steampunky Transformers casting call we have grown used to lo these last few years. It's a bit of a risk for Honda, but they've taken risks before and come out on top most every time. And, with a drive like this and the spaciousness found inside, people will get comfortable with this new Civic almost a soon as they're sat inside.
Now, Honda, about those manual transmission-equipped cars…
2022 Honda Civic Sedan
Price as tested: $30,265.00
Configuration: Front engine/front-wheel drive
Engine/transmission: 1.5L turbo four cylinder, CVT
Power/torque: 180 horsepower/ 177 ft-lb of torque
Fuel: Regular
Combined fuel economy rating: 6.9 L/100 km
Competitors: Hyundai Elantra, Kia Forte, Mazda3, Nissan Sentra, Toyota Corolla
Links: Honda Canada