The ancient concept of Burdian's ass (settle down, editors – not that kind of ass) refers to the sticky situation of being unable to choose between two things. The ass in question is a donkey experiencing hunger and thirst in equal measures while finding itself midway between a stack of hay and a pail of water. Unable to make up its mind, the animal simply stands there and does nothing despite the bounty before it which would solve both problems.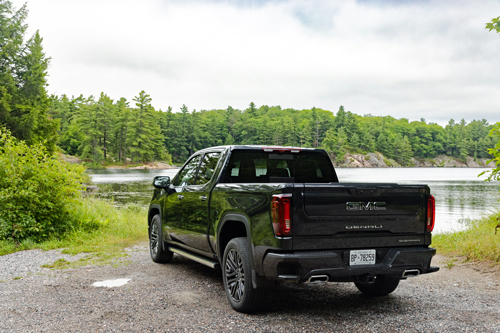 Perhaps we shouldn't be too critical of the hapless mule. Trying to select between two freshly restyled pickup trucks – one with an eye on luxury and the other with a yaffle of off-road goodies – places many gearheads squarely in the same category as our barnyard friend, though plenty of people on this planet would call your author an ass for an entirely different set of reasons.
Marketers at GMC appear familiar with this phenomenon. To play both sides of the table, they've created two new trims of their Sierra 1500 pickup truck for the 2022 model year. The new Denali Ultimate sits atop the ladder, with an interior swaddled with Alpine Umber leather and the latest iteration of GM's excellent Super Cruise. Across the aisle we find a new AT4X, fitted with trick Multimatic off-road dampers, jacked up ride height, and front/rear locking differentials.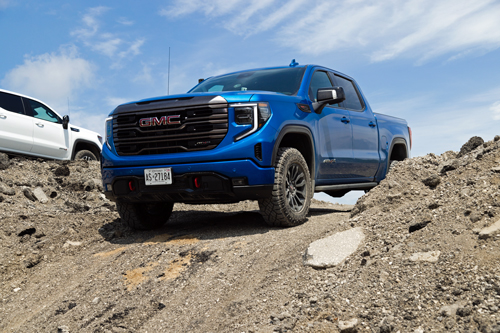 Yet, both have coddling features such as massaging front seats and more power accessories than a Transformers convention. Choosing between the two might seem tricky but, unlike our burro, we know what we want.
Powertrain: Both our test trucks were fitted with the hand-of-god 6.2L V8. This mill is older than Methuselah but cranks out plenty of power and is reliable as the sunrise. No fewer than 420 horses live under that hood, paired with 460 lb.-ft of torque and a 10-speed automatic transmission. Power flows like a waterfall, with waves of old-school naturally aspirated torque finding its way to the truck's tires with ease. The Denali Ultimate can be optioned with GM's 3.0L V6 diesel (277hp/460tq) but the AT4X is a V8-only proposition. Its exhaust note is so testosterone laden I accidentally made a stop sign pregnant whilst driving past.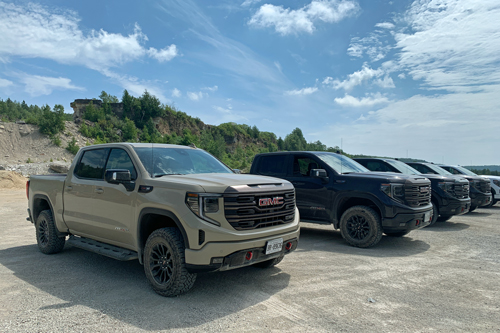 Exterior: One's preference here will lie in one's own tastes. Before hitting the town, are you the type of person to don a collared shirt or do you reach for denim jeans? This writer is firmly in the latter camp, explaining why I was drawn to the styling choices of the AT4X, complete with red tow hooks and knobby Goodyear Wrangler tires. GMC slaps a markedly different grille on each of the Sierra trims, meaning you won't be mistaken for the neighbour who purchased a Denali Ultimate. Speaking of, that top-rung trim has a front fascia whose brightwork has been binned in favour of the deliciously titled Vader Chrome which pairs well with the blacked-out GMC badge.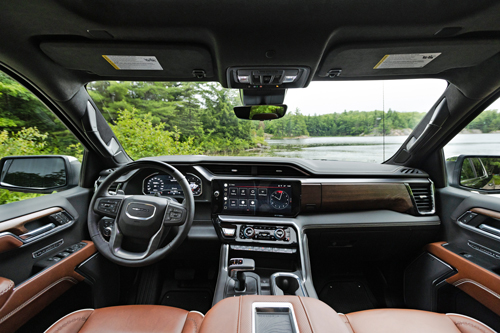 Interior: One of the biggest leaps in the latest iteration GMC Sierra compared to older models is found once you open its doors. Designers were given the freedom (and money) to provide this truck a mouth to match it trousers. The Denali Ultimate has a wrapped leather interior with stitching befitting its price tag, plus 16-way massaging seats and a dandy 12-speaker Bose-branded audio system. Here's the rub: AT4X is also available with those features, combining them with off-road cred instead of black-tie swagger. Both cabins are roomy, comfortable, well-assembled and – finally – worth the cash.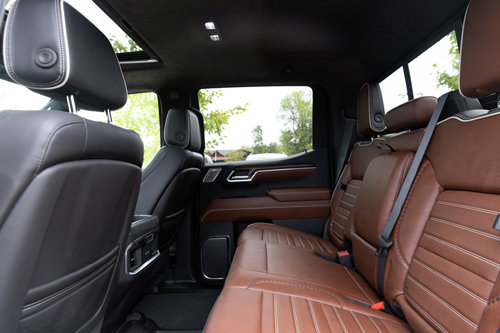 The Denali Ultimate can be had with Super Cruise, a driver-assistance technology which can seamlessly change lanes and expertly hold the wheel on divided highways. Except for the lane change function (thanks, lawyers), it'll even work with a trailer provided the system has been told its dimensions. Note well: it's worth noting GMC's own build and price tool states that, as of this writing, trucks with a build date of mid-June or later cannot be equipped with Super Cruise thanks to supply chain constraints. This is not unique to Sierra, with a similar notation appearing for the six-figure Cadillac Escalade. Bottom line – make absolutely certain the truck you're buying will be equipped with functioning Super Cruise should that feature be important to you.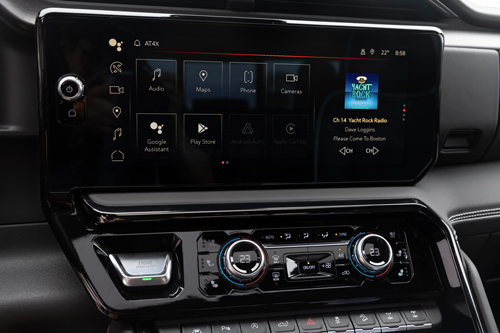 Infotainment: A 13.4-inch touchscreen is the focal point of this interior, responsible for audio duties and navigation tools plus the display of umpteen camera views and trailering assists. Google built-in compatibility means owners can log in to their Google account in the truck if they wish, porting information from Google Maps and Google Play should they desire. Everything plays nicely with both Apple and Android smartphones, with wireless connectivity and charging providing several square acres of convenience. Also on tap is a 15-inch heads-up display and a 12.3-inch configurable screen serving as the truck's gauge set. There are more screens in here than an IMAX theatre, all of which are a quantum leap over last year's truck.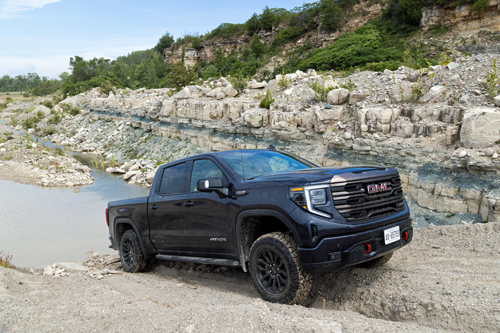 Drive: Anyone who has kicked off their Blundstones and slipped into a pair of Cole Haan loafers know that one makes a lot more noise than the other while traipsing around town. The same applies to these trucks. Goodyear Wrangler tires, found on the AT4X, offer great off-road and foul weather properties but transmit road noise with alacrity while the 22-inchers on Denali Ultimate prioritize comfort over capability. I'm willing to make the trade-off for dirt road prowess but it is understandable why some customers will not. Yet, the trick Multimatic spool-valve dampers on the AT4X arguably provide a better ride thanks in no small part to increased wheel travel.
GM's ten-speed transmission is a great dance partner to the V8, largely going about its business like an invisible butler. The traditional argument that off-road kit negatively affects towing and payload numbers doesn't hold water between Denali Ultimate and AT4X: these two can tow 8,900 and 9,000 pounds respectively or haul 1,450 and 1,365 pounds respectively in their bed. That's close enough to be a wash in our jaundiced eyes.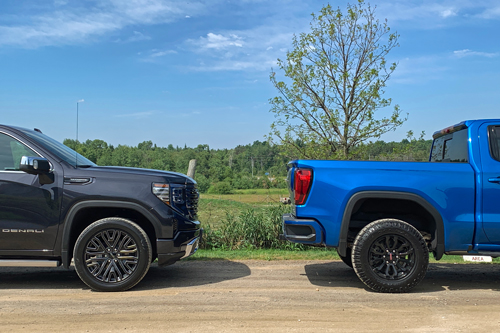 Conclusion: Any reader blessed with the gift of deduction could have seen this conclusion trotting over the hill several paragraphs ago. Since the AT4X and Denali Ultimate are equally brawny in terms of capability and feature many of the same luxury accoutrements, save for Super Cruise, this writer will select the off-road truck and pocket a $7,465 price difference despite SC being a great party trick and tremendous anti-fatigue tool. I'll just change my own lanes and take more rest stops.
We will toss one more consideration into this mix: the Chevy Silverado ZR2. It, too, has the mighty 6.2L V8, all the gonzo suspension kit found on the AT4X, plus better off-road stats thanks to a more intelligently designed front bumper. When opted to a near-identical level of luxury of an AT4X – save for those massaging seats – the Chevy checks in at $84,608, a sum five grand less than the GMC.
Hmm. Perhaps Burdian's ass is an apt comparison, after all.
2022 GMC Sierra 1500 Denali Ultimate
Price (as tested): $97,343.00
Engine: 6.2L V8
Transmission: 10-speed automatic
Power/Torque: 420 horsepower/460 lb-ft of torque
Fuel Economy: 14.0L/100 km (combined)
Competitors: Ford F-150 Limited, Ram 1500 Limited
2022 GMC Sierra 1500 AT4X
Price (as tested): $89,878.00
Engine: 6.2L V8
Transmission: 10-speed automatic
Power/Torque: 420 horsepower/460 lb-ft of torque
Fuel Economy: 15.0L/100 km (combined)
Competitors: Ford F-150 Tremor, Ram 1500 Rebel
Link: GMC Canada