Remember those times you had a huge secret and were dying to tell everyone but you promised (or were threatened)? That's been the feeling for us at Vicarious these past two weeks during the embargo on any press's impressions of a tootle in the new electric vehicle from Genesis, the G80 EV all-wheel drive. But as of today, we can we report that Genesis has caught lightning in a bottle again! Two steering-wheel heated thumbs up.
Exterior: One word: Harmony. (OK that was three.) The impression is an athlete — possibly a boxer on steroids — but with an excellent tailor. Rolling on 19" wheels, the G80 EV Prestige trim is especially well proportioned and subtly dressed. It's not meant to stand out, so much as stand at attention, soldierly, and quietly impress with good taste; eye-catching and fluid, but not flashy.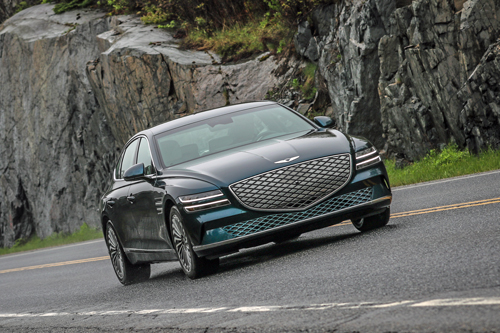 So it's seductive, revealing more, the more you look at it. For instance, the 'green' of the tester I drove looked either grey or blue depending on what light you saw it in. LED head- and taillights make positive first and last impressions. Wisely, you can keep it all pristine and proportioned with the surround-view cameras, included with the Prestige trim.
The G80 is remarkably soundproofed (remember no engine to dampen) though it's odd that there's no sunroof. Mind, it's not like they've ignored the roof on the interior.
Interior: It's common to review things with two thumbs up. (See above.) In this case, we'll also say bottoms up! Prepare to be spanked with luxury and comfort. The ergo-motion seats apply massage, bless them. Even the rear seats are heated, while the front ones are also cooled and all are swathed in Nappa leather.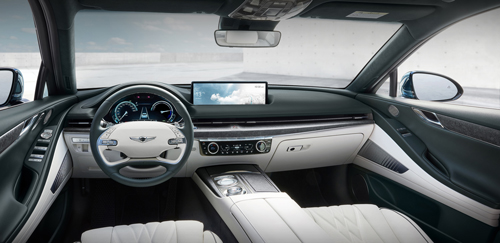 According to bestleather.org (which is far less exciting than it sounds) Nappa (sic) leather is "is typically a full-grain, unsplit leather made from lamb, kid, or sheepskin." So we can't say no animals suffered to make your ride luxuriously comfortable, though the exceptionally smooth and soft headliner is micro-suede, a synthetic.
The 14.5" hi-res touch-screen sound and navigation system is complemented by a 12.3" 3D instrument cluster. It's all easy to learn but again, the more you investigate, the more you find. So explore. Important facts appear in real-time and in depth on a head-up display. And Genesis Connected Services ostensibly put your phone on steroids.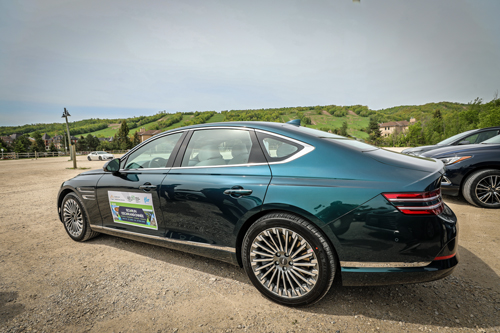 Powertrain: It's simple yet titanic. A 87.2kWh lithium-ion polymer high-voltage battery with dual 136kW front and rear motors powering all-wheel drive combine to unleash electrified whoop-ass on all comers. Think about this: You get 365 horsepower and 516 pound-feet of torque, drop-kicking you into the territory of the illustrious Mercedes-Maybach S-Class. On the day we proofed and prepared this story to go live, Genesis had yet to release the price, but I predict it'll cost less.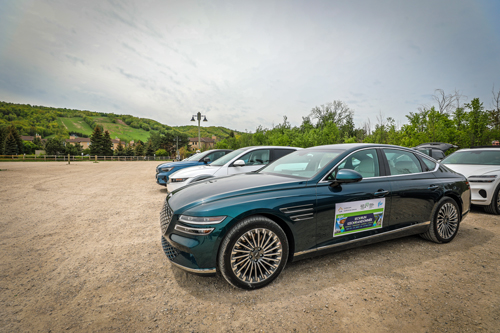 Drive: I tested the G80 EV last month on two mornings during EcoRun, a 3-day drive event which encouraged 15 auto-writers to render the best mileage from assorted electrified vehicles by driving sensibly and competing for a 'green jersey'. But knowing you'd be curious, I eschewed the un-competition and let 'er rip on the second occasion.
Driving one of these may make you look like a successful dentist or banker but don't let that deter you from the odd session of donuts on a frozen pond. This almost silent beast is finely tuned, capable of, and of inflicting, hair-trigger mood swings.
Speaking of ratings, two nose-thumbs at range anxiety. The G80 EV is estimated to go around 450km on a single charge. So don't deprive yourself. Plus, with high speed recharging, you can Popeye it from 10% to 80% in less than 22 minutes. Last bit of advice: find some bendy bits of road. The road-to-palm-of-the-hands communication is a haptic visit from the future.
Forgive the purple prose above. When it comes to electrified power sedans, I get like an adolescent fanboy around a Spice Girl fresh from re-hab. If you're an enthusiast who considers drive time important but want like a spoiling, Genesis delivers. See above re price. We don't quite know it as a publishing time. But you'll only pay an estimated $651 per annum for 'fuel' so it'll start paying itself off fast.
2022 Genesis G80 EV Prestige
Price as tested: N/A
Configuration: All-wheel drive
Powertrain: Dual 136kW front and rear electric motors + 87.2kWh lithium-ion polymer high-voltage battery
Power/torque: 502 horsepower/ 347 lb-ft
Power/torque: 365 horsepower / 516 lb-ft of torque
'Fuel': Est. annual costs $651
Combined fuel economy ratings: 2.4 Le/100km