For a company that has abandoned — for North America, at least — the sale of any car other than Mustang, it should come as no surprise that its latest attempt to appeal to those drivers seeking fuel economy would be a truck, the 2022 Ford Maverick. What should be a surprise, however, is just how fuel efficient that truck is.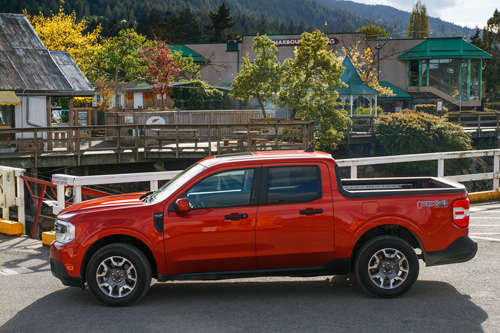 In hybrid form, the Maverick sips petrochemicals at a rate that would make a Hyundai Sonata hybrid blush: 5.4 litres per 100 kilometres on our drive. Even checking off the EcoBoost option, upgrading to a 2.0-litre turbocharged engine and standard all-wheel drive, only added about two litres per 100 kilometres to our consumption figures. The official numbers are 6.3 and 9.6 litres per 100 kilometres combined, respectively.
Even more startling is how Ford has flipped the script on hybrid pricing. Hybrids, at least till now, have been at the top end of model-range pricing. In Maverick, the hybrid is the budget option, at less than $28,000.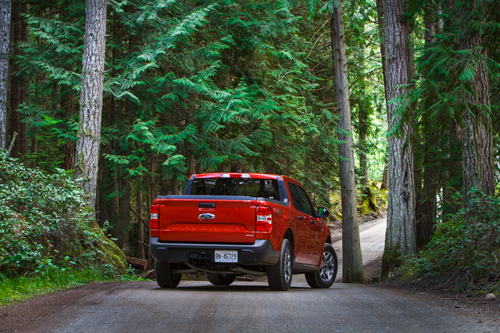 Exterior: While driving the Maverick on Salt Spring Island, B.C., we came across a 1990s-era Ford Ranger. It was a handy comparison, because the Mav was only a bit larger than its 25-year-old older brother. At a time when trucks are so large you'd think they have their own gravitational fields, the Maverick is a breath of fresh air.
It's tidy and compact, and shares a bit of DNA with its sport-ute sibling Bronco Sport, with which it shares its platform. As a unibody design, there's no gap between the cab and the truck bed, something that pays dividends in ride quality and handling.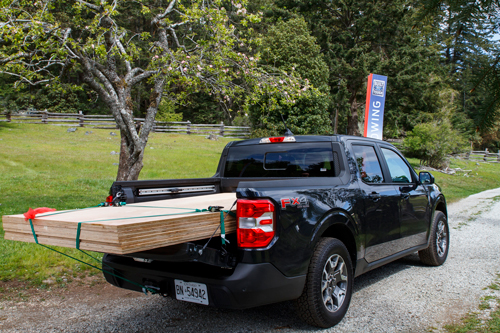 That bed has a number of interesting features: it will carry 4×8 sheets of plywood with some minor accessorizing (a 2×6 from the lumber yard), and has two blanks near the tailgate where an owner can hack a pair of 12-volt electrical power points. Indeed, Ford encourages hacking, as you'll see below.
Interior: The inside takes advantage of almost every opportunity to add some storage, some utility and some funk. Cubbies are everywhere, door handles are shortened to allow large water bottle storage in the door liners and there's a FITS system that offers integrated slots into which users can insert storage solutions of their own creation using 3D CAD files Ford supplies. One such user 3D printed a platform for the FITS slot on the rear console that holds a bag to store dog food and a cup for the critter to drink water from.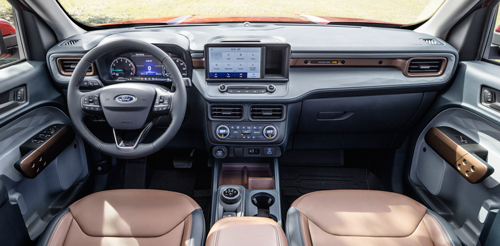 At first glance, some parts of the dash appear plasticky, but the look grows on you, especially after you learn the grey, speckled plastic that creates accents for the dash is actually recycled plastic. There are also hits of colour inside, with accents on the air vents and in the center console storage trays. There are also USB B and USB C charging ports, as well as an available Qi wireless charging pad.
Powertrain: Two powertrain options are available. The base model comes as a front-drive hybrid, with a 2.5-litre Atkinson-cycle gas motor and a 94-kilowatt electric motor that deliver power through a planetary gearset continuously variable transmission. The EcoBoost option adds all-wheel drive and a 2.0-litre turbo four. It gets an eight-speed automatic transmission.
Both powertrain combinations are sprightly, with the hybrid getting assistance from the instant torque of the electric motor and the gas model getting a boost from the turbocharger. All-wheel drive is only available, and in Canada is standard, with the gas motor.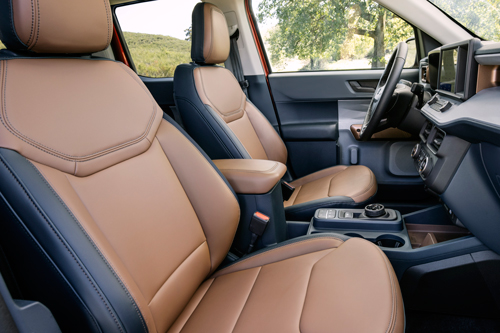 Despite its small stature, the Maverick is no slouch in the hauling department. It will take a payload of 1,500 pounds and will tow up to 2,000 pounds in hybrid form or up to 4,000 pounds in gas-engine form.
Lacking, especially in the hills of B.C.'s islands, was the ability to select specific gears, on both the CVT and automatic. Being able, for instance, to run in seventh or sixth gear — or on CVT models, a comparable gear ratio — down hills would save on brake pad wear. Instead, you get Drive and Low and that's it.
As a planetary gearset transmission, the hybrid in reverse runs in EV mode only, as planetary gearsets get complicated with a reverse gear and gas engines, obviously, can't run backwards.
Drive: As a unibody design, the Maverick handles far better than any body-on-frame truck. It carved the roads of Salt Spring Island and Vancouver Island very well. There was no evidence of body flex and the ride quality, while firm, was not harsh. Off-road versions — and we use that term somewhat lightly — include a bit more ground clearance, revised shocks and springs and a terrain select control that adjusts a number of vehicle parameters — throttle response, traction-control intervention points, transmission response among them — to suit conditions such as normal, slippery, sand, mud and ruts and tow-haul.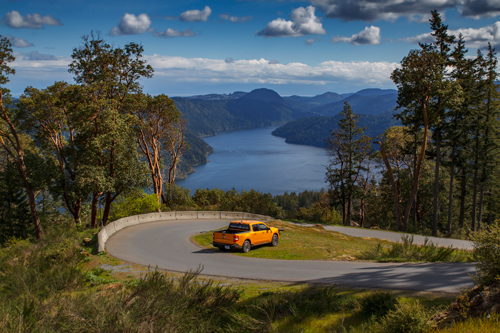 Conclusion: The Maverick answers two needs in the Ford lineup: it's the company's most fuel-efficient vehicle (in hybrid trim, particularly, but also in any trim) and it returns the company to offering at least one truck that is sanely sized. By making the new Ranger considerably larger than the old, Ford has only itself to blame, or to thank, for creating this niche in the market.
It's also alone in its field: GM's Colorado/Canyon, and Ford's Ranger are all larger. As are supposedly compact trucks from Toyota (Tacoma) and Nissan (Frontier). Maverick is in line with Colorado pricing and thousands less than Tacoma and Frontier, which both start around $40,000. The Honda Ridgeline is also a unibody design, but it's quite a bit larger and it starts at $46,400.
It's no surprise that Ford is virtually sold out of 2022 Mavericks (limited inventory is available on some dealer lots), with 4,116 sold so far and more on the way, all spoken for. So anyone wanting one, particularly if they want to order a specific colour or trim level, will have to wait until later this summer, when the order bank for 2023 models opens. It doesn't hurt that it's pretty cool, either.
2022 Ford Maverick
Price as tested: $36,970.00 (hybrid XLT), $46,045.00 (Lariat EcoBoost)
Configuration: Front engine/front- and all-wheel drive
Engine/transmission: 2.5L hybrid inline-4, 2.0-litre EcoBoost inline four
Transmission: CVT (hybrid): eight-speed automatic
Power/torque: 191 horsepower (hybrid), 250 horsepower (EcoBoost)/ 155 lb-ft (hybrid), 277 lb-ft of torque (EcoBoost)
Fuel: Regular (hybrid) / Premium (EcoBoost)
Combined fuel economy ratings: 6.3 L/100 km (hybrid); 9.6 (EcoBoost)
Warranty: 3 years/60,000 km (basic)
Competitors: Chevrolet Colorado/GMC Canyon, Nissan Frontier, Toyota Tacoma
Link: Ford Canada